The Problem That's Hiding in Plain Sight on Real Estate Listing Photos
We independently select these products—if you buy from one of our links, we may earn a commission. All prices were accurate at the time of publishing.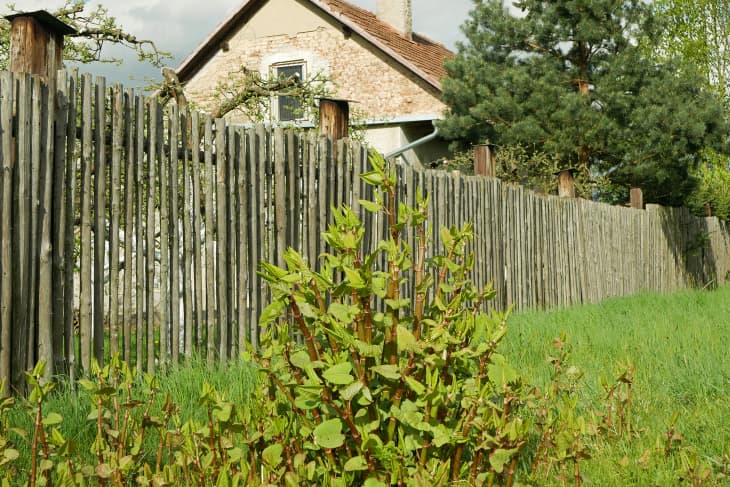 If you've been scrolling through Zillow this spring, there's a good chance your thumb was stopped in its tracks by a really beautiful exterior photo of a home. Maybe a blooming hydrangea bush is what made you want to see more, or perhaps bright pink rhododendrons helped the front yard look extra spiffy. But spotting lots of plants in a yard is not always a good thing.
Follow Topics for more like this
Follow for more stories like this
When searching for a new home, Jennifer Spinelli, founder and CEO of real estate company Watson Buys, says it's important to be aware of the potential presence of invasive species in the yard. "In some cases, they may even be visible in listing photos," she explains, noting that it can help you avoid headaches (and some heartache) down the line if you learn to spot them before you tour the property.
If you're not sure whether a plant is invasive or not, Spinelli says it's wise to do some research on the type of species that are known to be problematic in the area where you're looking to buy. "By consulting an experienced real estate agent who has knowledge of invasive plants, you can get further insight into any potential issues," she explains. It can help to ensure you find a safe and healthy home for your family.
Spotting potentially invasive plants can be easy if you know what to look for, according to Tammy Sons, a horticulturist and CEO of TN Nursery. She says you'll want to beware of plants that don't belong in the local ecosystem. "Invasive species often have unique characteristics that distinguish them from native plants, such as unusual leaf shapes, colors, or growth patterns."
Next, you'll want to look for signs of overgrowth or dominance. "Invasive species often grow faster and more aggressively than native plants, which can lead to their domination in an area," Sons continues. "Check for large patches of one type of plant or signs of crowding."
Similarly, Spinelli says you should look for signs of damage or discoloration in neighboring plants. Many invasive species can cause harm to the plants surrounding them, and you might be able to spot this in listing photos.
Lastly, it's all about location. Sons says you should check to see if the photos feature a more manicured garden area or something left to its own devices. "Invasive species are more likely to be found in natural areas where they can spread unchecked," she says, adding that they're less likely to be found in well-manicured gardens.
Unfortunately sometimes spotting some invasive plants can and should be a dealbreaker, according to Spinelli. "Some of the most common invasive species that could cause structural damage or be difficult to remove are Japanese knotweed, giant hogweed, and Himalayan balsam," she says. "All three of these species have deep roots that can make removal extremely challenging, while their ability to spread quickly makes them a hazard for neighboring properties as well." 
Sons says you can use online resources to identify invasive species. "There are many websites and apps available that can help you identify invasive species based on their characteristics," she says. Handy apps include iNaturalist and LeafSnap. But Sons cautions hopeful homeowners against the dangers of relying on photos alone — if you have doubts, you should consult with a local expert before making any decisions.