IKEA's New Sound-Absorbing Curtains Are Perfect for Noisy Roommates
We
independently
select these products—if you buy from one of our links, we may earn a commission. All prices were accurate at the time of publishing.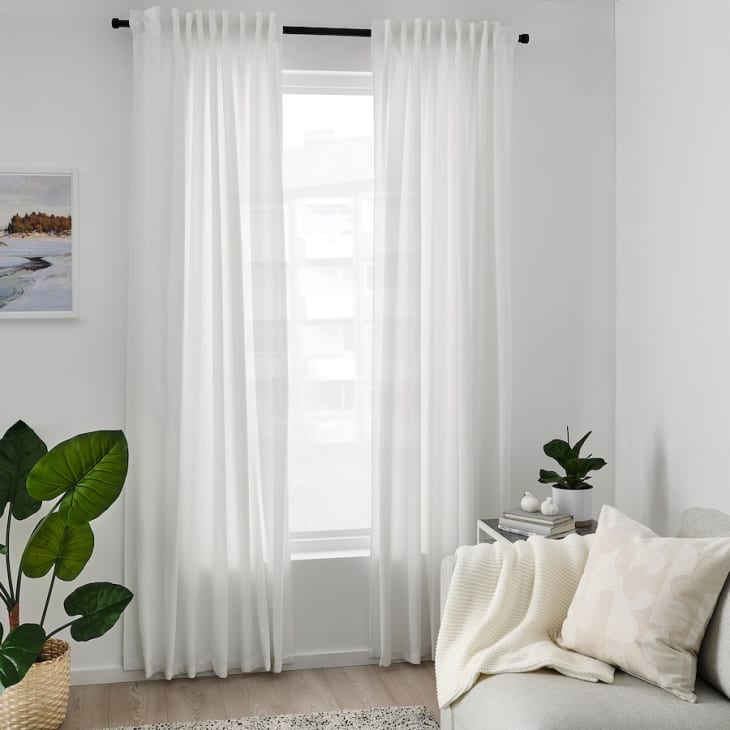 After living in close quarters with roommates and loved ones this past year-and-a-half, you've either come to live with or loathe their noisy quirks — slamming cabinet doors, loudly emptying the dishwasher, watching the television a bit too loudly. Luckily, IKEA is here to save the day (and interpersonal relationships) with their new sound-absorbing curtains.
Called GUNNLAUG, these thick curtains absorb and reduce echo and reverberation of medium and high sound frequencies, like clattering dishes or chairs screeching across the floor. Plus, they're made with 100 percent recycled chenille yarn, so you can feel good about purchasing them, too.
According to IKEA, the GUNNLAUG curtains have been verified according to ISO 354, a specific metric for measuring sound absorption, and they absorb 50 to 100 percent more sound than fabrics of similar quality and weight thanks to the combination of the chenille yarn and weave construction.
To get the most sound absorption from the curtains, IKEA says you should allow the curtains to drape and fold in on themselves while hanging on the rod, rather than stretch them straight, and make sure there's a small gap between the curtains and the wall.
As of right now, the GUNNLAUG curtains are only available in white and gray and in a single 98-inch length, so keep that in mind before purchasing. IKEA recommends using them as regular window curtains (they can be used with a standard curtain rod or curtain track), or installing them decoratively as canopy curtains around your bed. Using IKEA's RIKTIG curtain hooks, you can also pleat these curtains into place. 
Crash, bang, and boom away, family and friends — you'll hardly notice from inside your zen zone.