The Surprising Way You Can Get Closer to Your Partner While Doing a Mundane Chore
We
independently
select these products—if you buy from one of our links, we may earn a commission. All prices were accurate at the time of publishing.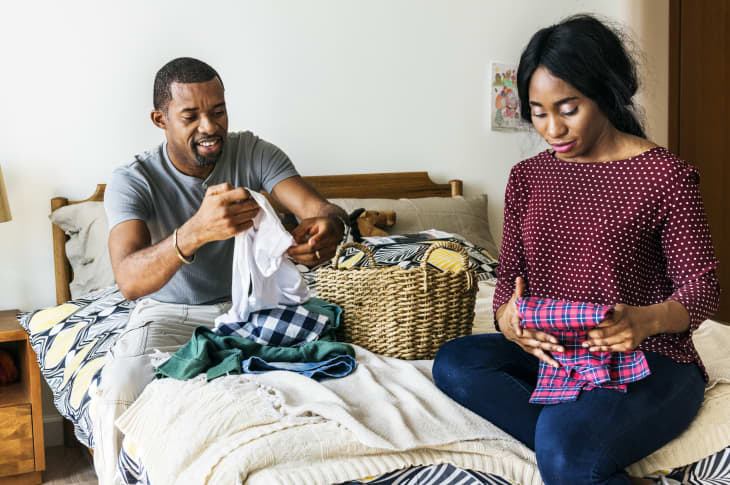 In one way, I'm a sucker for romantic comedies. I like the cheesy meet-cutes and the date montages that follow: the tree-lined streets, candlelit dinners, and quirky discoveries. Even the problems that arise and their swift resolutions bring me comfort. There's another part of me, however, that's a realist. When the movie ends, I'm left wondering, how can the kind of love imagined on screen really last a lifetime? 
In pursuing that answer, I've read endless relationship research claiming that daily connection between partners is the key to a long-lasting, loving partnership. Dr. Kevin Leman famously shared that "sex begins in the kitchen" but can love brew in the closet, too?
According to renowned relationship experts Dr. John Gottman and Dr. Julia Schwartz Gottman, it certainly can. They have spent over 40 years making breakthroughs in couple research. In their latest book, "The Love Prescription," the Gottmans offer daily practices for deeper connection, including making contact, asking big questions, giving compliments, and declaring date nights. One major takeaway is this: you are never through with getting to know your partner. Their favorite movie from 10 years ago has most likely changed, and, more importantly, so has their vision for the next five years, their fears, and what brings them real joy. 
The tricky part is finding time to ask and respond to these big, open-ended questions. Romantic getaways are slim, and the day-to-day grind means I'm most frequently asking if the dog has been fed and whose turn it is to make breakfast. That's where folding laundry comes in. It's a chore no one wants to do, but perhaps, amid a towering pile of laundry, you can ask compelling questions when your hands are busy folding, the traditional way or the KonMari way. 
Here are some connection-seeking questions the Gottmans suggest, along with some of my own ideas, that you can take turns answering the next time you sit down to fold laundry together:
How have our kids surprised you lately? 
What's one way you have changed since you were 21? 
When was the last time you felt in awe? 
What are some of your dreams right now? 
What movie or book can you not stop thinking about? 
What is one story that you've told yourself about life that is no longer true? 
Describe your ideal meal, from amuse-bouche to dessert. 
There's no silver bullet for healthy, steadfast relationships. What I appreciate about the Gottmans' suggestion, however, is that building and maintaining love is in the small acts of connection throughout the day. Connection feels manageable when it's tied to my day-to-day routines. Somehow, I'm feeling optimistic about the laundry pile that awaits.