Everything You've Ever Wanted To Know About Article's DTC Furniture
We independently select these products—if you buy from one of our links, we may earn a commission. All prices were accurate at the time of publishing.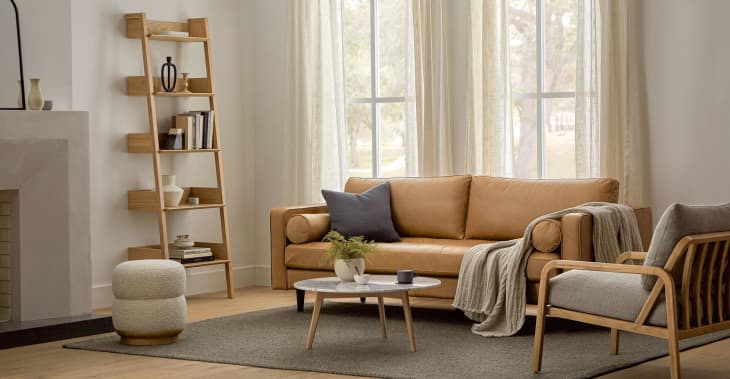 The challenge with interior design is that most people approach it hoping that two often opposing concepts will somehow exist simultaneously: Budget-friendliness and ease. And yet, in the process of furnishing a home, those two adjectives seem impossible to achieve — let alone at the same time. A college-age futon may be a relief to your wallet, but might not fit your career-level style. It may be less of a hassle to bring along an old bed frame, even if it's far too bulky for the space you have now. 
Finding a place to live is tough enough, and going about a room refresh isn't for the faint of heart, either. But that doesn't mean that budget-friendly ease isn't possible to find. Particularly if you're shopping at Article. 
Quick Overview
Is Article furniture worth it?
Yes, Article offers budget-friendly furniture that looks great in any space. While you can assemble the items yourself, delivery and in-room assembly costs $199 for orders $999+ — a service we suggest taking advantage of.
For the last decade, Article has cultivated a reputation in the furniture business as a company that wants to provide minimalist options at prices that appeal to a wide crowd. It all started and is still based in Vancouver, Canada, where techies turned design-aficionados are riding a direct-to-consumer wave they helped kick off. 
Does Article furniture have stores?
While there aren't showrooms to wander through, Article's reliable network of warehouses can ship detailed products to buyers throughout North America after a few clicks. It's shipped to more than half a million homes and businesses so far.
Is Article furniture easy to assemble? 
The difficulty of assembling furniture is relative, and personally, I find it hard. However, should you take the DIY assembly route, Article gives an estimate of how long the assembly process takes for each item, and most come together in under an hour.
Does Article offer delivery and assembly?
"Fine," you might be saying to yourself. "I understand that Article cuts out the middleman, and that's what contributes to me saving a few bucks, but I will probably pay for it in assembly later." When I moved into a new apartment earlier this year, I thought the same thing. I'd seen the flat-pack boxes with Article's clean typeface on the sides, and I just knew that whoever bought it was in for an afternoon of instruction manuals and stress. But then I went ahead and ordered my own Article furniture — a dining table, dining chairs, a headboard, and a bed frame — and went this route: I took advantage of Article's in-room and assembly service. 
Article will deliver your order to your front door as a standard practice, which is free for orders above $999, and the deliverers will come on a scheduled date and time. They'll even text you when they're 30 minutes away, and you can watch the truck approach on your phone'. A signature isn't always required if you're not home, but you may want to call customer service to make sure you're not in one of the spots where Article trusts a partner to drop off your goods (in which case, a personalized scribble may be needed). You should note, though, that smaller items and anything under $200 will come by a courier. 
If you would like for Article's delivery team to place boxes in the room where they'll be assembled, rather than schlepping these boxes from a front door, the company offers an in-room service where your boxed picks will be placed in the space of your choosing for $119. Since they'll be in your home, a signature is required.
Still, if you're like me, the $199 delivery and assembly service may be appealing. For this option, the deliverers will unbox and build all of the components of your order as you watch (or don't, I was answering emails). Because these team members are trained in putting these pieces together, the process is impressively quick — and then they take all of the boxes and packing materials with them. 
Last note, I promise: For all of these options but particularly this last one, it's important to measure your space and ensure that the items will fit through door frames, both in a box and as completed furniture. Thankfully, Article has instructions on doing that like a pro, too.
Is Article furniture worth it?
Here's the big question: Is Article furniture worth it? I've bought several items, and I would say yes, Article is worth it — especially when a sale is on. So, which items are worth your attention? Let's get into it:
Are there any Article sales?
Article has a few sales during the year, especially around major shopping seasons like Black Friday and Cyber Monday, where you'll find solid deals on its furniture. Currently, there aren't any sales, but that just means you have more time to "window shop" before adding items to your cart.