This Ingenious Hamper Takes Up Zero Floor Space and Is Perfect for Tiny Bathrooms
We independently select these products—if you buy from one of our links, we may earn a commission. All prices were accurate at the time of publishing.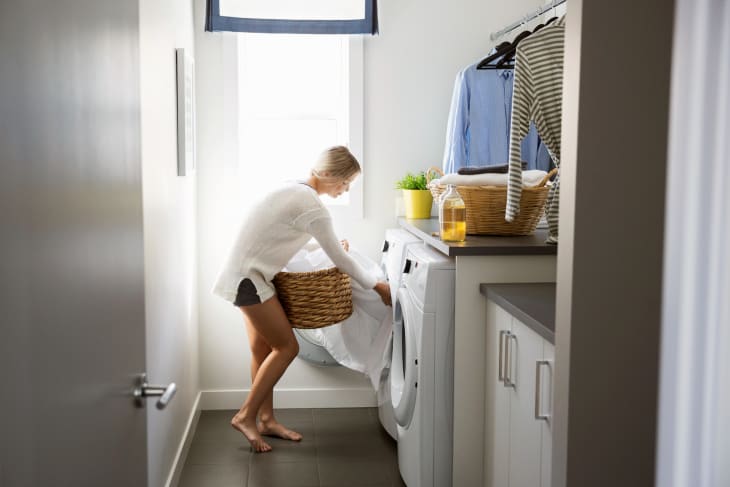 When it comes to small-space living, sacrifices are going to made. For instance, as much as you may want a sprawling sectional to lounge on at the end of the day, if your space can only fit a loveseat, a loveseat it will be. While compromises like this are easy to make, some are harder, especially when it comes to storage, organizing, and cleaning. Case in point: laundry baskets. A necessary part of our homes, laundry baskets (or hampers) are need to corral dirty laundry, but they usually come in the form of a bulky basket that takes up much too much valuable floor space (and when that's not even possible, we're left with unsightly piles of clothes on the floor — yuck.) But what if I told you there was a small-space solution that moved your laundry basket off of the floor, freeing up space, while still giving you all the dirty laundry storage you need? You may think I'm pulling your leg, but I'm actually talking about the clever KEEPJOY Hanging Laundry Hamper Bag.
Follow Topics for more like this
Follow for more stories like this
Designed to keep your laundry basket and dirty clothes off the floor, this hanging laundry bag is a dream for anyone in need of hamper but low on space. Perfect for everywhere from tiny bathrooms to messy bedroom, it can be hung one of two ways: over a door with the included door hooks or attached to a door/wall/surface with the included adhesive hooks — the possibilities are endless. Best of all, it's made of an easy to clean nylon and features a smart zipper that runs along the base of the bag for easy emptying come wash day.
To say shoppers are loving this ingenious find would be an understatement, with one raving, "Awesome product! [It's] out of the way, keeps clothes off the floor, and is easy to use and carry to the laundry room on laundry day! I love that I don't need a basket to take up any space in rooms anymore!" Another went on to share, "This was great to hang on the back of my bathroom door in my very small bathroom/one bedroom apartment. Putting a hamper in the bathroom took up almost all available floor space — this hung on the back of the door perfectly and doesn't budge at all no matter how much we fill it."
Available in four colors, this hanging hamper bag start's at just $13 with a two pack coming in at $23. So if you're tired of clothes piling up on the bathroom floor or are simply looking for a hamper made with small spaces in mind, this bag is sure to put a smile on your face — after all, it's in the name.