7 Unprecedented Perks Landlords Are Offering to Get People to Sign Leases
We independently select these products—if you buy from one of our links, we may earn a commission. All prices were accurate at the time of publishing.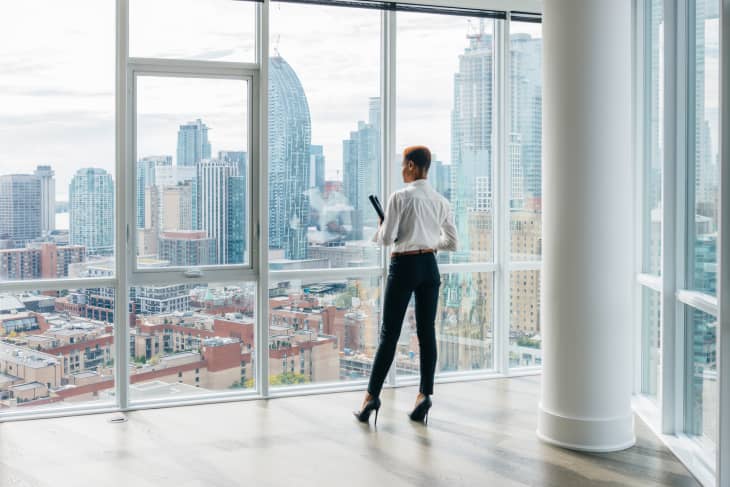 In real estate, it's either a buyer's or seller's market. But what about the rental realm? Is there ever a "renter's market," a time when rent and lease terms can be negotiated and landlords may be willing to offer concessions? 
Follow Topics for more like this
Follow for more stories like this
Real estate experts say yes. That time is right now—but mostly if you're in a major metro like New York City, where rental vacancies are higher than normal during COVID-19. 
Here's a likely explanation for what's causing the market to swing in the favor of renters: Rental vacancy data from real estate site iPropertyManagement shows that COVID-19 sent many renters to the suburbs, driving up rent prices in those areas and emptying cities. Overall, in major cities, rental vacancies have gone up by 1.4 percent and experts predict rental vacancy rates will continue to grow in 2021. Manhattan's rate of vacancy has tripled in the past year to 6.1 percent. 
A separate end-of-year analysis from online listings portal RentCafé found renter activity slowed down in 16 of the nation's 30 largest cities. Eighteen of the 30 largest cities saw more renters leaving compared to 2019. The priciest cities for renters also saw the sharpest drops in rent, with average apartment prices in San Francisco lowering 17.3 percent from $3,695 in 2019 to $3,055 in 2020. In Manhattan, rent dropped 10.8 percent to $3,761 per month—apartments there are about $450 cheaper than last year.
What this means is that if you're among the 100 million Americans renting—and especially if you're looking to ink a new lease in a major metro—is you probably have some negotiating power. Here are seven unheard of perks landlords are extending to potential tenants in order to combat those vacancies and get leases signed.
Landlords don't love lowering their monthly rent prices. But they're generally warmer to offering a free month or two to keep the rental rate stable, says Julian Felch, founder of bitResi, a mobile app allowing renters to rate their apartments. It's worth it to ask.
As the New York City real estate market has been inundated with open rental properties, the tenant has more leverage in negotiating both the price and the terms, says New York City agent Marilyn Blume of Warburg Realty. 
"Offering at least one month free for a one-year lease is considered standard in today's market," Blume says.
In Chicago, some buildings are offering a few months of free rent, along with reducing application fees or offering reimbursements for them, says Ericka Rios, cofounder and director of leasing for Downtown Apartment Company, a matchmaker between renters and apartment buildings in the Windy City. 
"The craziest concession I've seen is five months free on a 24-month lease," Rios says. "In over a decade in the business, I've never seen five months of free rent offered in the downtown area."
In an era of social distancing (and at a time when people are washing cloth masks on a daily basis) a small, shared laundromat within a building poses challenges. 
You may be able to get an in-unit washer and dryer, real estate agents say. "A washer, dryer, and a dishwasher in the unit is also key to getting the apartment rented quickly and could be a deal breaker if the unit lacks one," says New York City broker Ted Karagannis of Warburg Realty. Try asking your new landlord if they'll install one or all of these things.
Another concession that landlords may offer are gift cards that essentially put cash in renters' hands, says Felch. Some landlords might be willing to offer gift cards for ride-sharing services, food delivery services, or Amex or Visa gift cards, Felch says.
In Chicago, Rios explains, some buildings are offering cash incentives such as gift cards ranging from $500 to $2,000 for lease applications within 24-hours of visiting the property.
Rob Carillo, a property manager with Century 21 Haggerty in El Paso, Texas, says tenants are receiving a gift card for a local business at the time of move-in.
"In addition, every month they pay their rent on time, they will receive rewards that are redeemable for gift cards or cash," Carillo says.
Other perks that come with signing a lease in these uncertain times include free home cleaning services, a free year of parking, and reimbursements for moving costs, Rios says.
If you're renting outside of New York City or Boston, there's a good chance you've never heard of broker fees. (They may be on their way out altogether in NYC). The hefty fee is often 15 percent of an apartment's annual rent, even if you found the apartment yourself online. These days, though, apartments with attached broker fees are a hurdle to getting a lease signed. They "cannot compete with no fee' units—period, end of discussion," says New York City broker Gerard Splendore of Warburg Realty. If your landlord isn't already waiving this fee, you can bring it to the negotiating table.
As more people add pets to their families during the pandemic, some landlords are loosening up restrictions on cats and dogs, real estate experts say. "Landlords that normally have no-pet policies are making exceptions," says Armen Stevens, a broker with Warburg Realty in New York City. Some apartment buildings are also being more flexible with the weight restrictions, allowing for bigger dogs to move in.
Peloton bikes (yes, really!)
With gyms closed or operating on reservation systems, some buildings are offering fitness perks. Real estate investor Andy Kolodgie, co-owner of The House Guys, says one of the Washington, D.C. apartment complexes he owns has offered a Peloton bike plus a six-month membership to those who sign a 12-month lease. "Many of the gyms nearby have been closed or are running on decreased capacity, including the apartment gym, which made it a perfect niche gift," he says. 
Of course, if you don't want to be tied down to one place for too long, you might also have some wiggle room with your lease length, as COVID-19 could be spelling the death of the 12-month lease.