Let's Settle This: Do Rugs Belong in The Dining Room?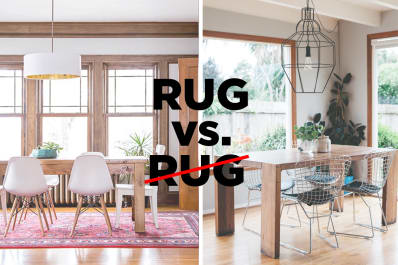 For as long as I've been talking about design in my personal and professional life, the subject of whether rugs belong in the dining room or not just can't be settled. There are pros and cons for each, and it would appear that people do not straddle on both sides of the issues—they are adamant one way or another. I for one, am pro-rug in the dining room. Any excuse I can get to add another decor element to my home, I'll take. Plus, I just can't help but think a room—any room, in fact—never looks quite finished without a rug.
"But it'll get dirty!" rug naysayers declare. I hear you, but honestly, I've never had a rug-ruining catastrophe in my dining area (not even with the regular presence of my 6-year-old twin nephews) to deter me from floorcovering nirvana.
"But the chairs get caught on the edge of the rug!" others have said. Okay, I'll give you that one, but if you have the space (especially in an open floor plan that benefits from defined areas), the simple fix is a larger rug. Done. Defense managed.
Does a dining room look fine without a rug? Sure (and there are seven examples below of rooms that pull off the bare-floor look effortlessly), but to me, the added visual interest of a floorcovering far outweighs any justification against it.
No matter what side of the matter you agree with, there's no denying that the 15 dining rooms below—rug or no rug—are perfect, just the way they are.
All About the Rug
These seven dining rooms simply wouldn't be as dynamic without the rugs that grace their floors.
If pattern is what you love, don't miss the opportunity to bring in a graphic rug—when mixed with patterned curtains, you create a room full of personality.
When you're going for an industrial look, added texture via a rug is a welcomed jolt of coziness.
Loft living begs for pseudo-defined spaces. Without the rug in this open space, the table would seemingly float unanchored in the room.
The pink-toned rug adds a softness to the room above that's heavy on wood moldings.
The illustrious IKEA STOCKHOLM rug adds a graphic hit to the neutral room above.
(Image credit: Submitted by Michelle)
Mid-century furniture can be really lovely, but it's also quite...brown. The geometric rug, with its fuchsia and orange detailing, really brings the dining area here to life.
Without the rug, this dining room would completely white. The blue ikat pattern is explosive (in a good) in the otherwise monochrome room.
Like the dining spaces above, this room would be perfectly lovely sans rug, but with it, it brings an eye-catching moment that defines the area.
Free of Floorcoverings
As a lover of rugs myself, I admit defeat when it comes to these seven totally gorgeous rug-free dining rooms.
A patterned fabric on the dining chairs keeps the space visually interesting (as does the mix of modern and traditional you get from combining that chandelier with those caned seats).
Copper chairs steal the show in this dining room, so it can get by without the additional element of a rug.
Though I'd love to see a simple seagrass rug here, a dripping chandelier and ethereal sheers make for a truly lovely eating space.
Okay, so I just love this. Even I can admit that a rug would steal from the quiet serenity of this little dining nook.
Mix-and-match chairs for the win. Plus...covering up those ultra wide-plank floors just might be a sin.
It would appear that the magic ingredient for a simple yet stylish room is metal.
(Image credit: Submitted by Julianne Rydberg)
Another "I love this as-is" room that, sure, could afford a rug, but certainly doesn't need it to shine.
If you love the rug look in the dining room but need a little help with sizing:
Now that you've heard what I think about the matter, I want to know your thoughts! Chime in below!
Apartment Therapy supports our readers with carefully chosen product recommendations to improve life at home. You support us through our independently chosen links, many of which earn us a commission.