6 Things All Trendy Living Rooms Will Have in 2023, According to Designers
We independently select these products—if you buy from one of our links, we may earn a commission. All prices were accurate at the time of publishing.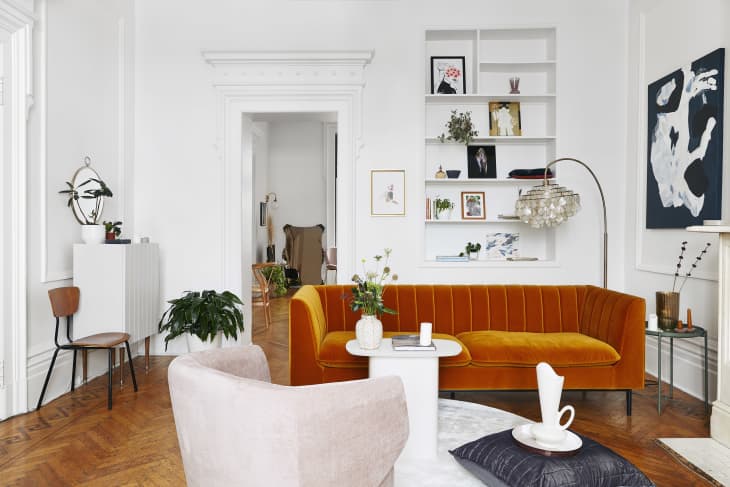 It's a new year, and I'm most excited to see what's on the horizon for living rooms, arguably one of the most used spaces in the home. "In general, people want a home aesthetic that is simple and easy but still beautiful," says designer Meredith Goforth, founder of House of Prim, a design and organizing firm. In other words, form and function are both "in" for living areas, and you just have to figure out what that means for you. Need a little inspiration? I chatted with a few of my favorite designers to get their take on what a stylish living room will look like in 2023, and here's what they had to say.
Follow Topics for more like this
Follow for more stories like this
Color, color, and more color
Almost all of the designers I spoke to agreed that a more adventurous approach to color was coming to a living room near you. Designer Anastasia Casey of IDCO Studio definitely sees bold hues in the forecast for 2023. "Colored sofas are definitely going to be having a major moment," she says. "I also think we'll see a lot of living room furniture with contrast piping details along the edges — likely natural linen pieces with chartreuse or terracotta detailing." The latter example is perfect for those who are vibrant color curious but want to keep their larger pieces as a neutral foundation on the whole.
Goforth singled out a special shade that she thinks is really going to take off: cobalt blue. "Cobalt blue has been prominent in fashion, which home design trends tend to follow," she says. "It's a vibrant, rich, and happy color that feels so good to be around. It's a great alternative to white, black, and neutrals, which have been dominating living rooms forever." Goforth says she's also noticed clients gravitating towards similarly saturated, deeper hues in the purple and green families, too, and she expects that trend to continue as well.
Designer Christina Lehman of C Lehman Home predicts more color in terms of decorative accessories, and designer Samantha Struck of StruckSured Interiors agrees, at least when it comes to what she considers happy, zingy hues. "Color after a dreary season can brighten the mood!" says Struck.
Sculptural wooden focal walls
Think of this wall covering trend as wood paneling, version 2.0. "Although I don't see the reemerged nostalgic charm of wooden slat walls going anywhere anytime soon, introducing carved or sculptural wooden panels is something I'm starting to see more of," says designer and Small/Cool alum David Quarles IV. "Whether geometrical or more organic in shape, these sculptural panels bring another element of depth, focus, and care into any living space." If you don't have the budget for a full wall, think about incorporating this trend into a piece of furniture like a media console. Plenty of pieces out there have beautiful carvings and feature interesting inset designs (a shown above) that can make a similar decorative impact.
Eco-conscious furnishings
Goforth says shoppers are increasingly concerned about the environment, which will affect what furnishings they're buying for the living room and beyond. "We'll see this carry through to home design choices, as people opt for eco-friendly pieces made from renewable and recyclable materials," she says. "A lot of living room furniture pieces — tables, consoles, chairs — are starting to incorporate sustainable materials like rattan, which is sturdy, beautiful, and will stand the test of time. I love rattan because in addition to being a more eco-friendly choice, it's minimalistic and adds depth and texture, making your space more interesting. Plus, rattan doesn't shed!"
You can expect the squiggles and wiggles of 2020 through 2022 to be a little more refined this year, turning into slightly more elegant scalloped shapes. "Scalloped edges will continue to have a major impact in design this year, especially in colored marble," says Casey. We love the scallop trend and hope it doesn't go away anytime soon! We've seen it done successfully on throw pillows, sofas, baskets — even lampshades."
Double-duty furniture (especially the sleeper sofa)
"I think living rooms are going to be used more as multi-functional spaces," Lehman says. "Console tables that can be used as a desk, desk/shelf units, or sofa beds will be used. With more people working from home, spaces are working harder and doing double-duty." Struck also thinks multi-tasking furniture will be big. "Sofa sleepers are making a come back with people hosting and wanting to entertain more," she says. 
When it comes to fabric, 2023's living room is going to be all about textural, touchable materials, albeit likely in bolder colorways. "I definitely think we will continue to see our favorite velvets and bouclé but now, in more colors," Quarles IV says. "For a recent project, I just sourced a mustard-colored bouclé swivel chair, and I love it. And as for our beloved velvets, from the muted to the jewel tones, colorful velvets are here to stay."