I Never Thought I'd Find Anything Better Than My Lo & Sons Tote — Until I Tried Their Game-Changing New Duffel
We independently select these products—if you buy from one of our links, we may earn a commission. All prices were accurate at the time of publishing.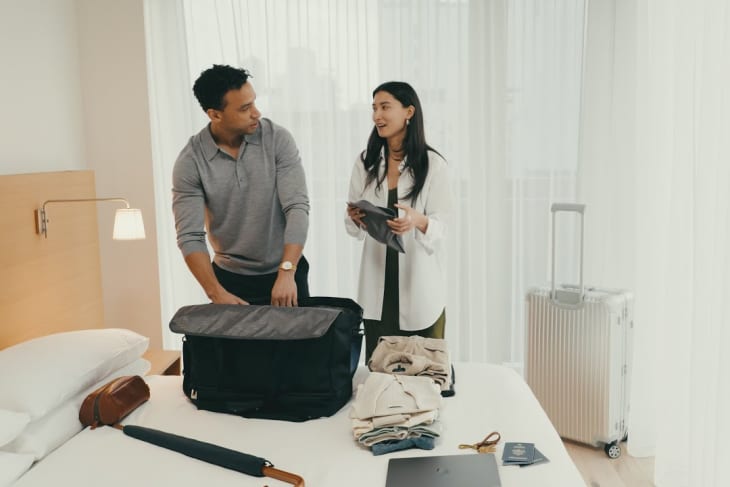 When I first shared my love for Lo & Sons Catalina Deluxe Tote two years ago, I was floored to see just how many of you became fans of it, too. This bag has become my tried and true travel favorite, and it's been incredible to hear how many friends, coworkers, and readers decided to give this bag a try and became just as obsessed with it as I am. Now, as a long-time fan of the brand, I'm constantly keeping an eye out for everything from new color drops to product launches, and I'm excited to say their latest piece may just be their greatest.
A few months back, I got wind that Lo & Sons was adding another piece to the Catalina collection (which includes the Day Tote, the aforementioned Deluxe Tote, and the Deluxe). This new bag was to be called the Catalina Supreme, and unlike other extensions of the line which focused on extending the size of the bag, this version was to introduce both a bigger size and an updated design to their best-selling line. So I put it to the test and reader, I can confidently say Lo & Sons has another winner on their hands.
Follow Topics for more like this
Follow for more stories like this
Conceived during the pandemic as a response to the shift toward hybrid work environments and the increase in road trips, the Supreme was designed to be "the duffel that did it all." This bag features a host of handy new design elements — alongside some classic Catalina staples — that make it one of the brand's most impressive releases to date. With the Supreme, you'll now find an exterior laptop pocket, a new U-shape opening for easier packing, an exterior strap (think of it as an extra hand for everything from your jacket to even a yoga mat), a larger bottom compartment with a divided organizer, five interior mesh pockets, and a new removable toiletry pouch. Don't worry, staples like the memory foam carry strap, the suitcase handle sleeve, and the chic Catalina shape aren't going anywhere, either. Best of all, while large enough to fit an impressive amount of items, it's still small enough to be used as a carry-on.
For me, this bag has been a total game-changer. Recently, I've found myself taking some lengthy trips back home to help care for a family member. Because of the increased length of my stays, I was finding it kind of hard to fit everything I needed for a weeks-plus stay in my traditional Catalina Tote — but with the Supreme, I never have to worry. With this bag I've been able to pack enough clothes for a solid week (which included everything from thick sweaters to jeans), as well as all of my toiletries (not travel-sized), my hair tools, two pairs of shoes, a purse, my laptop, my kindle, a pair of noise-canceling headphones, my go-to reusable water bottle, some food I had meal-prepped, and of course the three things you never leave your home without — phone, wallet, keys. Reader, I've said it once and I'll say it again: these truly are real-life Mary Poppins bags.
Made from premium recycled poly (made from water bottles) with a vegan cactus leather trim, you can get your hands on the Catalina Supreme for $350 in your choice of black, navy, or navy camo. While definitely an investment, it's one that's well worth it for anyone who enjoys traveling with peace of mind. I didn't think this line could get any better and then Lo & Sons does this — I can't wait to see what they do next.