Here's What To Do If You Get Locked Out of Your Apartment
We independently select these products—if you buy from one of our links, we may earn a commission. All prices were accurate at the time of publishing.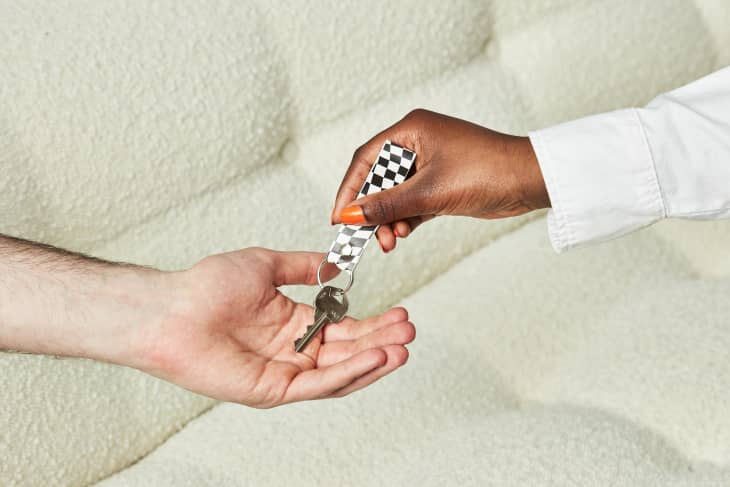 I remember the last time I got locked out of my apartment. I had taken the garbage out, closed the door behind me, and returned from the alley to a locked door. It was the most inopportune moment, too; I was in a robe and slippers, unbathed, and not anywhere near ready for people to see me.
Follow Topics for more like this
Follow for more stories like this
Luckily, I ended up getting in pretty quickly. My partner had jokingly locked me out for just a couple minutes. (Don't worry, we laughed about it.) But if I had actually locked myself out accidentally, it could have been a very stressful situation. I spoke to real estate experts about what to do when you get locked out — and how to make sure it doesn't happen again.
Here's What To Do If You're Locked Out
First things first: DON'T PANIC.
"This is easier said than done but bears repeating," says broker Gerard Splendore of Coldwell Banker Warburg. "The same advice applies to getting stuck in an elevator."
You have some options at your disposal:
These are the people who can help get you in.
"Many buildings keep a key for each apartment for emergency access and for situations like this," says broker Michael J. Franco of Compass.
It's especially helpful if you both have your phone and live in an apartment building with a doorman. A doorman should be able to get you that key and get you into your home, says Marie Bromberg, a licensed real estate salesperson also with Compass. If you don't have your phone, Common's chief move-in officer Jodi Farbish suggests waiting in the lobby or at the entrance to the building or a friendly neighbor who might let you use their phone.
Check your doors and windows.
Did you accidentally leave one unlocked? Try to open your points of entry and see if you can get in that way. Try not to climb the fire escape, though, especially if it's old or rickety. It's better to wait outside until someone can get you in than to tempt fate with your safety.
Call your friends and neighbors.
This potentially solves two issues. One, if they're nearby, they can let you into their home and out of whatever situation you're locked out in, like rain or snow. Two, they may have a copy of your key that you forgot you gave them, especially if you've lived in the same place for many years. Like me, for example — I know I gave someone a spare key, but I can't remember if that's my mom, my brother, or my friend down the block.
As a last resort, call a locksmith.
You'll want to exhaust all your other options before doing this. Bromberg, Franco, and Splendore all note that locksmiths can be pretty expensive, especially if it's in the middle of the night or on a weekend.
How To Make Sure You Don't Get Locked Out Again
Phew! You made it back into your apartment. Now, you should take some concrete steps to make sure this doesn't happen again.
You may have special language in your lease about what happens if you get locked out or what you can do to prevent it.
"Most leases will include a section on what happens in the case of a lockout," Farbish says. "Some property managers might charge a small fee for getting you back into your apartment, or have an emergency number you can call to be let in remotely if you have a smart lock."
Give somebody a spare key.
If you have friends or family nearby, or even just a neighbor you kind of like, give them a key to your place in case of emergencies. That way, if you get locked out again, you know who to call. You could also leave a key at work, or bury one in the landscaping of your building.
Install a smart lock or lockbox.
This will eliminate the problem completely. You'll never have to worry about being locked out as long as you can remember a simple code!