Disney Decor Abounds in This Colorful Rental Apartment
We independently select these products—if you buy from one of our links, we may earn a commission. All prices were accurate at the time of publishing.
About this tour
Location
Los Angeles, California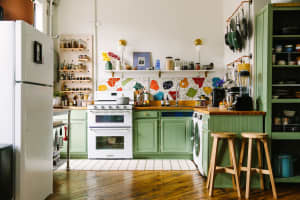 Can't-Miss House Tours Straight to Your Inbox
Keep up with our latest house tours each weekday with our House Tour of the Day newsletter
Name: Carrie, Patrick and Nacho D. Cat
Location: Los Angeles, California
Size: 1,750 square feet
Years lived in: 5 years, renting
Longtime Apartment Therapy reader Carrie and husband Patrick discovered their apartment five years ago, when the desire for a bigger bed made them realize they needed a bigger bedroom. Carrie is the author of Carrie Hayward's Fairytale Weddings Guide and host of the weekly Disney Wedding Podcast, while Patrick is a puppeteer and co-owner of puppet production company Swazzle with his twin brother. And Nacho thinks he is the cutest cat on Instagram.
Although they were originally looking for an apartment with vintage 1920s details like their previous one, Patrick fell in love with this place the moment he realized there were probably built-in planters under the plywood in the unit's private entryway. For Carrie, it was the original 1950 turquoise tile in the bathroom, a rare find in a search that had yielded too many cheap 1990s makeovers of bathrooms and kitchens. Another advantage to this mid-century apartment: tons of closet space!
Thanks to Los Angeles's combination of rent control and astronomical home prices, Patrick and Carrie are long-term apartment dwellers, so they have obtained their landlords' permission to make numerous upgrades to their apartment that increase its livability and style.
Apartment Therapy Survey:
Our Style: Palm Beach Color-splosion!
Inspiration: Patrick and I love highly themed environments (probably due to spending so much time at Disneyland). I grew up in a sort of modern cabin that my dad had filled with Navajo rugs, wooden snakes, cacti and even an eight-foot railroad crossing sign. So, naturally, my interior style is Palm Beach-meets-Hollywood Regency! He would shake his head and laugh if he could see this place, but I think I did inherit my dad's approach to making a home truly reflect your personal style, even though we went in totally different directions.
I also got a lot of great advice from interior designer Leslie Landis, whom I found through her Apartment Therapy home tours. Left to my own devices, I would have this place looking like a Crayola box exploded. I love being able to run my latest zany idea by Leslie and have her tell me whether it is crazy-good or just plain crazy.
Favorite Element: The layout. We have the entire top floor to ourselves, so no shared walls. There's a private foyer with built-in planters, the master bathroom is en suite with the master bedroom, the second bath is a pass-through between the office and the laundry room, and there are tons of closets!
Biggest Challenge: Renting. Our landlords have been remarkably accommodating of our ideas for improvement and even paid for some of them when we first moved in. But there are certain renovations I'd love to make that just aren't possible in a rental.
What Friends Say: "You guys are nuts!"
Biggest Embarrassment: Joan Crawford-esque plastic on every part of our upholstered furniture that Nacho can get his jaws around. He's a kitty who thinks he's a puppy!
Proudest DIY: The amazing giant clamshell fountain Patrick made me for our patio. I was heartbroken when a new weight limit forced us to remove everything from our Morocco-inspired patio. Patrick lifted me out of my despair by spending all summer building a new lightweight, wall-mounted fountain out of two faux clam shells that he waterproofed with pool paint. And it gave me the idea for a Lilly Pulitzer Garden Party theme that finally got me excited about going out on the patio again!
Beyond that, we've done a lot of little DIYs to improve the quality of life in our rental or hide ugly stuff we can't change, including stick-on under-cabinet lighting, a custom cover to hide an in-wall air conditioner, the bedroom's faux malachite phone charging station, cable raceways to hide every inch of exposed electrical cord, Shelves that Slide in the bathroom vanity, and a magnetic gallery wall in the hall that lets us rotate our massive collection of art prints at will, without paying for framing or putting any holes in the wall. (How-to instructions here!)
Biggest Indulgence: Wallpaper, because we can't take it with us if we ever leave AND we're going to have to remove it!
Best Advice: If you can't find it, have it made. I designed the living room media credenza, the office workstation, the master bath window shade, the dining room chandelier, our bed, and two sets of closet doors and found craftsmen to create them for less than the cost of purchasing similar pieces. Plus, the casegoods are customized to exactly the size of what they contain, with special features like cord cut-outs, a slide-out printer tray and a drop-leaf mailing station.
Second-best advice: Hide your cords with stick-on cable raceways!
Dream Sources: Lilly Pulitzer's estate sale, De Gournay, Brunschwig & Fils, Circa Who, Palm Beach Regency, Chairish (but I always check eBay and Etsy first—sellers often overprice stuff), and CableOrganizer.com. (I'm telling you… Cable raceways will change your life!)
Foyer Paint — Benjamin Moore Blue Seafoam
Living Room Paint — Benjamin Moore Cotton Balls
Kitchen and Breakfast Nook Walls + Upper Cabinets — Benjamin Moore Swiss Coffee
Lower Kitchen Cabinets — Benjamin Moore Onyx
Kitchen & Breakfast Nook Ceiling — Benjamin Moore Blue Seafoam
Hall — Benjamin Moore Swiss Coffee over Magically Magnetic Paint Additive
Office — Benjamin Moore Baby Boy Blue (I know… ick!)
Patio Floor — Benjamin Moore Baby Boy Blue
Patio Walls — Dunn Edwards Deep Sapphire
Pendant Lights — West Elm
Plants — Los Angeles Flower Mart
Self-watering Planter Reservoirs — Windowbox.com
Large Edwardian Mirror — Family heirloom
Disneyland Atraction Posters — eBay + Disney Parks Print-on-Demand
Frames — Aaron Brothers
Swimming Hippos — Whittle Woodshop
Monitor Lizard — Family heirloom (Carrie's dad was super-into reptiles!)
Enchanted Tiki Room Fountain — Kevin Kidney & Jody Daily
Enchanted Tiki Room Uti and Pele figures — Kevin Kidney & Jody Daily
Stitch Big Fig — eBay
Gold Plant Stand — Carrie's Aunt Wendy
Blue Vase — Out-of-business vintage store on Beverly Boulevard.
Chair — Vintage, with Romo Heavenly fabric in Orchid
Rattan Bookcase — Chairish
Lamp — Etsy
Kangaroo Sculpture — Jonathan Adler, via eBay (There is SO much reasonably priced Jonathan Adler stuff on eBay!)
Haunted Mansion Model — Robert Olszewski
Umbrella Stand — Chairish
Curtain Fabric — Waverly Santa Maria Sun n Shade in Mimosa
Mirror/Hat Rack — Family heirloom
Bifold Door Pulls — Addison Weeks' Gibson Malachite Pulls
Wallpaper — Beverly Hills Hotel Martinique by Designer Wallcoverings
Wall Sconces — Jonathan Adler Havana sconces
Disneyland Attraction Posters — eBay + Disney Parks Print-on-Demand
Piano Bench — eBay; reupholstered in Beacon Hill Silk Ocean fabric
Eyeball Sconce — Urban Outfitters
On Her Majesty's Secret Service Poster — Herring & Haggis
Bookshelves — IKEA Billy, of course!
Curtains — Overstock.com
"Lucite" (acrylic) Curtain Rods — TAP Plastics
Brass Curtain Hardware — Buyrailings.com
Console — Worlds Away Barsanti
Dragon Lamp — Jonathan Adler
Stools — Nate Berkus for Target
Table Floor Lamp — Jonathan Adler Meurice via Chairish, shade re-covered by Fantasy Lighting
Malachite Picture Frame — Jonathan Adler
Couch — Mitchell Gold + Bob Williams Ainsley in Venice Teal
Pillow Covers — Beacon Hill Silk Ocean fabric + Florence Broadhurst Japanese Floral fabric
Square Side Table — Anthropologie Oscarine Lucite End Table
Gold & White Vase — Save-On-Crafts.com
Stacked Books — The Art Deco Poster by William Crouse + The Art of the Hollywood Backdrop by Richard Isackes & Karen Maness
Club Chairs — Craigslist, upholstered in Pindler Cubic fabric in Rosehip
Ottoman — American Leather, upholstered in Pindler Aaron fabric in Zinc
Ginormous Book — Charley Harper: An Illustrated Life by Todd Oldham
Orange Cat — No-Kill LA Semi-Annual Super Adoption Event
Fireplace Screen — Amazon
Tryptic Frame — Aaron Brothers
Tryptic Art — Pascal Campion
Rat and cat — Jonathan Adler via eBay
Black Vase — CB2
Devo the (ceramic) Whippet — Circa Who Palm Beach
White Honeycomb Vase — West Elm
Log Holder — CB2
Media Center — Designed by Carrie + created by a woodworker she would not recommend
Media Center Lamps — West Elm Kudu lamps
Lamp Shades — Fantasy Lighting
Brass Hippo — Jonathan Adler via eBay
Polka Dot Vase — Kate Spade
Folding Screen — Chairish
Rug — Anthropologie Brilliant Poppies
Round Side Table — West Elm
Hurricane Lantern — Anthropologie
Black Rattan Chair — IKEA
Pillow — Lilly Pulitzer for Target
Drum Garden Seat/Stool — Palm Beach Regency
Teal Runner — Overstock.com
Shelf Lights — eBay, Jonathan Adler for JC Penney, IKEA
Muppet busts — Sideshow Toys (long-since discontinued, sadly)
Disneyland Cast Member Figurines — Kevin Kidney & Jody Daily
Shelf Monsters — Beastlies by Leslie Levings
Grasscloth Wallpaper — Phillip Jeffries Manila Hemp in Turquoise
Heywood Wakefield Dining Table, Chairs, and Cabinet — Craigslist
Chair Fabric — Duralee Bob Cat fabric in Magenta, laminated by Decorators Laminating
Mary Blair Art Prints — Disney Parks Print-On-Demand
Frames — Aaron Brothers
Bar Cart — Milo Baughman via Chairish
Planters — CB2
Giant Bird of Paradise Plants — Mickey Hargitay Nursery
Drapery Fabric — Brunschwig & Fils Manaus in Leaf/Ivory
Chandelier — Lucent Lightshop via Etsy
Cable Raceways — Cableorganizer.com
Candelabra — Florence Broadhurst via Selamat
Striped Dinnerware — Mark & Graham
Monogrammed Napkins — Leontine Linens
Gold Napkin Rings — CB2
Gold Bamboo Flatware — eBay
Iridescent Stemware — eBay
Placemats — Chilewich
Table Lamps — West Elm
Elephant Planter — Chairish
Tulip Table and Chairs — Amazon
Chair Cushions — StudioCityLoft via Etsy
Enchanted Tiki Room Art Prints — eBay + Disney Parks Print-On-Demand
Frames — Aaron Brothers
Curtain Rod and Rings — Wayfair
Barkcloth Draperies — Vintage via Etsy
Poulsen-style Pendant Lamp — eBay
Blue Fruit Bowl — Jonathan Adler Vesuvius Bowl
Copper Fruit Bowl — Target
Platter — Kate Spade Gwinnett Lane
Stacked Mugs — Lilly Pulitzer for Target
Leaf Bowl — Etsy
Drawer Pulls — Coolknobsandpulls.com
Marble Remnant — Someplace in Sun Valley
Runner — Rugs USA
Roman Shade fabric — Kelly Wearstler Channels
Trivets — Fireclay tile samples in Snowflower and Isfahan
Breakfast Board — Liberty for Anthropologie
Colorful Drinking Glasses — CB2
Whale + Daschund Butter Dishes — Jonathan Adler via eBay
Wallpaper inside Cupboard — Remnants of Schumacher Chiang Mai Dragon in Aquamarine leftover from the bathroom
Wallpaper — Cole & Son Aldwych Albemarle
Shade Fabric — Brunschwig & Fils Les Touches in Blue
Shade Trim — Samuel & Sons Dolce Pom Pom Fringe in Blueberry Pie
Gold Cabinet Pulls — Amazon
Cat Mat Fabric — Brunschwig & Fils Les Touches in Blue, laminated by Decorators Laminating
Water Bowl — Etsy
Cat Plate — Zazzle
World's Best Cat Award — Archie McPhee (Don't tell the cat!)
Spinout On Route 8 Sculpture — Charlie Hayward
Cupboard Doors — Designed by Carrie, fabricated by Mike Z Design
Cupboard Door Knobs — Liz's Antique Hardware
Wallpaper — Cowtan & Tout Bamboo
Chandelier — eBay (painted turquoise by Patrick)
Rug — Overstock.com
Bed — Designed by Carrie, fabricated by Tino's Upholstery
Bed Fabric — Beacon Hill Hidden Temple in Emerald
Bed Linens — Matouk
Pillow — Appliqué by Lana's Embroidery, fabrication by Paco's Upholstery
Japanese Screen — Chairish
Dresser — Palm Beach Regency
Dresser Lamp — Chairish
Lamp Shade — Fantasy Lighting
Mirror — Palm Beach Regency
Blue Vase — Hagerware via Chairish
Gold Bamboo Valet Stand— eBay
Drapery Fabric — Beacon Hill Hidden Temple in Emerald
Étagère — Family heirloom
Malachite Phone-charging Box — Chairish + DIY
Hanging Karakusa Lamp — eBay
Chaise — Ballard Designs
Pillow — Designers Guild
Throw — Jonathan Adler Nixon via eBay
Elephant Stool — Chairish
Nightstands — Vintage Thomasville via Craigslist
Bedside Lamps — Jonathan Adler via eBay
Bedside Mirrors — One Kings Lane
Bamboo Door Knob — HistoricHouseParts.com
Wallpaper — Thibaut South Seas in Turquoise
Chandelier — Shades of Light (painted red by Patrick)
Sliding Closet Doors and Makeup Cabinet — Custom by Mike Z Design
Wall-mounted Jewelry Cabinet — eBay
Gold stool — Z Gallerie
Framed Millard Sheets Art Prints — Chairish
Mirrors for Door Panels — Precision Glasswork
Gold Pheasants — Chairish
Sunburst Mirror — Nate Berkus for Target
Malachite Vase — Jonathan Adler
Wallpaper — Schumacher Chiang Mai Dragon in Aquamarine
Faucet — Delta Lahara via Amazon
Starburst towel hook — Rejuvenation
Towels — Jonathan Adler
Malachite soap dispenser — Jonathan Adler
Orange tray — West Elm
Bamboo Drawer Pulls — Chairish, replated by Boyles Snyder
Caddy Daddy sculpture — Charlie Hayward
Ceiling light — Arteriors via Chairish
Roman shade fabric — Schumacher Chiang Mai Dragon in Aquamarine, designed by Carrie + fabricated by J & M Blinds
Window film — Emma Jeffs
Toto Washlet — Amazon (We bought this the moment we got back from Japan; they will also change your LIFE!)
Basket vase — Parker Kennedy
Peripatetic gold stool — Z Gallerie
Runner — Anthropologie
Art prints — Chris Turnham
Chrome towel bar — Carrie is inordinately proud to say she found this deadstock 68-year-old towel bar—an exact match for the other original towel bar—on eBay to replace one that had been missing for who knows how many decades!
Full details on this makeover can be found on Carrie's blog.
Wallpaper — Bradbury & Bradbury Lily in Ashes of Rose
Ceiling "molding" — Trompe l'oeil painted by Patrick, with wood rosettes by Heartwood Carving
Chandelier — Craigslist, with crystals from eBay
Curtain fabrication — MC Drapery
Tassel ball fringe — Wholesaletrims.com
Bullion fringe — DecoPro via Amazon
Sheer curtain fabric — Ivory Medallion Curtain Lace via eBay
Tombstone switchplate — Van Oaks Prop Foundry via Etsy
Lenticular changing portraits — Disneyland Gallery via eBay
Frames — Aaron Brothers
Creepy compote vase — Save-On-Crafts.com
Haunted Mansion bust replicas — eBay
Chest of drawers — The only thing Carrie has ever bought at the Rose Bowl Flea Market!
Drawer pulls — Etsy
Toilet flush handle — Acanthus leaf via Amazon
Toilet paper holder — Signature Hardware Dering
Books tissue dispenser — Amazon
Toto Washlet — Amazon
Haunted Mansion concept art — Sam McKim via eBay
Swan/Angry Goose faucet — Amazon
Soap dispenser + poison label — Etsy
Sink skirt — George's Drapery
Stretching Room gargoyle — eBay
Gargoyle shelf — Mike Z Design
Desktops — Wildon Home via Wayfair
Hairpin desk legs — Etsy
Desk chairs — Some random office supply discounter online; search for "Eames soft pad chair"
Desk Lamp — Jonathan Adler Caracas
Glitter letter tray — Etsy
Drapery fabric — Premier Prints Emily Slub in Corn Yellow
Wall AC unit cover — Mike Z Design
Blue box to hide trash/recycling — Container Store Poppin Laundry Hamper
Rug — Safavieh via Overstock.com
Custom hutch — Designed by Carrie
Interior organization system — Container Store Elfa
Cabinet-top lights — IKEA
Blackout shade — Queen of Shades
Leaf lamps — Circa Who Palm Beach
Lamp shades — Fantasy Lighting
Filing Cabinet — CB2 TPS with gold spray-painted handles
Sofa — American Leather Comfort Sleeper upholstered in Lilly Pulitzer for Lee Jofa Besame Mucho in Agate/Conch
Pillows — Trina Turk via eBay
Throw — Jonathan Adler via eBay
Ginormous Totoro — Some manga shop in Chinatown
Gold side table — One King's Lane
Coffee Table — CB2
Pagoda lantern/terrarium — JM Piers via Chairish
Tray — Lilly Pulitzer
Retro Rod sculpture — Charlie Hayward
Baskets — Lulu & Georgia
Pillows — Lilly Pulitzer
Calendar Girl — Brittney Lee via Etsy
Buckingham Palace Neon Union Flag tea towel — Royal Collection Shop
Russell Woodard table and chairs — Simon Paul Scott, Inc. via Chairish
Russell Woodard sofa — eBay
Chair cushions — Lilly Pulitzer for Lee Jofa Heritage Floral II in Aqua/Orange, fabricated by Fabio's Upholstery
Sofa seat cushion — Lilly Pulitzer for Lee Jofa Searchin Urchin in Lush/Conch, fabricated by Fabio's Upholstery
Outdoor Pillows — Lilly Pulitzer
Rug — Dash & Albert Happy Yellow Stripe Indoor/Outdoor Rug
Outdoor curtains — Amazon
Beaded Chandelier — Murray Feiss Maarid via DecorPrice.com
Cafe lights — Amazon
Yellow drum stool — Waverly Garden Stool via Houzz
Plants — Mickey Hargitay & Sunset Nursery
Lightweight planters — Urbilis
Moroccan patio pendant lamp — Chairish
Shell mirror — Etsy
Garden Cart — COSCO Utility Cart via eBay (painted by Patrick)
Cake + cupcakes — Susiecakes (Carrie's favorite!)
Plates — Lilly Pulitzer for Target
Napkins — Lilly Pulitzer for Target
Napkin rings — Parker Kennedy
Bamboo flatware — Horchow
Brass palm tree candlesticks — CB2
Giant clam shells for DIY fountain — Either Frontgate or Grandin Road, but Patrick had to paint them with a bazillion coats of pool sealant and build up the edges to even out the water flow
Rope curtain tiebacks — SexyTown (I kid you not) via Amazon
Shelf Tile — Fireclay custom-colored Isfahan in Lapis, Lagoon, Daffodil and Whitewash
Succulent arrangement — Sunset Nursery
Thanks, Carrie and Patrick!