Here's Why They Use Those Gold Wine Glasses on "Love Is Blind"
We independently select these products—if you buy from one of our links, we may earn a commission. All prices were accurate at the time of publishing.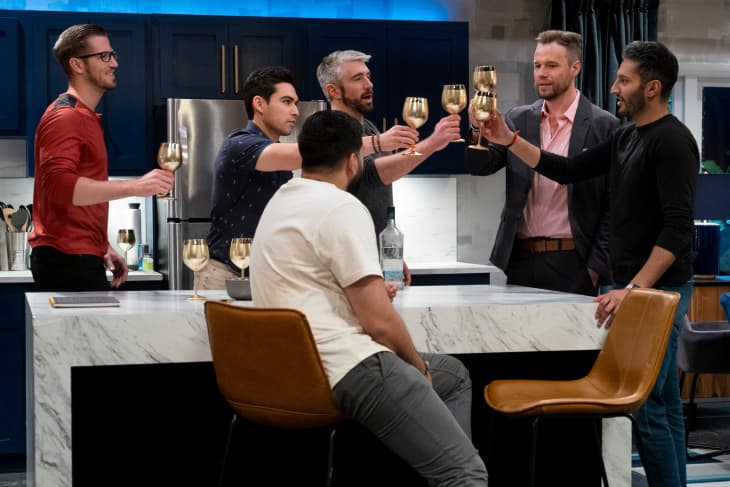 Now that "Love Is Blind" has made a highly-anticipated return to Netflix for its second season on the streaming giant, there's no shortage of new personalities and high-stakes drama for fans to sink their teeth into. One unexpected breakout star of the reality competition series, however, isn't one of the 15 men and women on the hunt to find true love sight unseen. It's their wine glasses.
Follow Topics for more like this
Follow for more stories like this
First making their debut during season one, viewers quickly took note of the gold wine glasses popping up in what feels like every scene. The brushed gold metal goblets — a decidedly unique twist on the classic clear glass that most people rely on to sip their vino of choice — have become so popular on social media that series creator Chris Coelen addressed them in a recent interview with Variety.
Coelen played slightly coy about the reasoning behind the breakout prop from the series, telling the outlet, "I don't know. It's something I like. When you turn on the show, you know it's our show. It's a very authentic, really true following of these people's journeys, but I like the fact that we have this sort of connective tissue with that in a really light way, it's fun."
Still, it seems far too strategic to some that these opaque gold glasses made their way from the anonymous pods to Mexico, where the matched couples were whisked to get to know each other before their quickie weddings just weeks later. They even appeared during the big family meet and greets and wedding gown and tux shopping appointments, because nothing says true love quite like a celebratory glass of wine out of massive gold goblets.
Some eagle-eyed fans even noticed two different kinds of gold wine glasses: ones with long stems, and ones without. And while it might seem on a surface level that the glasses exist solely as a quirky aesthetic statement that just happens to elicit plenty of online buzz and chatter, some fans have pointed out that the glasses help eliminate any continuity errors on the part of the editing team, so viewers won't notice when scenes have been strategically edited out of chronological order.
As social media strategist Mia Aquino noted, "Seeing so many posts on #LoveIsBlind gold wine glasses. It just simply helps with editing/ the continuity of the scene. You can't see how much is left in the glass! Gotta love reality tv!!"
Whether or not the origins of the gold glasses are as juicy as fans are speculating, fans are definitely curious about where they can buy their own — perhaps for future viewing parties or to simply have their very own reality TV moments sans cameras and a production crew. Thankfully, there are plenty of similar options you can snag at a reasonable price point in case you, too, are saving up for a dream wedding to someone you just met a few weeks ago.