Martha Stewart's Post-Cleanout Pantry Is Actually Relatable—Even With 47 Types of Salt
We independently select these products—if you buy from one of our links, we may earn a commission. All prices were accurate at the time of publishing.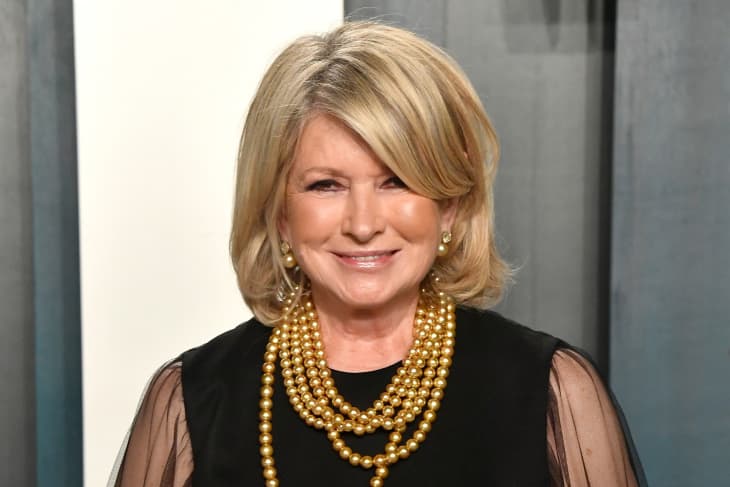 It's a truth universally acknowledged that organizing a messy area is an instant mood booster. That is, unless you're the queen of clean, Martha Stewart, and have very high standards for both tidiness and good feelings.
Follow Topics for more like this
Follow for more stories like this
Stewart posted to Instagram on Wednesday night, sharing that she finished tidying the "savory portion" of her pantry at 10 p.m. And while she admits that the space is "more useful now I know where everything is, I know what I have and what I do not have," she also mentioned in the caption that "I do not feel as good as I thought I would." 
She breaks down what she kept, which includes "forty seven types of salt, about twenty seven types of olive oil, most sealed thank goodness. Numerous kinds of vinegars, pastas. Many types of hot sauces and barbecue sauces. Lots of Asian ingredients for Japanese, Chinese and Thai recipes. Lots of liquor and liqueurs for cooking and baking. The serious stuff is in the wine cellar for parties or in the freezer for mixing drinks. Quite a few types of rice, grains, only one small jar of garbanzos—I don't use very many dried beans."
In the age of Instagram, it's common to see celebrity pantries like Chrissy Teigen's that are a bit more fantasy than function. In contrast, Martha's very real-looking after is relatable, as fans mention in the comments. But it could also be contributing to her lackluster feelings about finishing the project.
I asked Apartment Therapy's own Martha, Lifestyle Editor Taryn Williford, what Stewart could've done differently to improve upon her pantry. Here's what she suggests:
Do you need 47 types of salt and 27 types of olive oil? (Of course you do, you're Martha, so then…)

I would suggest grouping them together in bins, but not how you think. Don't put all the olive oils together. Put them together into bins based on cuisine or what you're likely to use in the same meal. So one bin might have all the spices and oils you'd use for an Asian dish, and all the Italian-type ingredients are in another. Label the outsides of the bins with everything that's inside in case you decide on a fusion night.
It appears that this pantry is a bit deep, so I love Taryn's suggestion for bins. An additional tip, following the advice of another kitchen goddess Ina Garten, is that everything must be visible. And for that, you can't beat lazy susans. Stuff you'd normally have to dig for is now just a turn away.
Can't wait until she tackles the "sweet portion" of the pantry.