Living Large in an Airstream Trailer
We independently select these products—if you buy from one of our links, we may earn a commission. All prices were accurate at the time of publishing.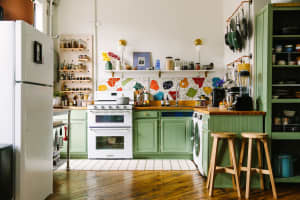 Can't-Miss House Tours Straight to Your Inbox
Keep up with our latest house tours each weekday with our House Tour of the Day newsletter
Name: Matthew Hofmann
Location: Coyote Canyon — Montecito, California
Size Approx 160 square feet
Years lived in: 6 months — owns the Airstream, rents the land
Follow Topics for more like this
Follow for more stories like this
After seeing Matthew Hofmann's Before and After makeover of his retro Airstream trailer, I jumped at the opportunity to photograph it for a full tour. A licensed architect, founder of HofArc, he was able to reconfigure the original bones of this space while refurbishing it, and restoring some of the original charm.
I am most impressed when homeowners rise to the challenge of small spaces and grand design. Living in this Airstream trailer with his girlfriend, the pair have completely embraced a simple, functional and clean home (on wheels!)
Matthew completely gutted the inside of the trailer, and then brought back some of the original structure like the table doubling as his workspace and often a couch to watch movies on. The kitchen is travel proofed with the handles and knobs that lock into place. The bathroom is a small blue oasis complete with modern fixtures and a full shower. Matthew notes that one of the most signifigant changes since he left the firm he worked for, was that he designed his airstream to equip a fully functional office. The most impressive challenge of all… Matthew shares this space with his girlfriend. They have completely encompassed the minimal approach to decor and I believe that though their residence in the airstream may only be temporary it's awesome to see how little we "need" in our homes to actually survive.
Apartment Therapy Survey:
Our Style: Clean, simple and warm.
Inspiration: The evolution of Airstream design throughout history. Nature.
Favorite Element: The cabinet drawer hardware was purchased from Hafele, a German company. These drawer pulls are simple, elegant and beautiful. An integrated locking mechanism is activated by pushing in the drawer pull itself, which then becomes flush with the face of the cabinet front, and engages a lock that keeps the drawer/ cabinet closed during transportation. These were a very sleek solution for keeping things in place while on the road.
Biggest Challenge: Removing the wet dog smell form the interior. The prior owner told me that a pit bull was kept in the trailer. Under every panel and cabinet was a healthy vintage carpet of pit bull hair. I'm sure the dog was brown and white.
What Friends Say: Some friends and family don't understand why I've chosen this lifestyle, while others say I'm living their dream. In the beginning, before the remodel, most expressed some form of "…good luck…" with highly-doubtful grins on their faces. It's a pleasant outcome to bring the same folks inside to see the finished product.
Biggest Embarrassment: Mixing up the hot and cold supply water lines during an epic soldering battle. The war ensues.
Proudest DIY: Learning to solder plumbing. Every task can be learned. In this information age, a successful cabinet job, cable wiring, or plumbing installation is just a click away. This project has helped strengthen my patience.
Biggest Indulgence: The bathroom, enough said.
Best Advice: Not having the answer to a problem in the immediate moment isn't necessarily a bad thing. I am teaching myself to let a problem task go unanswered at the end of the day and still be able to sleep at night. Though not always in clear sight, an answer can almost always be reached, or perhaps we're not asking the right questions.

Often times, struggling through a task can lead to creative options that aren't always visible. Looking externally for answers (through what you don't know yourself) can lead to more successful solutions – listening is key. The opinion of our friends, family, and coworkers is a valuable asset. There's tremendous value is in translating and understanding the advice and opinion of others.
Dream Sources: To design and build my home, to my needs and desires. The dream of living in a place I own, in a private location, surrounded by nature.
• Sherwin Williams Harmony Semi-Gloss: Durable, zero-VOC, low-odor interior paint
• Exterior paint stripper RemovAll 220 – Non-toxic, environmentally-friendly.

• Natural Strand Bamboo Flooring. Regionally supplied material through Cali Bamboo
• Magritte print. Welcome
• Original electrical switches. Reconditioned.

• Cali Natural Strand Bamboo flooring.
• Hafele undercounter 12 volt RV app. halogen puck lights (chrome).
• Reface depot – RTF aluminum faced cabinet doors.
• ArchiTech in-wall speakers
• Overhead cabinetry removed, redesigned, and re-installed to simplify (clean lines).

• Cali Natural Strand Bamboo Dining table. Table legs saved and reused form prior design.
• Dinette refinished and painted. Old dining table material removed was reconditioned and used as shelving for cabinetry.
• Sunbrella indoor-outdoor fabric cushions from Cushions Express.
• Dinette convertible to "media lounge." 27″ iMac used as TV (Netflix, DVDs, etc.)

• Moen stainless steel sink
• Hafele Kessebohmer integrated pullout pantry system.
• Atwood Wedgewood 3-burner propane stainless gas cooktop.
• GE Smartwater multi-stage reverse osmosis filter system.
• Euro Modern Contemporary 23″ pull-out spray kitchen sink faucet (chrome).
• Hafele MOOVIT drawer box system.
• Hafele double cutlery tray integrated drawer inserts.
• HotGlass Classic CartGlass blended 3/4″ glass ice blue blend.
• Norcold refrigerator.
• Cali Natural Strand Bamboo 1-1/2″ plywood countertops.
• Hafele undercounter 12 volt RV app. halogen puck lights (chrome).

• Custom built convertible bed. Locally supplied materials used. Sunbrella indoor-outdoor fabric cushions from Cushions Express.
& bull; Hafele MOOVIT drawer box system.

• ArchiTech in-wall speakers.

• Grohe Euphoria chrome shower wand fixture – integrated low-flow water control valve.
• Kraus above-counter 14″ clear glass vessel sink and Ramus faucet.
• Grohe Essentials accessory kit. Towel bars, TP holder, etc.
• Danze Parma – Shower Single Handle Trim Kit (chrome).
• HotGlass – Classic CartGlass Blended 3/4″ Glass Ice Blue Blend.
• Custom built Redwood shower pan.
• Cali Natural Strand Bamboo 1-1/2″ plywood countertops.
• Custom-built bathroom fixture with a 60 SMD ultra bright S25 LED light. Two stage brightness, ultra-low voltage, virtually no operating heat.
• Domestic Sealand Traveler Lite real China toilet.
• Pillar Contemporary Recessed Medicine Cabinet.

• 27″ iMac Intel I7
• Apple universal Vesa mount adapter for iMac.
• Humanscale m8 monitor A.
• 12 volt Surround Sound entertainment control system.
• ArchiTech in-wall speakers
• Integrated Brother multifunction 11×17 office printer. Installed in custom-built pullout drawer under bench.
• iPhone4 with 3G service for mobile, wireless anywhere OnTheGo internet connection.
• Wireless network. All peripheral devices connected wirelessly.

• Reconditioned window trim – paint removed, sanded and refinished.
• Demo'd interior walls, cabinetry, and hardware stored on site and reused wherever possible. Ex: old table used for cabinet shelving.
• Old appliances/ fixtures were sold or donated to extend their useful lifespan (divert from landfill).

Note from the homeowner: Matthew Hofmann is a licensed architect, founder of HofArc, offering design services, big and small, to clients all over the world. He is available to answer your questions and is currently looking for new thoughtful and progressive architectural clients. Follow his design blog about the lifestyle of living in an Airstream trailer.
• HOUSE TOUR ARCHIVE Check out past house tours here
• Interested in sharing your home with Apartment Therapy? Contact the editors through our House Tour Submission Form.
• Are you a designer/architect/decorator interested in sharing a residential project with Apartment Therapy readers? Contact the editors through our Professional Submission Form.