The Most Romantic Thing You Can Add to Your Bedroom Right Now, According to a Sexologist
We
independently
select these products—if you buy from one of our links, we may earn a commission. All prices were accurate at the time of publishing.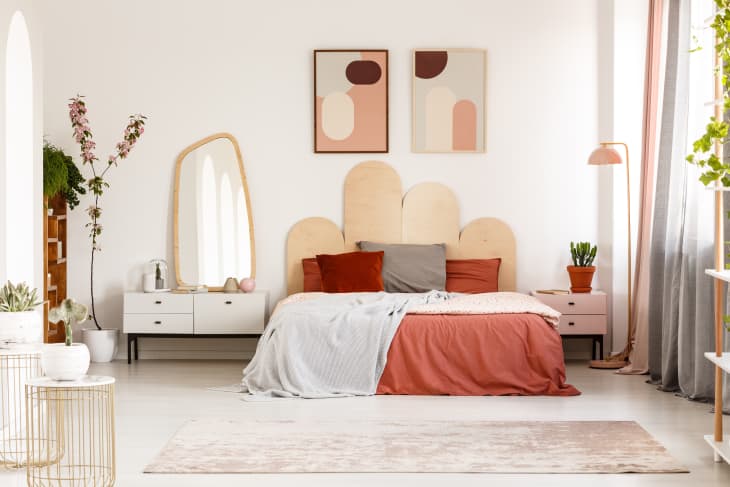 The bedroom can be one of the busiest places in the home. It serves as the primary setting for so many of the everyday tasks and activities that makeup your daily routine, like sleeping, getting dressed for the day or cleaning and tidying up.
It's not surprising that when it's time to actually set the mood for something a lot more fun, say, like for love or intimacy, switching gears can sometimes feel like a bit of a chore… and cliché. Cue the colored light bulbs, cozy throw pillows, scented candles and massage oils. Updating the lighting, decor and bedding in your space is sure to make your bedroom setting feel more relaxed and inviting, but there are other simple ways to invite more intimacy into your bedroom aesthetic for those not looking to do a full room refresh.
You can start by adding a standing mirror, says Shamyra Howard, LSW, a certified sex therapist. "Mirrors enhance romance by adding another element of intrigue for couples willing to stand naked together in the mirror," Howard shares. "When you're looking at your partner naked, holding each other, in a mirror, you get to see their body in a different light."
By simply being intimate in front of, or near, a mirror couples will add a new level of sensory stimulation to sex or intimacy with their partner. "We don't always get to see exactly how we respond to different touches or gestures from our partners," explains Howard. "We feel it, but we don't get to see our reaction and our partner's physical reaction while touching, kissing or caressing. Getting to see each other's full body reactions is very sexy."
If you already have mirrored closet doors or a bedroom wall mirror, you are already halfway there, says Howard. "All you need to do now is get in front of it the next time you are spending intimate time with your partner."
If you're shopping for a new mirror, remember that the mirror you use doesn't have to be a decor investment piece, says Howard, who likes to recommend this bedroom romance trick because it works for every budget. "You can splurge on a floor mirror to double as decor or find an inexpensive one at your local dollar store and just store it neatly under your bed when it's not in use," shares Howard. "If you want, it can just be your 'sex mirror' and be used like any other prop or pleasure product."
And just like that, your bedroom just got way sexier. You're welcome. 
To start your search for the perfect floor mirror for your bedroom, here are three editor favorites:
February is Bedroom Month on Apartment Therapy! We're sharing stories all month about bedrooms — from how to sleep in them, decorate them, make the most of small ones, and so much more. Head over here to see them all!