Get Your Deposit Back: A Move-Out Cleaning Checklist
We
independently
select these products—if you buy from one of our links, we may earn a commission. All prices were accurate at the time of publishing.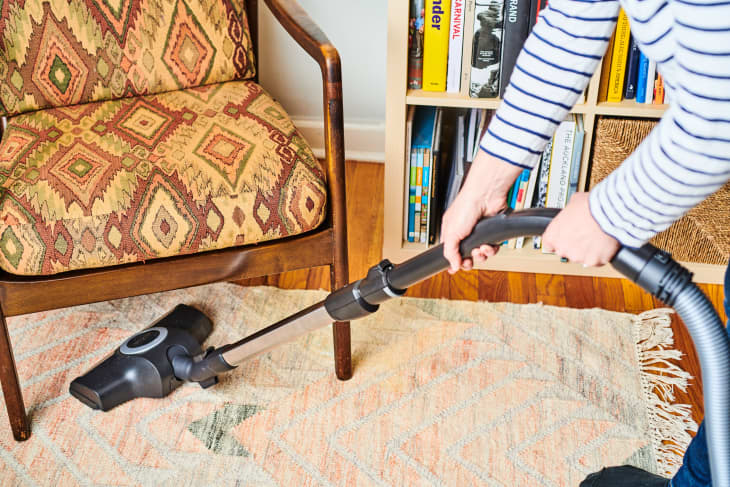 The last thing you want to do before you leave one home to start another is clean out the old place. But alas, it must be done, so just throw on some tunes, grin, and bear it. If your place is just surface dirty and not damaged, how well you clean could be the difference between getting back your deposit money that has been held hostage for years or not. So here is a checklist of things not to forget as you prepare your home for its next inhabitants.
How to Clean Your House Before Moving Out
Ready to get to work cleaning so you can get that deposit back? Start with this checklist.
Take all nails and screws out of the walls and ceiling and putty them smoothly.
Dust the ceiling fixtures.
Dust all ledges.
Clean the windows.
Clean the door knobs and doors.
Clean all light switches and outlets.
Clean the walls and baseboards.
Vacuum (get any stains out of the carpet, or get the carpet professionally cleaned).
Get rid of all cobwebs.
Get soap scum off the bathroom tiles and tub/shower and bleach the grout.
Clean out the bathroom drawers and vanity, making sure you get all the hair out (and remove any liners).
Clean the toilet, sink, countertop and finally the floor (sweep and mop). If the toilet seat is unsavory looking, replace it.
Clean the mirror.
Vacuum out the surface of the exhaust fan if super dusty.
Dust, sweep, vacuum, and mop these empty rooms.
Should be completely empty and swept.
Cut the grass.
Pull the weeds.
Remove all of your stuff that might be stuck in the ground or hanging in trees.
I recently quickly scrubbed the porch stairs to remove all of the grass stains — it looked a million times better
And the last thing you should do is mop from the furthest point out to the door. Say goodbye, lock it up and go get a drink!
Or if you can splurge on a move-out cleaner, then just forget this whole list. For me, I recently saved clean-out money to help pay for movers. Good luck!