How My Multicultural Family Celebrates a Blended Holiday Season at Home
We
independently
select these products—if you buy from one of our links, we may earn a commission. All prices were accurate at the time of publishing.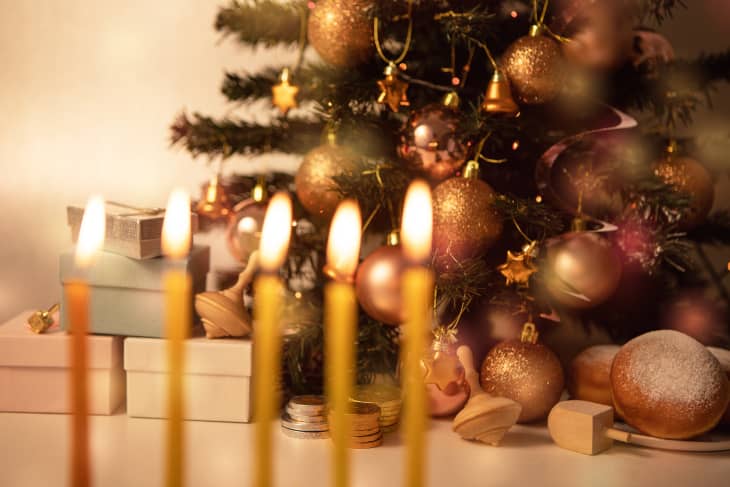 The city that I used to live in was so diverse and exposed me to holiday traditions from around the world. While many celebrated Christmas, there was also a huge Jamaican population celebrating Kwanzaa, and there were enough Jewish families in the area that public schools would close for several days to celebrate Hanukkah. I'll never forget when, several years ago while out shopping, I heard a store clerk say "Happy Christmakwanzukkah!" From his warm and jovial nature, you could see he was not trying to offend anyone at all. He wanted to emphasize being happy and celebrating the diverse holidays going on throughout our city by melding them in this one simple greeting.
Unifying diverse cultural traditions was something my family of origin was used to doing. My parents are Filipino immigrants, but my siblings and I were born in Canada and we eventually immigrated to the United States. So, our holiday celebrations were always a multicultural mix of Filipino, Canadian, and American customs. For a while, as loyal Canadian expats living in the U.S., we celebrated two Thanksgivings, since Canada celebrates in October and the U.S. celebrates in November. 
During Christmas, my parents continued the Filipino custom of hanging up a colorful five-point, star-shaped lantern called a parol, outside of our house. This lantern — a ubiquitous symbol of blessings, hope, and peace during Christmas time in the Philippines — is not a common sight in the U.S., so it's a great option for anyone interested in White Elephant gift exchange. It was a completely new cultural experience for our Filipino family to play a game where the spirit of giving gets completely overtaken by the spirit of stealing one another's Christmas gifts!
My Chinese sister-in-law's family is much like mine in the way they bridge multiple cultures with their holiday celebrations. Her family prefers Asian foods, so they will serve dishes such as Peking duck or hot pot alongside their turkey and mashed potatoes. Their family's biggest celebration and time for gift giving is during Chinese New Year, which takes place in late January through the first week in February. Gifts are in the form of money placed in a hong bao (red envelope) — which coincidentally, is something many Filipinos also give out during Christmas.
My husband is of Norwegian descent, but mostly embraces his Viking roots. He grew up never celebrating any religious holidays. Like my sister-in-law, his family's biggest celebration during the holiday season would take place on New Years. Now, with our children, we have a tradition of enjoying his family's New Year's Eve recipes, and our gift exchange with the children takes place the next day, so the gifts are symbolic of the blessings in the year to come. Even though my husband never celebrated Christmas growing up and we don't do so in our own household, we look forward to enjoying our family's multicultural Christmas feast, whole-heartedly singing classic Christmas hymns and exchanging simple gifts with our family members.
I appreciate my husband's willingness to celebrate with our extended family for the sake of building family relationships. In fact, I feel blessed that each of my family members is willing to adapt and blend our traditions so that we can enjoy the holiday season as one multicultural family. Blending cultural traditions is such a joyful way to build community and encourage a diverse group of people to celebrate the holidays together in love and unity.