The Science-Backed Trick I Use to Encourage My Kids to Clean Their Room
We
independently
select these products—if you buy from one of our links, we may earn a commission. All prices were accurate at the time of publishing.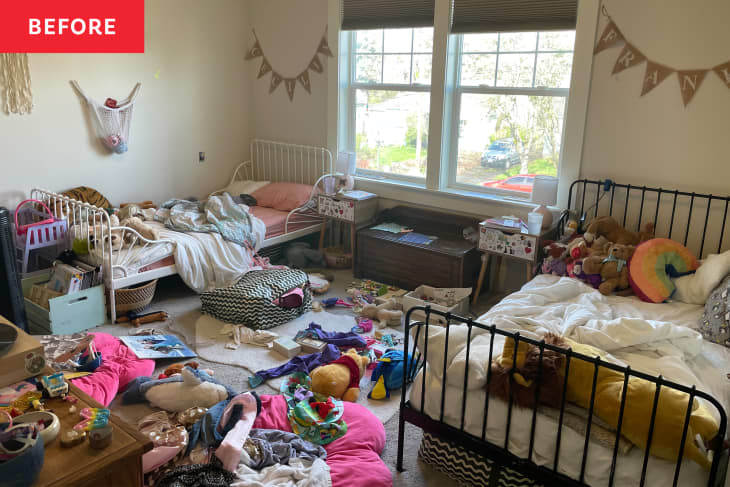 Like most parents, I want my kids to have a sense of autonomy over their space, which is why I let them keep their Legos out, build forts in the middle of their room, and store as many stuffed toys on their beds as they please. I could easily sneak into their room and clean for them, but that would be a detriment to their development and my well-being. So when it comes time to really clean their room, there's one simple trick that always works (and no, it's not a bribe!): It's music. 
Since my kids were very little, even before walking, I used music to signal that it was clean-up time. Now my kids, ages 6 and 8, need music to clean their rooms. Although I'd like to think I discovered this cleaning panacea, it turns out science has known about it for a while. A study conducted by Jelmar found that 80 percent of Americans prefer a tune to keep them tidying. 
And it's not just cleaning! Music helps you stay productive in a multitude of ways. A 2020 study in the Internal Journal of Surgery found that "a surgeon's task performance can significantly be improved by music." I've had the experience of entering a state of flow at work with the aid of music, and even as a high-school teacher I've discovered that students prefer writing their essays with some lo-fi hip-hop on in the background. 
I love it when my kids' room is dialed in, even if for a moment, but what I love profoundly more is their early exposure to music. A 2020 Music and Brain Health Study conducted by AARP found some incredible benefits. The researchers Chuck Rainville and Laura Mehegan write, "About 68 percent of those who say they were exposed to music as a child often rated their ability to learn new things as excellent or very good, compared to 50 percent of those who never were exposed to music when they were growing up. Quality of life ratings were also higher among those who indicated music was part of their elementary school experience." That's more than enough motivation for me to keep the music flowing. 
When I put on a fun playlist (my kids still like songs that are explicitly about cleaning), they start to clean their room. And by the end of three songs (about 10 minutes), it's all tidy. Yes, everything went where it belonged and was not just shoved into a closet. It's worth noting that my kids know where each item goes (dolls in one bin, blocks in another, books on the shelf, puzzles in the crate, etc). Without that groundwork, I doubt they'd be as successful. 
Music is a simple way to keep kids engaged in the cleaning process and feel like they have a say in the design and feel of their little sanctuaries. Music can help you whenever you need it to.