I've Tried Countless WFH Productivity Hacks, And This One Actually Stuck
We independently select these products—if you buy from one of our links, we may earn a commission. All prices were accurate at the time of publishing.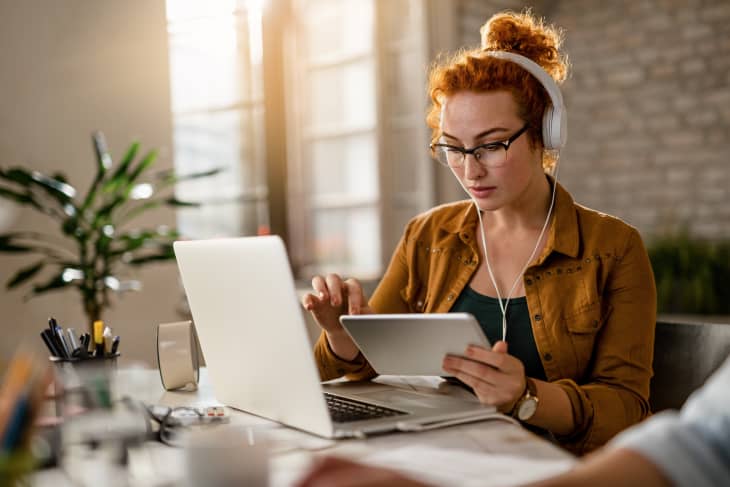 The first time I opened up the Calm meditation app, an image of a mountain popped up on my screen, while birds chirped, wind howled, and water flowed down a steady stream. I instantly felt my shoulders relax, and it actually wasn't just that: my whole body started to soften. What surprised me even more was when I left the app and started doing other things on my phone, the sounds didn't stop. I checked my email while the stream continued to flow, and scrolled social media while the birds kept on singing. All of a sudden the mundane, oftentimes mindless activities I did on my phone were a lot more pleasant. Even relaxing! I remember thinking, "These natural sounds are kind of nice," and reserved them for things like meditation and reading. 
I used to be that person who works from home who is constantly switching up the music they listen to as they work. Lofi beats had to be the right vibe and tempo, music with words was too distracting, and classical music was a bit stuffy for my liking. Constantly skipping and searching for new music became a chore and a time-suck. It wasn't until I decided to listen to nature sounds while working that I found my foolproof work from home soundtrack. Man oh man, do these sounds chill me out and boost my productivity. 
If you're someone who works primarily from home, you know that distractions abound. It's easy to get sidetracked when you're surrounded by things like your bed, a cozy couch, or household chores that seem to beckon at 11 a.m. for some reason. I've tried many productivity hacks and rituals to help me stay focused over the past few years, and this is one that has stuck. Whether it's waves crashing on a beach, rain falling on a window pane, or the pops of a crackling fire, these are sounds I come back to again and again, especially when I need to get a lot done. 
Studies show that this makes a lot of sense. According to the Proceedings of the National Academy of Sciences, nature sounds improve health, lower stress and can boost your mood. Work environments, even when you're working from home, can be understandably stressful — you're hopping from Zoom meeting to Zoom meeting, tackling a never-ending inbox, and striving to meet deadlines. But nature sounds calm you down, since proximity to nature is good for your health, and reduces your fight or flight response. There's a reason people vacation at the beach or a cabin in the woods — these natural settings allow you to let your guard down. That clear-headedness that comes when you watch a sunset or gaze out at the ocean can translate to your work-life too… you can just put the sounds of these settings in your ears instead. 
My work involves a lot of thinking and writing, so being able to get into a creative headspace means I need to be free from distraction if I want my work to be any good. I admit, I turn on my lofi beats from time to time, but nine times out of 10 I have fireplace sounds or a thunderstorm in my ears to get me in the zone. I pair my natural sounds with the Pomodoro technique, and work for 50 minutes before taking a 10 minute break. Mixing these two WFH hacks together keeps me focused and on task every day during the week. I'd be lost without them — or at least way less productive. 
So where can you find these natural sounds? They're everywhere from YouTube, music streaming platforms like Spotify or Apple Music, or meditation apps like Calm. I personally like to stick with seasonal sounds (blizzard sounds for winter, beach waves for summer, etc.) but you could also use this audio to transport you to a different environment altogether. It's fun to daydream about a beach vacation while sending emails and listening to ocean waves on a 30-degree day! It's worth noting that getting outside and listening to the real sounds that nature provides is just as calming, if not more so than having a recording of them in your ears. If you live somewhere with a beautiful landscape right at your doorstep, you're probably already doing this. But for city dwellers and suburbanites who can't get away from man-made noise, a playlist of falling rain and thunderstorms can work just as well.