The Surprisingly Realistic Artificial Tree That's Helping Me Beat the Winter Blues Is on Major Sale Right Now
We
independently
select these products—if you buy from one of our links, we may earn a commission. All prices were accurate at the time of publishing.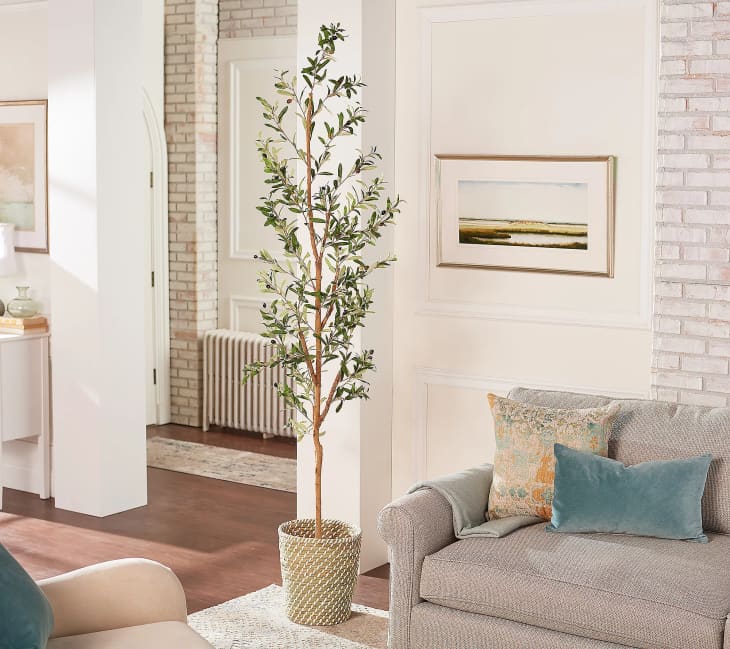 As the days have gotten colder and grayer in recent weeks, I find myself constantly thinking about escaping to someplace warmer and sunnier. And while I do have a trip to Sicily planned in the spring, it's still several months away. In the meantime, I've been searching for a way to brighten up these dreary days, and I just may have found the solution in Nearly Natural's 82″ Artificial Olive Tree. I got the opportunity to try one out in my apartment, and I have to say that it adds some much-needed oomph and a bit of Sicilian sunshine to my tiny New York City space.
The lifelike tree, on sale for a limited time at QVC for $79.98 (normally $125.98), was delivered to my building in a lightweight but very long box (as my doorman noted), and it was very easy to set up once opened. I just stood it upright on its cement base, which is housed in a black plastic pot, and gave the leaves some zshuzhing to bring it to its proper fullness (the photo below was taken just after the unboxing).
The brown, slightly rough tree trunk looks and feels very much like actual wood, with realistic green leaves (they're polyester) extending upward from the branches. Scattered throughout the branches are plump plastic olives in shades of green and purplish-black that indicate their different levels of ripeness.
Because it's relatively slim, the Nearly Natural artificial olive tree can be incorporated into just about any room and is ideal if, like me, you're tight on square footage. I'm still deciding where exactly I'll show off my tree, but I'll likely put the plastic base inside a storage basket or a more stylish planter and nestle it between my sofa and decorative fireplace or plant it (so to speak) near the window in my living room.
If you're looking to liven up your space and bring some green indoors without having to worry about watering, Nearly Natural's artificial olive tree could be a good option. It lends a light and airy vibe to any area while also making a statement. And, who knows, it might even lift your spirits until you can say ciao to the dreary winter days.