This 320-Square-Foot NYC Studio Is Stuffed With Smart AND Organized Storage Ideas
We independently select these products—if you buy from one of our links, we may earn a commission. All prices were accurate at the time of publishing.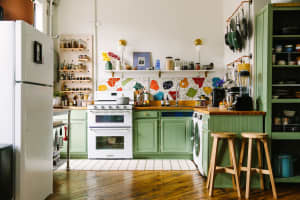 Can't-Miss House Tours Straight to Your Inbox
Keep up with our latest house tours each weekday with our House Tour of the Day newsletter
Name: Nancy Knight, my kitty Pumpkin
Location: Upper East Side — New York, NY
Type of home: Studio Apartment
Size: 320 square feet
Do you rent or own? Rent
I love having this bit of extra space to create a bit of elegance as you walk into the apartment. I used the IKEA Hemnes shoe cabinet to the right to store my laundry supplies and extra toiletries, medicines, and travel supplies in the bins. I ran an extension cord from the living room so I could have a lamp on top of the cabinet to create a warn glow as you walk in the door, with a bit of art and a place to drop my keys. To the left was a blank wall with an ugly electrical box which I covered with a painting I did in Italy then filled in the extra space with IKEA picture ledges with family photos on the ledges and walls then strategically placed command hooks for storing purses and scarves.
Another thing I like about this space is the closet. Although it is small, it's very functional. I added a halogen, motion-sensored battery operated light, which is amazing, and this closet holds my iron and ironing board on the back of the door, out of season clothes, my cart with art supplies, vacuum, and luggage. I even added hooks to the back of the closet wall for tote bags and the side wall to store my grocery cart. And using all the vertical space, I hang my hand saw and miter box up high.
I have a full-size sofa, a club chair and ottoman I picked up at Housing Works—and, thinking of using every inch of space—I have two cool hacks in the room for hidden storage. The first one is the ottoman: I cut out the dust cover on the bottom and had a thin piece of chalk board cut to fit and made a latch so hidden inside the ottoman is more storage. In the bookcase, which my dad built in 1975, I cut a hole on the bottom right side and installed a pet door. Because the bookcase has two doors on the bottom I have easy access to my kitty's litter box, and it is so discreet. I have fun asking people that visit if they can figure out where the litter box is. I even installed a battery operated motion-sensored light so Pumpkin has a little light to do his business!
The coffee table is a rectangular occasional table I picked up at HomeGoods and I have a wooden tray on top I picked up from Nadeau that gives me a little more surface. You'll notice a leather stool next to the book case that is used for extra seating, along with occasional table (top tray removed). I bought an IKEA gate-leg table I store in the kitchen under my desk so when I want to have a dining table I am all set with seating. Also, I used a combination of Container Store ladder bookcases wrapping the corner for books, my printer, and for storing extra towels, perfumes, and jewelry, and I added a little ambiance with a small lamp. The smallest bookcase faces the bathroom and the other side is a closet so I treat that whole area as my dressing room.
I was very lucky that this bathroom was already renovated, so the only thing that I had to do was make it my own. I love the light in here and with such a small apartment, keeping the shower curtain open to keep the bathroom feeling spacious; I wanted to make sure it looked pretty. I installed a wall-mounted shampoo and conditioner dispenser that gives it a spa feel, added a Himalayan salt candle and sea shells and added the natural roman shade, a window fan (it does get warm), and a plant. I topped it off with some art and hooked rug and it feels great. One problem in this bathroom was that there was no lighting around the vanity mirror, only an overhead light. I found battery operated halogen wall sconces and it made all the difference. I also used motion-sensored lights under the sink cabinet, storage bins, and suction baskets on the doors to maximize storage. It took a bit of trial and error, but now everything I need has a place and it's very functional.
This is my home office; I work from home full-time so this was a very important space for me. Again I was very lucky this apartment had this desk built into the kitchen but it had no drawers. I found these desk top drawer organizers at the Container Store and they work perfectly for all my office supplies and papers. And the slim cabinet on either side of the desk on the bottom serve as utility closets for tools and cleaning supplies. Under the desk is where I store my gate leg IKEA table that I can pull out when I want to set up a dining table in the living room. Also, I recently purchased the small green cabinet from Nadeau, which gave me real drawers in my kitchen for storing spices, tools I need to get to easily, bar equipment, cooking oils, cereal, etc. It was perfect for this tiny kitchen and has made all the difference.
Again, there are great bones in this recently renovated kitchen, but very little counter space and no drawers. I love to cook, so making this small space work was a priority. I added the IKEA shelving to store a collection of Italian pottery, I added a tension rod and S hooks to the bottom to store my pots, pans, dish towel, apron, and extra kitchen tools. I also added a wall rack to hold the pot lids. I had to think of vertical space for storage to make this kitchen work. I installed a pull-out garbage and recycle bin under the sink, added a paper towel holder under the sink and put extra cleaning supplies there, and of course a motion-sensored light. I have found that in a small space just having light is a big plus and just makes me feel better to be able to see.
Because there are no drawers with the kitchen cabinets I used a few counter storage containers, a big copper cookie jar I got at Pier1 for my utensils, a small decorative metal planter for small utensils, and a copper cutlery holder for my cutlery. I have only one small kitchen appliance and this is my hot water kettle; I make my coffee in a cone one-cup pour over. I invested in a Boos cutting board I put across half of the sink for work space and I have a cast iron griddle, which when not in use for Sunday morning pancakes gives me a little extra work surface. Also, to complete the kitchen I added a window herb garden, which makes me so happy to be able to pluck off just what I need when I am cooking; these containers are from IKEA.
A look back at my desk and wall shelf from IKEA. You can see how narrow the kitchen is, but with planning and trial and error, you can make a very small space work.
This submission's responses were edited for length and clarity.