The Year There Really Was No Place Like Home
We
independently
select these products—if you buy from one of our links, we may earn a commission. All prices were accurate at the time of publishing.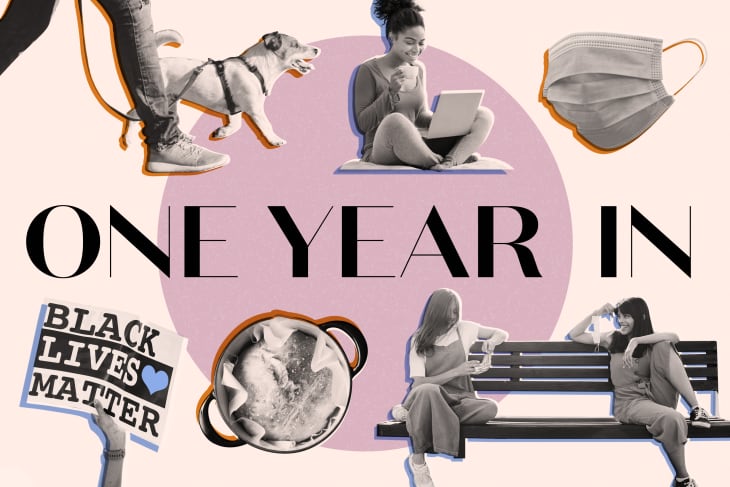 Where were you a year ago today? Can you remember? Chances are if you weren't searching for toilet paper or trying to navigate a job whose vitality and risks had been amplified and underscored at every turn, you were home. And it's likely that you are still home now, one year after the coronavirus pandemic brought life as it was then to a screeching halt.
It has been a year full of uncertainty, grief, fear, and hope. Communities have banded together to prevent evictions in a once-in-a-lifetime health crisis, to mourn the lives lost, and to organize against anti-Black and anti-Asian racism while keeping themselves and their loved ones safe from a potentially deadly virus. Parents have balanced deadlines, Zoom meetings, and running classrooms from their living rooms; and friends lit up group chats with memes and news stories alike. If people were still going to work through widespread shelter-in-place orders, there was often nowhere else to go but home once they were done. And those homes, for people who still had them and felt safe in them, were everything.
Almost everyone has needed to make do in various ways over the course of the past year. My tiny living room in New York City became equal parts work space, at-home gym, dining room, and entertainment center, and there has hardly been a moment at which someone — whether it was me, my roommate, my cat, or the pandemic kitten I adopted last April who has since been glued to my side — wasn't in it. Time and time again, the past year reminded me how lucky I was and am in various ways, but it wasn't without pain, too: I have not seen my family in person in 17 months, and every FaceTime call feels both like a blessing and a bittersweet reminder of the year that kept us apart.
This week, Apartment Therapy is highlighting the ways in which home has changed for people in the past year, and how communities have risen to the challenge of supporting one another through it all. It's a series we're calling One Year In, to reflect both the time and space we've inhabited. First up, writer Rainesford Stauffer explored what it means to feel homesick for something just outside of your own four walls, whether that's a childhood home you cannot visit or a part of your community that has felt like home but wouldn't be safe to visit for the time being.
Check back all week as contributors reflect on what they've endured, how they and their homes have grown and shifted, and what they're taking with them into an uncertain future. Because while we may have endured these things apart from one another physically, we got through them together — and thanks to a little help from our neighbors and loved ones, we were never fully alone.