This May Be the Smart Kitchen Storage Solution You've Been Searching for — Hidden in Plain Sight
We independently select these products—if you buy from one of our links, we may earn a commission. All prices were accurate at the time of publishing.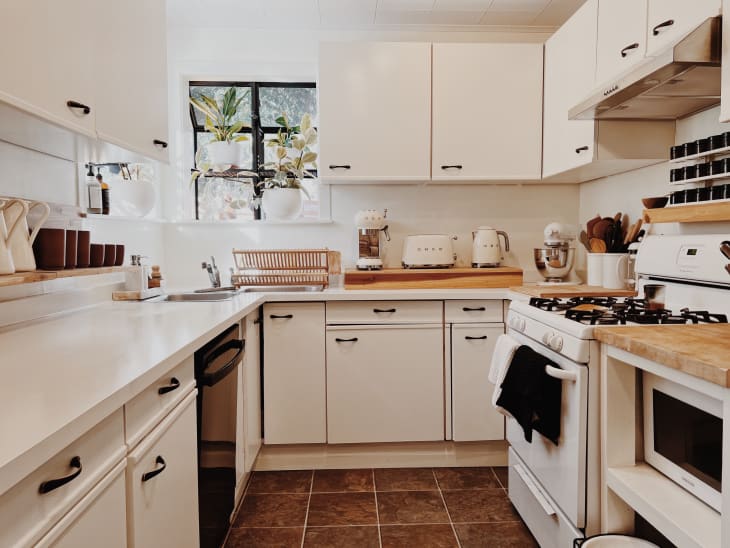 Coming up with clever kitchen storage solutions can be tricky, especially when you consider form to be just as important as function. If you don't have the space or budget to install more cabinetry, then floating shelves may be your best bet, if my latest house tour crush is any indicator — but not just any floating shelves!
Follow Topics for more like this
Follow for more stories like this
Aleksandra Zee and her husband Antrom Kury live in a 1,002-square-foot oasis in Oakland, California, with their dogs Jack and Lady. Both Zee and Kury are artists and woodworkers, so their home is "a homage to wood," with pieces in countless shapes, sizes, and finishes. "My biggest inspiration is the California landscape, from desert to ocean, and the relaxed design that California is known for," Zee says. "My goal for this space is comfort and relaxation."
According to Zee, running a business with her husband is a 24/7 job, so coming home to a calm and serene environment is a top priority for them as a couple. That's part of the reason why they've gravitated toward a neutral palette throughout their home. One space in particular that they've made sure to keep neat, organized, and visually quiet is their kitchen, pictured here.
"Storage is the hardest part about this home," Zee says. "So we've gotten creative with IKEA hacks and making extra storage also look and feel special." Case in point, the kitchen. Zee bought an IKEA hutch with glass doors to store and display her pretty glassware, vases, and wooden bowls. Even with the hutch though, which looks like a built-in thanks to their tweaks, and a few upper and lower kitchen cabinets, the couple was still lacking storage space for the plates, bowls, and cups they use every day. So they solved this problem by mounting a floating wooden shelf, and I'm in love with this idea.
When you think of open shelving in a kitchen, it's usually in lieu of upper cabinets and consists of a single slab of wood or metal, versus something that has its own decorative backplate. Zee and Kury seized the space in between their upper cabinets and countertops to hang a long and substantial, L-shaped wooden shelf, and it couldn't be a simpler or more stylish fix for squeezing in some extra storage space and adding a handsome natural wood accent to the white cabinetry and walls. This solution would be a little trickier had they had a tiled backsplash, but since it's just drywall in this spot, a shelf can be mounted there without much effort. They even did something similar next to their sink for their SMEG appliances by creating a little wooden riser to elevate them off the counter. If you didn't want to put nails in your wall or couldn't, you could copy this look without even swinging a hammer.
The next time you're looking for shelf space in a kitchen, consider using the spot between the upper cabinets and counters (or even the counters themselves). While tile can be beautiful for a backsplash, sometimes sticking to drywall and adding a shelf can be just as pretty and practical in this spot.