This TikToker Created Seaworthy Lighting from a Thrifted Shell
We independently select these products—if you buy from one of our links, we may earn a commission. All prices were accurate at the time of publishing.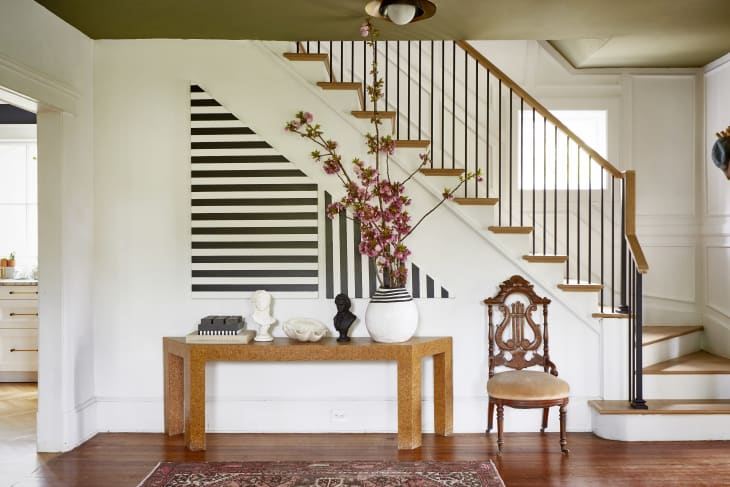 With the release of "The Little Mermaid" this month, mermaidcore has been on the rise in fashion and interior design throughout the last year with iridescent tiles, jellyfish lamps, and clam-shaped beds. Although nautical-themed bathrooms and the coastal grandmother trend have had their moment across the internet, mermaidcore allows some to embrace their inner child's whimsical nature while incorporating oceanic colors.
Known for her impressive and colorful DIY projects, Kaarin Joy (@kaarinjoy) crafted an oyster lamp out of an unused bowl shaped like a clam shell. 
Follow Topics for more like this
Follow for more stories like this
As soon as Joy thrifted the shell, she knew that it was destined to be a lamp. And if you've seen other videos of her home, you know it'll fit right in. After noticing that an orb light would be an ideal shape to mimic a pearl, the project began.
Joy said that she purchased the orb from Michaels, and it's remote-controlled and battery-operated so there's no need to tape, glue, or drill the orb into the shell. Once you place it inside, you've got your oyster lamp! This simple DIY can brighten up an entryway, coffee table, or kitchen countertop. 
In the comment section, everyone applauded Joy's DIY, but showed interest in seeing it painted an iridescent shade. "I think you should make a silk pillow, white or pale pink," one said. Another said, "You could paint the inside of the shell pearlescent!"
Joy reassured them that the shell was shiny enough and didn't need to be repainted, and the final result looks more expensive than it actually is. 
As mermaidcore continues to find its way into homes and wardrobes, living spaces will look more under-the-sea than above-the-ground.