Pantone Released Their Color Trend Report For Autumn/Winter 2023
We
independently
select these products—if you buy from one of our links, we may earn a commission. All prices were accurate at the time of publishing.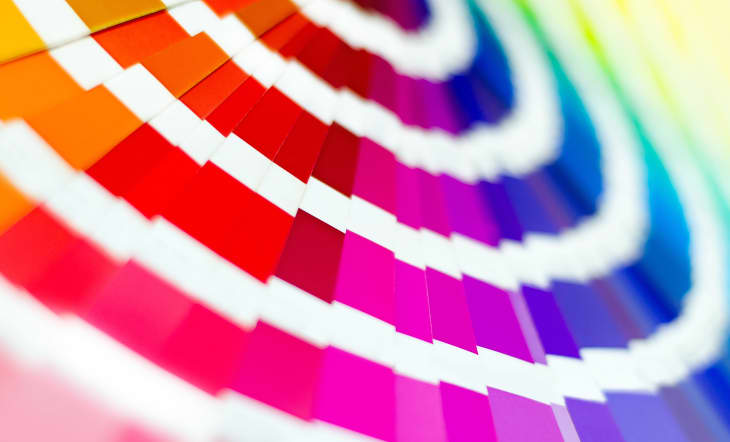 Pantone has released its fashion color trend report for Autumn/Winter 2023-2024. Experts at the Pantone Color Institute say the color range brings "limitless and self-expression" while "serving as a vehicle for vitality and enthusiasm." Released during New York Fashion Week, the trend forecast encourages color enthusiasts to incorporate the ten hues and five classic colors into their lives with design and wardrobe.
The colors include: PANTONE 12-0912 Tender Peach, a "gentle tender peach inviting a soft and easy touch;" PANTONE 17-2624 Rose Violet, a "tantalizing fuchsia that radiates high energy;" PANTONE 18-1750 Viva Magenta, also known as PANTONE's 2023 Color of the Year, is a "powerful and empowering with an animated red encouraging experimentation and self-expression;" PANTONE 17-1464 Red Orange, a "heated gregarious orange tone both spontaneous and self-assured;" PANTONE 19-1555 Red Dahlia, which is "elegance personified;" PANTONE 13-0751 High Visibility, that "exudes the warmth and splendor of the sun, while expressing joy and good cheer," PANTONE 17-3934 Persian Jewel, a "noble blue hue inspired by the precious lapis lazuli mineral stone;" PANTONE 13-6030 Carnival Glass, a "mentholated green with an icy appearance, cooling and refreshing;" PANTONE 17-1544 Burnt Sienna, "sturdy and steady, conveying a sophisticated earthiness;" and PANTONE 14-0255 Kohlrabi, a "tasty green, adding a dash of piquancy." 
And that's not all of the shades that PANTONE has to offer for your Pinterest board this year. Their color trend report presents the New Classics, which recontextualizes traditional tones with a modern edge. The five colors include: PANTONE 11-0608 Coconut Milk, a "milky white with a hint of mild flavor;" PANTONE 19-3810 Eclipse, "a shadowed blue, displaying an air of credible importance;" PANTONE 16-1333 Doe, "a tawny and tactile brown, eliciting a soft warmth;" PANTONE 19-0913 Hot Fudge, "deliciously delectable, tempting the taste buds;" and PANTONE 13-4403 Silver Birch, an "eternal natural gray, standing the test of time."
"Colors for NYFW Autumn/Winter 2023/2024 reach out beyond what we think is possible to catapult us into this new era, taking us to a place where boundaries of time, place, and identity are no longer fixed," Leatrice Eiseman, Executive Director of the Pantone Color Institute, said in a press release. "A friendly mix of joyful tones and traditional shades recontextualized with a modern edge, colors for NYFW Autumn/Winter 2023/2024 express a step up in tempo."
Whether they were spotted on the runway or on the front page of a magazine, these color choices may invoke some inspiration for your home's decor ahead of this year's fall and winter.