I Tried Parachute's Organic Cloud Cotton Quilt and I'll Probably Sleep With It for the Rest of My Life (It's on Sale!)
We independently select these products—if you buy from one of our links, we may earn a commission. All prices were accurate at the time of publishing.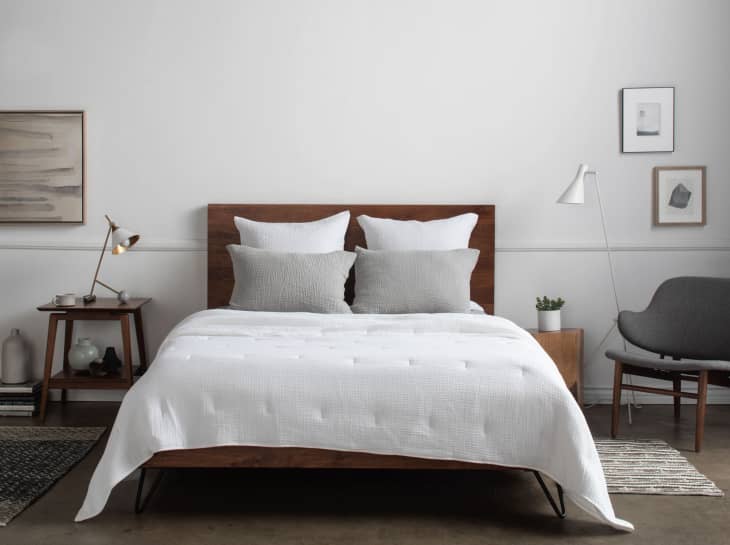 Follow Topics for more like this
Follow for more stories like this
Kate first ordered said quilt from Parachute during a previous Black Friday sale, then instantly (and continually) raved about it to our friend group. I felt skeptical, I'll admit, until I sat on top of her bed and experienced its lush softness firsthand. Let's just say the quilt really lived up to its Cloud Cotton moniker. I remember even texting my mom at the time out of pure disbelief that Kate's bed could feel so fluffy and, well, cloud-like. And for reference, she's also since converted her boyfriend, his parents and sister, two of her own sisters, and another one of our friends to all hop on the Cloud Cotton bandwagon — because yes, it is that good (also @ Parachute, sponsor her).
I eventually joined my cousin's micro Cloud Cotton fan club, too, and I only regret not doing so sooner. Basically, I initially assumed the bedding would be way out of my price range and relegated it to my wish list for the time being. Fast forward to spring 2021, though, and Parachute actually let me try a white Cloud Cotton Quilt while testing products for a Best List roundup. We've since had about 700+ slumbers together, and I knew from night one that I would never, ever go back to any other comforter or duvet ever again — that's a fact. And bonus, in an effort to be more sustainable, the brand has since launched an organic version of my beloved quilt, plus it's currently 20 percent off during Parachute's Memorial Day sale.
You may recognize the tufted, textured Organic Cloud Cotton Quilt from the bedrooms of some of your go-to home Instas… but that's not to say you need to be an influencer to bring one home. The luxurious, minimalist layer comes in three sizes — Twin/Twin XL, Full/Queen, and King/California King — ranging from $259 to $309, or $207.20 to $247.20 during Parachute's ongoing Memorial Day sale. It may sound like a lot (trust me, I know), but I genuinely plan to use this blanket for the rest of my days (and nights). To put it simply: If I could persuade you to splurge on one home item, let it be this, especially while it's currently discounted.
I've sung the praises of Cloud Cotton's signature softness, but what makes this comforter so vastly superior to all others I've tried is that Parachute has perfected the product to feel equal parts lightweight and cozy. The former can likely be attributed to its 100 percent long-staple Turkish cotton construction, while an insulated, overstuffed fill makes up the latter — and thus, the high-quality cloud-like allure. That means whether you sleep warm, cool, solo, with a partner, #teamtopsheet or not, you can count on this quilt as a year-round necessity. Mine has seen me through scathing summer nights aplenty, meanwhile, I've had no need to lean into extra bedding layers as temps have dropped through fall and winter.
I love my solid-white Cloud Cotton Quilt (which has surprisingly held up exceptionally well against stains). Whether you've been on the fence about buying or you're just hearing "Cloud Cotton" for the first time, know that this quilt won't let you down in terms of durability, style, and — major emphasis — softness. I have it to thank for making my bed the comfiest and most luxe-looking it's ever been. And to quote my cousin, "I literally say almost every morning how much I love that thing." Come one, come all to the Cloud Cotton fan club, and act fast while this 20 percent off deal lasts!