8 Pink Cleaning Products That'll Add a Pop of Color to Your Cart (and Make You Excited to Tidy Up)
We
independently
select these products—if you buy from one of our links, we may earn a commission. All prices were accurate at the time of publishing.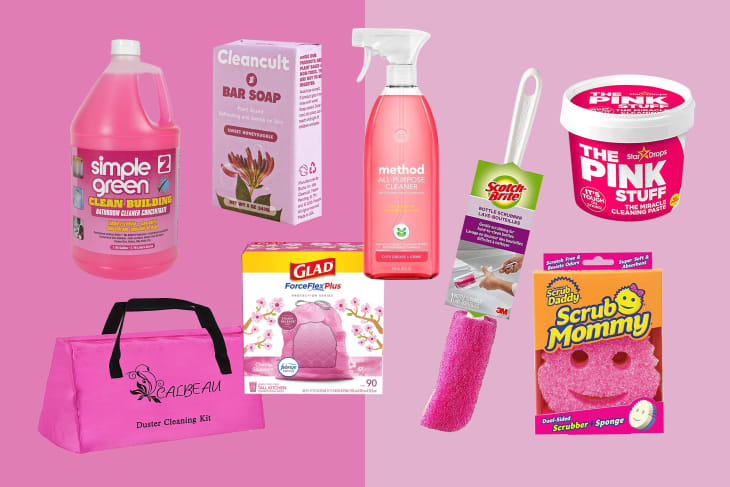 As a kid, being asked "what's your favorite color?" can be a crucial moment in your life. "Mine's blue!" I'd chirp, and watch as others would smile and nod in agreement. Even into adulthood, color plays an important role in your life, especially at home. It can make all the difference in turning a dark place into a bright one or making a small space feel bigger. It allows you to put some personality into the room — and now, it can inspire you to clean, too.
Lately, I've noticed a movement toward #colorcleaning all over social media, where users are uploading their colorful haul of supplies and creating ASMR-like videos utilizing those products. This TikTok video by @cleaningmamabee has almost six million views with people commenting on their request for the account to make even more color-themed cleans. 
On the other hand, the commenters do remark on how wasteful — and dangerous — it is to use every cleaning supply at once. I agree, because mixing cleaners can be extremely harmful. While it's nice to see so many people celebrating cleaning in this way, I caution you to not follow that action. Instead, take the intention, "clean with color," and use it to reinvigorate your home's supplies with dependable products (and use them for their exact purposes).
I found myself down a rabbit hole trying to find every color combo out there, but the most prominent hue I've seen has got to be pink. And what better way to celebrate Apartment Therapy's Color Month than to revamp your cleaning cart with your own colorful collection?
Here are some rosy finds that'll help start your pretty in pink collection and hopefully inspire you to tidy up.
This piece is part of Color Month, where we're showing you the best ways to inject more color into your home and life. From paint color combos to vibrant house tours, head over here to see it all.