Mix Up Your Usual Happy Hour by Having Friends Over for a Rainbow-Hued Party
We independently select these products—if you buy from one of our links, we may earn a commission. All prices were accurate at the time of publishing.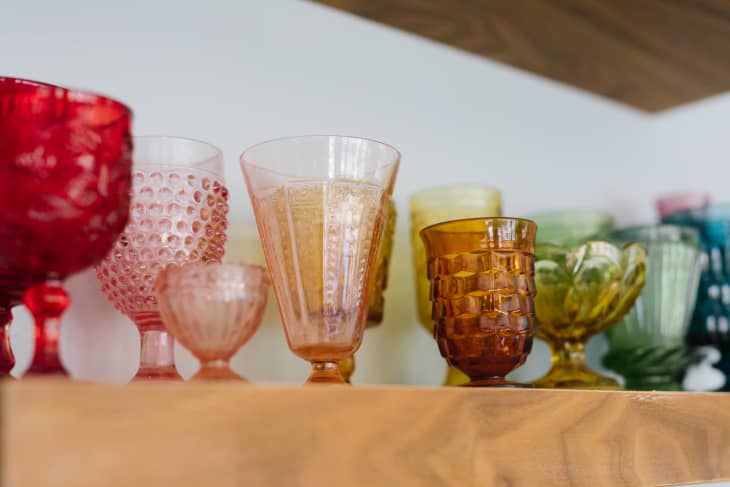 Everything is just a little more fun with a theme. Think of a high school prom: Without its "Roaring Twenties" or "Under the Sea" branding, it would be an underwhelming collection of crepe paper and circular tables. Themes bring things together in a campy way that lets you embrace creativity and get excited over the little things. That's why I'm suggesting a theme for a fun night in each month, where you can gather a few friends, a partner, or simply indulge in a solo shindig. 
If you've been on TikTok in the last several months, chances are you've scrolled upon a color party: A gathering either centered around one color or where each guest claims a color to represent, wears that hue and brings a food or snack themed in that color. Given that Apartment Therapy is celebrating all the colors this month, why limit yourself to one? Read on for how to host this kaleidoscopic soiree. 
This is your opportunity to get creative in the kitchen (or at the bar cart). The color you choose will determine the noshes you bring to the table, so here are some hue-specific thought starters:
The nice part of each guest coming decked out in a different color of the rainbow is that the decor can be pretty simple to let the good and clothes shine. White plates and napkins are the perfect blank palette, and you can amp up the rainbow with a multi-colored bouquet of flowers and some chromatic vintage glass coupes. If hosting all of these colors in your home makes you want to make it a permanent fixture, though, check out this eclectic, maximalist loft or this polychromatic home for some splashy design inspiration. 
For some temporary mood-setting, you can project a movie with saturated hues like any Wes Anderson, or go in the opposite direction and screen an old black-and-white film to make sure you and your friends are the colorful stars of the show. 
After you've tasted the rainbow, try using an aura reading app to snap a picture of each other's auras and see which colors you give off. If you're looking to get a little crafty, take to the backyard or bathtub and get to tie dying some T-shirts, bucket hats, couch cushions, or whatever strikes your fancy — then enjoy the colorful keepsake that can continue to make your life a little brighter even after the drinks have been drained.
🪩Welcome to First Night, a series all about having fun at home. The first week of each month, we'll publish a new idea for a creative at-home experience, from what to do, to how to decorate, to what to serve. Browse ways to make your next night in feel special here.