An Easy Way to Clean the Most Annoying Part of Holiday Decor, According to Reddit
We independently select these products—if you buy from one of our links, we may earn a commission. All prices were accurate at the time of publishing.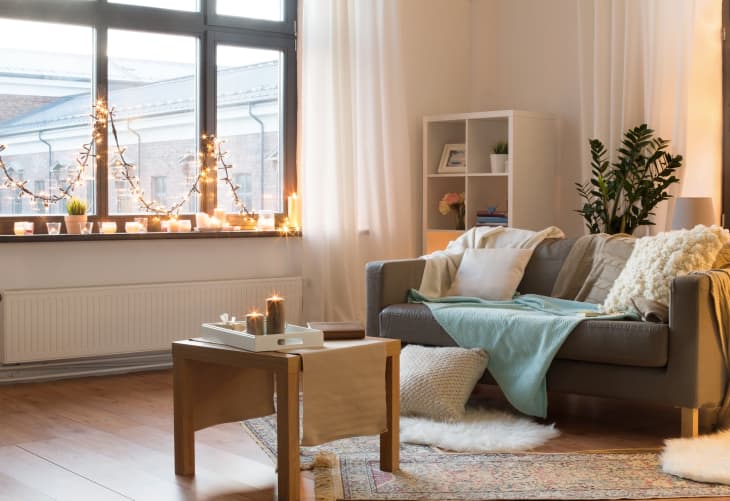 When the holiday season approaches I excitedly decorate my home with all of my favorite signs of the season. Because I have three small kids, those items range from our family's collection of nutcrackers to a more age-appropriate selection of toddler-friendly window clings.
Follow Topics for more like this
Follow for more stories like this
And without fail, at the end of every year I'm left with a lasting reminder of just how "holly jolly" the kids and I made our home, thanks to the outlines the window clings leave behind.
Whatever it is that allows those stick-on decorations to hang tough throughout the holiday season also seems to leave behind a residue that becomes visible every time the humidity ticks up a few notches. No matter how many times I scrub or how much elbow grease I use, the residue sticks around, well after we've packed up the rest of the decorations.
This year I decided to see if I could hunt down a fast and easy solution for our end-of-holiday-season cleanup, which is how I discovered this helpful Reddit hack. 
I wasn't the only one haunted by a past "Merry Christmas" window cling. Reddit user u/jsat3474 shared a photo of the remnants of a holiday cling from years prior and explained how every time their kitchen got humid, the words would pop up on the window (a familiar story) and they were looking for a way to banish the seasonal salutation for good.
The most effective way to get rid of the sometimes invisible traces of window clings involves a trip to your laundry room, according to one ingenious Redditor. "Liquid fabric softener. Just a bit on a rag… rub it in real good, wipe it off with a clean dry cloth," they wrote in a since-deleted account. "Then use Windex to get the fabric softener off — it'll take the Merry Christmas right off with it."
I was a bit skeptical about this idea but I gave it a try anyway. Before I got started, I sprayed the area heavily with the window cleaner and gave the surface area a good cleaning. Then I fogged up the window to double-check that the Merry Christmas message was still coming through loud and clear (it was). 
Next, I liberally applied the fabric softener and let it sit for a few minutes (this had the added benefit of making my living room smell delightful). Then, I sprayed the surface down again with my window cleaner and wiped until all of the fabric softener was gone. 
I tried to fog up the window again to see if I could still see the shadow from the window cling, but unlike the lingering smell of fabric softener, the words were finally gone. It was a miracle! 
Reset Your Home with the (Free!) 2023 January Cure
Renew your space with our free 20-day January Cure program — it all begins January 2.