This Quirky Target Holiday Collection Includes An Adorable Unicorn Nutcracker
We independently select these products—if you buy from one of our links, we may earn a commission. All prices were accurate at the time of publishing.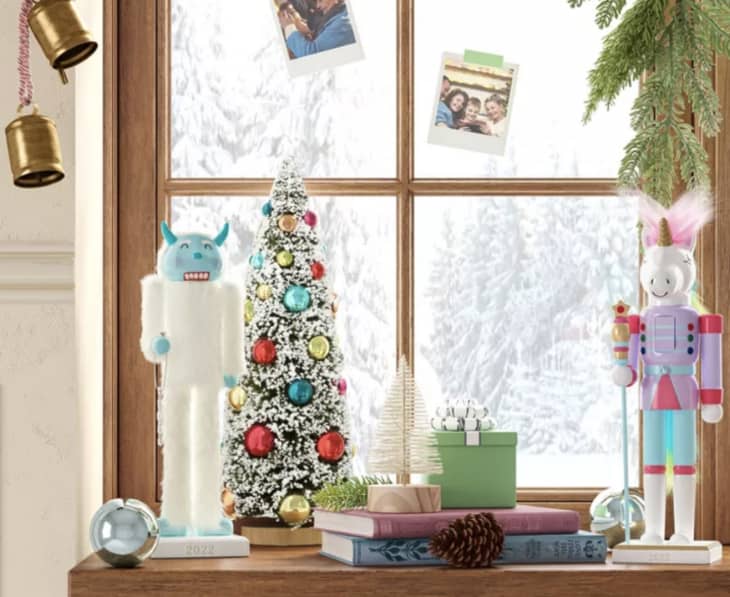 You know that the most wonderful time of the year is on its way when your favorite retailers start stocking their holiday goodies. One company that loves a good holiday decoration is Target, and this year is no different.
In anticipation for Christmas 2022, Target is stocking a series of adorably quirky nutcrackers that are anything but traditional. Instead, these figurines are full of bright pastels, embracing the whimsical side of the holiday season.
From cats to penguins, there are unconventional nutcrackers to fit any scenario, but perhaps the most offbeat one of all is the Unicorn Nutcracker ($12). Designed by Wondermind, this unicorn is decked out in a bright purple uniform jacket, and sports purple, blue, and green hair. It's still made in a classic nutcracker silhouette and holding a staff, allowing buyers to put their own modern spin on holiday cheer.
Its five-star reviews also make a fantastic case for the product.
"They are so well made and adorable," one reviewer wrote. "And [with] the price, you cannot go wrong."
Another fan-favorite is the Yeti Nutcracker, which is designed as a yeti with a blue face, fuzzy white hair, and a snowflake accent.
"Super cute and unique!" one person wrote.
Other shoppers are loving the colorful touch that the brand's Pride Nutcracker brings to their spaces. The figurine is a traditional nutcracker soldier, outfitted in a pride flag-hued top hat and uniform, and holding a pride flag in its hand.
As one five-star reviewer put it: "Adorable and affordable but most importantly, inclusive!"
Still looking for holiday decor inspiration? Check out Apartment Therapy's recommendations below: