A Boring Rental Bathroom Gets a Totally Reversible Makeover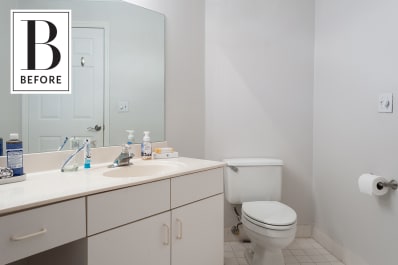 (Image credit: Charles Dundas-Shaw)
Ladies and gentlemen, here is what my boring bathroom looked like up until the other day. I've lived in my rental for just over two years, and this place looked the same as it did the day I moved in (with the addition of some hand soap, my toothbrush and a toilet paper roll) for far too long. Is it completely offensive? Nah, it's pretty passable, but boy was it dull. Beige counters, beige cabinets, beige floor, gray walls and zero decorative thought put into it (I know I only have myself to blame for that). Except I finally decided it was time to put a little effort into this place, and I'm pretty happy with the result!
(Image credit: Charles Dundas-Shaw)
Miss all the before photos? See those here, than scroll through to see what I did to bring my bathroom some much-needed new life.
Everything I did to my bathroom is purely decorative (meaning, the only tool I used really—besides a sponge, cleaner and windex—was a Phillips head screwdriver). As much as I think adding some peel-and-stick wallpaper (and floors!) would have taken this space to the next level, I knew I didn't want to deal with the stress of undoing all of that when it came time to move out. Changing back the hardware is as much as I was willing to do.
What once was a beige bore is now a place I feel happy to start my day in; heck, I'm half tempted to drink my morning coffee in here and stare at my decor accomplishments if I didn't think that was a little strange (and kind of gross?). Anyhow, I digress. Before starting this little weekend project of mine, I outlined what I wanted to accomplish. Let's take a look at what my goals were and how I achieved them:
(Image credit: Charles Dundas-Shaw)
Add color and texture.
Did I mentioned my bathroom was super beige? I knew the first thing I needed to do to make this a place I actually wanted to be in was to bring in some color and texture via art and some decorative accents. I started with that rug (which I'll talk about more in a bit), and then paired it with a black-and-white shower curtain to cover the dated shower doors.
(Image credit: Charles Dundas-Shaw)
Next up was art, which I already had lying around my place unhung. I collected all the pieces I hadn't found a home for yet and brought it right into my bathroom, and low and behold, they all actually went together! Some went on top of a new storage cabinet I purchased, and others went up on the wall and on a new floating shelf I added above my toilet.
On top of that, I wanted a plant to bring some life to the space, so I did a little research and learned that snake plants are great for low-light rooms like my bathroom. I've yet to name it, but I frequently chat with it in the mornings and occasionally take it into the living room for some sunshine.
(Image credit: Charles Dundas-Shaw)
Change cabinet hardware.
The old plastic handles that this bathroom came with had seen better days; they were splotchy, peeling and cracked, so away they went. Changing hardware is the easiest reversible hack a renter can do to update a temporary space, so I took advantage of my own advice here. The purple rug and art throughout needed to be grounded a little, so I went with a modern matte black to shake things up (and pull in the black from the shower curtain). They took my eye a little getting used to (at first, I wasn't sure they were right for the space), but the more I live with them, the more I like them. When it comes time to move, I'll swap them back and find a new spot for these in my new home (on furniture, on some other cabinet doors, etc.).
Cover the worn tile (or at least distract from it).
If you were to take one look at my "Bathrooms" Pinterest board, you'd be met with a plethora of images of bathrooms with large antique rugs in the middle of them. I loved that look, and before I touched anything in this space, I brought in this purple 3'x5' Moroccan rug that was in my office (but never felt quite right). It was sizable enough to cover up the majority of the boring and worn tile here, but not so large that it looked like it was eating the room. As it's made of cotton, it will likely hold up pretty well in this moist space and I can wash it easily and regularly.
(Image credit: Charles Dundas-Shaw)
(Image credit: Charles Dundas-Shaw)
Add more usable storage to clear off counters.
If you saw the "before" of my bathroom, you would have noticed the hulking makeup organizer I had stashed in the corner of my long counter. That thing was enormous, but as it was incredibly useful at holding all my cosmetics, I dealt with how imposing it was. It didn't fit under my sink (nor would that have been convenient). Also, my linen closet is on the other side of the apartment and already stuffed to the brim with sheets, my vacuum, multiple yoga mats and just about everything else I needed to store that didn't fit in my laundry closet. So I knew I needed to bring in something to help alleviate some of that load.
I originally envisioned placing a vintage wood console table under the towel bar that was along the long wall in my bathroom, but after multiple Saturdays spent looking for just the right size and failing, I went to plan B: remove the towel bar and get something taller. The resulting cabinet I picked up at Target turned out to be the most amazing thing that happened to my bathroom. It holds EVERYTHING! My makeup organizer, other skincare products, extra towels and toilet paper, and so much more. All the random odds and ends I had stashed around my bathroom now have a home and tidying up so everything has a place truly is a magical feeling.
Once my countertops were cleared, I felt they were kind of empty, so to remedy that I brought in an earthy wooden tray and styled it with hand towels, a candle, some of my prettiest bottles and a tiered glass organizer.
And there you have it. My old bathroom, where my toothbrush sat in a drinking glass, my walls were empty and the whole thing was devoid of a pulse is alive and well now. I'd love to know what you think, and also hope it inspires you to put some life into your own bathroom should it be in need of a little CPR.
Apartment Therapy supports our readers with carefully chosen product recommendations to improve life at home. You support us through our independently chosen links, many of which earn us a commission.