This Durable Backpack Is My Go-To for Both Weekend Trips and Long Vacations and I Can't Imagine Traveling Without It
We independently select these products—if you buy from one of our links, we may earn a commission. All prices were accurate at the time of publishing.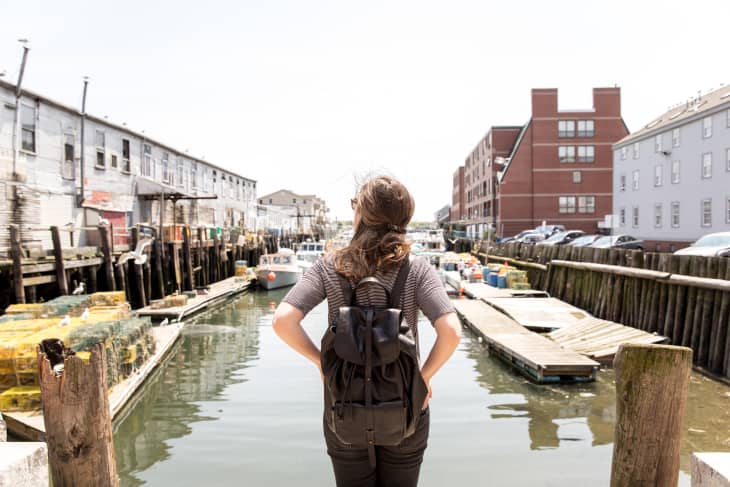 After living in New York City for seven years, I have become a big backpack person. With how much walking (and running to the subway as it's about to shut its doors) I do, I just can't be bothered with shoulder bags anymore. Backpacks are better for my back, hold so much more stuff, and serve as my personal item on every flight I take. I have a couple of backpacks in rotation right now, but my all-time favorite is ROAM's The Continental. I've cycled through at least seven backpacks since becoming a city dweller and this one still ranks at the top of my list. In fact, it's about to go on a two-week trip to Europe with me.
Follow Topics for more like this
Follow for more stories like this
I was offered to test this backpack right before I went on two week-long trips last year. I got to customize the colors of each panel and had the option to personalize the backpack as well. I chose a pop of Venetian Green for the front panel and had the rest of the design outfitted out in Kyoto Black. Cornwall Slate (blue) and Rio Fire (red) are additional shades the shopper can choose from.
When I first got my hands on The Continental, I was stunned by how slim and lightweight it was (it weighs just 2.4 pounds, according to the website). While it looks a little bulky in the photos online, the bag isn't more than 3 to 4 inches thick when empty, meaning it doesn't take up much room when stored in my closet, either.
I was also impressed by how well-made the backpack felt. Handcrafted from recycled materials, the outside of the backpack is water-repellent and has since held its own through several rainstorms I've taken it out in. Meanwhile, the inside lining of the backpack feels silky and luxe.
One of my main gripes when it comes to backpacks usually center around the straps either cutting into my shoulders, sliding off with each step, or breaking altogether. I'm happy to report, not an issue here. The straps on ROAM's backpack have the perfect amount of padding and have never dug into my shoulders, despite the hours I've spent wearing it in the airport and commuting to my office. I've never noticed any discomfort from this backpack (unless I've filled it to the brim with books).
Another perk? You can tell this backpack was designed by people who travel frequently. There are just so many pockets — and they're all in the right places. The six outer zippered pockets are easy to open without snagging and boast a dedicated zone for a laptop, two spacious side pockets that easily fit my smaller umbrellas and water bottles, and a deep front pocket that is big enough to fit at least two books. Inside, there are two open pockets at the rear of the backpack and two mesh, zippered pockets that I usually keep valuables or important documents in.
I never thought that I would be so excited about a backpack, but I always feel incredibly organized and put-together when I walk through the airport wearing The Continental. I've ever managed to stuff a weekend's worth of clothes and toiletries to take it on a getaway to upstate New York. It's my go-to for absolutely everything. I would even take this on a short hike because I've never noticed any sweat smell after walking around with it for hours at a time.
I know that this backpack is a splurge, but I've already had it for a year and there are no signs of wear — it looks like I just got it yesterday. This bag also boasts a lifetime warranty and a 100-day free trial, so you can feel confident in your purchase. I foresee myself having this bag for at least five years, if not longer, so the cost-per-wear turns out to be about $70 per year. A worthy splurge in my book!