This Controversial Textile Trend Could Come Back—Is Your Living Room Ready?
We independently select these products—if you buy from one of our links, we may earn a commission. All prices were accurate at the time of publishing.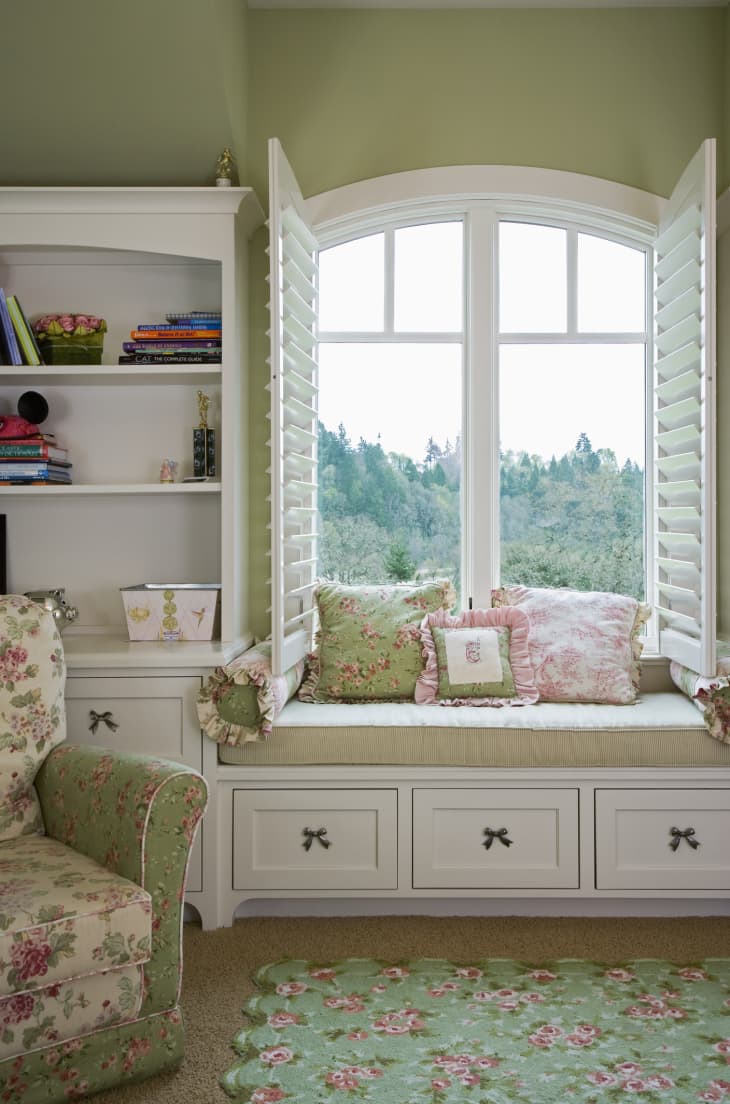 From frilly curtains and matching dust ruffles to skirted furniture and more, the '80s brought on a love affair with all things flouncy. For the better part of the decade, our interiors came to resemble something out of a pastoral English cottage—rich floral patterns and all. And then suddenly, things changed. Ruffles fell to the wayside in favor of the clean and contoured, making way for the years that would champion modern minimalism. 
But with grandmillennial style poised to take over interiors, ruffles might just resurface with a fresh spin. To understand the rise and fall (and, well, the imminent return) of the trend, let's take a quick look back at how it all began.
Follow Topics for more like this
Follow for more stories like this
Ruffles can be traced back to the Elizabethan era in Victorian England, where they were seen in the collars of those in royal court. Naturally, these flourishes eventually found their way into homes, ebbing and flowing throughout the years, as most fads do. While furniture in the late 1960s and 1970s was inspired by technological advancements—think Space Age-esque sleek furniture, contemporary textures, and the wild use of color the groovy period was known for—the '80s brought on fatigue from the future-obsessed nature of it all. Enter ruffles.
Homes were decked out with plump, slip-covered sofas, transformed mid-century modern pieces with ruffled skirts and vintage quilts, and the deal was sealed with enough floral prints to rival a stately garden. Chintz became the hallmark of the aesthetic, adding an air of formality to living rooms and bedrooms across the country. It seemed as if every ruffled valance came paired with a matching set of lace doilies on a neighboring table, aptly outfitted with a complementary skirt or cloth. 
Ruffles managed to endure well into the '90s, but with a fresh spin, of course. The decorative style shifted into a more relaxed version, channeling a charming cottage instead of the polished estate-feel it had been known for—the shabby chic aesthetic was born. 
Flea markets ruled, and popular furniture and decor felt homey and nostalgic, even if it meant that the end result was slightly mismatched or eclectic. Who remembers Monica's floral-heavy bedroom in the early years of "Friends"? Or the iconic blue, gingham slip-covered sofa on "Full House"? Ruffles fit comfortably within this burgeoning look, taking a backseat but remaining present—only pared down. 
When it came to upholstery, white linen or cotton slipcovers often featured frills, ruffles, and buttons. But they weren't just reserved for the sofa—chairs, tables, and even radiators all got the fabric treatment.
And as all good things must come to an end, ruffles, along with shabby chic pieces, began to wane in popularity a bit. In the past few years, Marie Kondo has taught us how to declutter, and as soon as space cleared out, the need to refill them with items that "spark joy" is refueling, yet again, another wave of nostalgia.
With sustainability at the forefront of many minds, upcycling retro accents and vintage finds is becoming ingrained in decorating styles. Naturally, this means a near ever-lasting presence of the retro—ruffles included. And while there won't be a revival of the overly saturated chintz-on-frills-on-skirts anytime soon, it's safe to say that some semblance of this aesthetic will ultimately make its way back, this time with a sleek and contemporary spin. 

Here's to a 2020 ruffles redux, with just the right amount of frills and an equally savory color palette to boot!