I'm Super Picky About Mattress Pads, But Saatva's Has Quickly Become My New Favorite
We independently select these products—if you buy from one of our links, we may earn a commission. All prices were accurate at the time of publishing.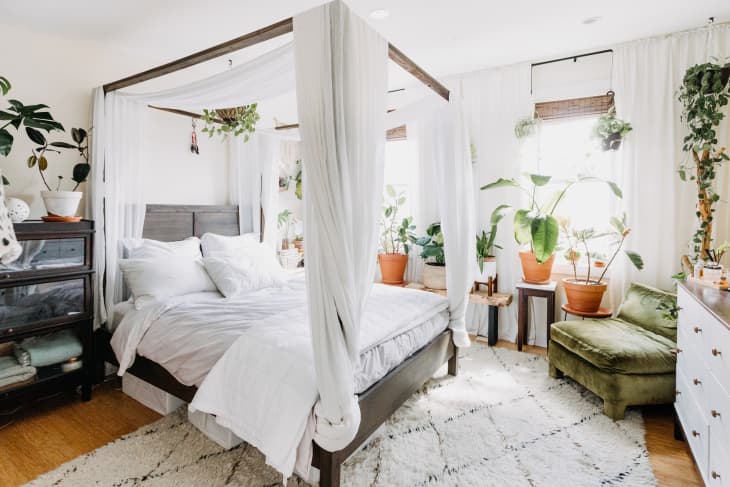 From the moment I got my first full-sized bed in high school up until about a year ago, I slept on the same mattress pad style — and everyone in my family had it (and still does). It was nothing fancy by any means, yet felt equal parts comfortable and barely-there. Fast forward to fall 2020, when I moved to a bigger New York apartment and finally had space to level up to a queen mattress (major milestone). I sought out new bedding and bed accessories, and donated my beloved mattress pad because it no longer fit… then struggled to find a replacement of the same caliber.
Seriously, I ordered a little bit of everything: budget-friendly, high-end, random targeted Instagram ad — you name it. I even looked for my OG mattress pad, which my mom probably bought over a decade ago, to no avail. Eventually, I kept a cheap one from Amazon just to have something protecting my bed, until the Goldilocks of mattress pads finally entered my life.
I had the opportunity to try Saatva's organic mattress pad and, I'll admit, it had big shoes to fill. But considering our team already raved about the brand's mattress topper, weighted blanket, and down alternative comforter, I was confident that this could rise to the occasion. And it did, down to the initial unboxing. The mattress pad arrived wrapped in a giant tote bag (which has since become my go-to weekender), and instantly felt super soft and luxurious to the touch — even more so than my long-standing go-to.
Put to the real test, aka on my bed after washing, it continued to wow. I don't always love diamond quilting, especially if the mattress pad doesn't pull tight enough across my mattress, and Saavta's has proved the exception. Just when I thought my very-comfy bed couldn't feel any better, it's added a noticeable layer of extra comfort, with the top touting a sheet-like softness — yes, even after washing. Arguably one of the all-around coziest mattress pads I've slept on thus far, it's made from 100% GOTS certified organic cotton for the ultimate plush and supportive bedding base.
And speaking of tightness, it fits perfectly thanks to sturdy elastic bands that wrap around the corners of my mattress. As a chronic nighttime tosser-and-turner, I can also attest that it's stayed put ever since I first put it on.
Sizes range from twin to king upper-flex, with prices starting at $155. It's a definite splurge, no doubt, but take it from someone who's tried (and tried…) countless mattress pads — this is one I plan to hold onto way longer than the one I grew up with. I know it's well-made enough to last that long in the first place, with bona fide better-than-a-hotel quality. And honestly, if you're going to invest in something for your home, why not prioritize your sleeping arrangements? You can't put a price on a cozy bed, IMHO.