Saf's Pint-Size Personal History
We
independently
select these products—if you buy from one of our links, we may earn a commission. All prices were accurate at the time of publishing.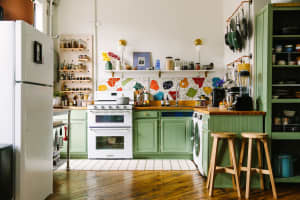 Can't-Miss House Tours Straight to Your Inbox
Keep up with our latest house tours each weekday with our House Tour of the Day newsletter
Name: Saf, 10 months
Location: Silver Spring, MD
Room Size: about 8′ x 6.5′, 52 sq ft
Of all the rooms in our house, Saf's tiny nursery is the one that elicits the strongest reactions. When we set out to put together his pint-size dwelling on a pint-size budget, we looked to things we already owned to set the tone.
Saf is our third baby, and now that we have a bit of experience under our belts, we know how quickly babies move out of the nursery stage. So this time around we didn't search for the perfect changing table. Actually, we didn't search for a changing table at all. Instead we chose a changing pad, placed it on a built in bump out (it covers the stairs leading down to the living room— a common feature in post-war colonials like ours), and called it a day.
As for the decor, we turned to things that we had been collecting from our grandfathers (whom Saf is named after), and we went full steam ahead with the old man library vibe that both men seem to share. To freshen it up a bit, we mixed in contemporary textiles like the Ikea rug, the chevron pillow, and the striped navy blue and white Ikea fabric that I made into a roman shade (with a child safe cord!) and crib skirt.
We've found that for visitors, Saf's room gets either a "so cool!" or a "whaaat???" reaction, but everyone in our family loves its quirks and personality. As a result, we probably spend a little too many hours all crowded into the tiny time capsule. And most importantly, as evidenced by Saf's rockstar sleeping habits, he likes it too!
What was the inspiration for the room? Old men! Saf is named after his grandfathers, so their lives and interests (as well as things that they and our own fathers have given to us) were the launching point.
What is the favorite element in the room? The photographs.
Before starting, what did we know we wanted to include, for sure? The cowboy painting from my husband's grandfather. When we got married, he gave us a bunch of home things and this was one of them. It hasn't had a good spot in our decor until now.
What was the proudest DIY? The Restoration Hardware Inspired IKEA Hack.

What was the biggest indulgence? The IKEA rug. Seriously, this was a low budget room.
Any advice for other people starting this process? Look around to see what you can borrow from other rooms. With my oldest daughter I felt like everything had to be fresh and new, but now that she's 6 years old, we hardly have anything still in her room that we bought back then. With Saf's room, the decor is much more personal and so has a bit more staying power than the generic baby decor that we used for our daughters.
If money was no object, what would our dream source be? Rogers & Goffigon, a textile company with fabulous linens. I had about 50 fabrics that I wanted to include in the room. They are waiting in a shadow box frame as art and inspiration.
Paint
• Walls: Benjamin Moore: Van Deusen Blue mixed in aura flat
• Doors & Trim: Benjamin Moore: Super White in semi gloss
Furniture
• Crib: AFG International Furniture Athena Mini Amy Convertible Crib (we bought it secondhand at a consignment shop in Indiana when we lived there, and Saf is our third baby to use it). We painted the top rails to give it a bit more modern appeal. The best part about it is that the adjustable mattress height. It drops all the way down to the bottom to keep the baby from climbing out. Also this allows us to hang things on the all above the crib without having to worry about him ripping them down on himself.
• Chair: My husband's grandfather's old office chair. It's leather (which means it's easy to clean and can take a lot of abuse), it's fairly comfortable, and it rocks. This is the first time I've used a chair in the nursery, and I love it. I think we spend a lot more time in Saf's tiny room because of it.
• Storage Cube: Target. Originally it was a blue microfiber, but I covered it with inexpensive chevron fabric.
• Side table: Target
Decorations
• Rug: Ikea's Alvine Ruta
• Lamp: Target
• Mirror: DIY
• Woven Basket: Target
• Crib skirt and Roman Shade: Made from discontinued Ikea fabric (scored for $1.99 a yard— woot!)
• Metal "Saf" letters: Anthropologie
• yellow "S" on the door: it was bought for me buy my friends, Ashley and Robert, at a barn sale while shopping for things for their chocolate shop, Fleurir
• The antlers are from my dad
• Blanket: by Jenna Rose. I won it in a giveaway from one of my favorite blogs,the Design Pages.
• All the rest of the shelf and wall decorations: all grandfather hand-me-downs, vintage finds, or gifts
Art
• The cowboy painting is a Frederick Remington reproduction given to us by my husband's grandfather.
• The frames are filled with photographs of our grandfathers as well as mementos. The spoon and pea pusher in the shadow box were Rich's grandfather's when he was a baby, another frame is filled with fabric swatches that I would have loved to have used in the room if the budget were endless, most are Rogers & Goffigon linens.
NURSERY AND KIDS ROOM SUBMISSION FORM
Have a kid's space you'd like to share? In addition to working with some readers to feature full tours, we share the best as "My Room" posts — short, quick tours of great rooms.