I Took This Super Lightweight $100 Carry-On Around Europe for Two Weeks and It Still Looks Good As New
We independently select these products—if you buy from one of our links, we may earn a commission. All prices were accurate at the time of publishing.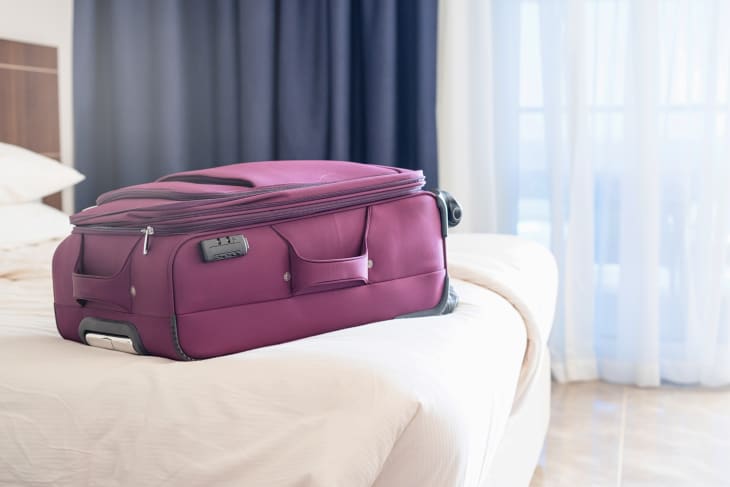 I had never really liked any of the suitcases I had owned — both big and small. Throughout my adult life, I've spent a decent amount of time dragging suitcases through airports (often literally, because the wheels were poorly made). That all changed, though, when my parents got me the Samsonite Bartlett Carry-On Spinner. It was on my Christmas list, because I was planning on going to Greece with my best friend in 2020 (that trip was obviously cancelled). The Bartlett didn't get any real use until 2021 and 2022, when I took two week-long trip around the U.S. and one two-week trip to Europe.
Follow Topics for more like this
Follow for more stories like this
When I originally unwrapped this suitcase on Christmas morning, I thought it was a $250 suitcase. It just looked sleek, had plenty of handles, and was the lightest suitcase I had every lifted up before. As a chronic overpacker, I loved that the prospect of being able to stuff this suitcase to the brim and still be able to lift it over my head to put it into the carry-on bin.
I thought my parents had splurged on a $250 suitcase for years — until I looked my suitcase up on Samsonite last week. Only $100!? I was floored. I really thought it seemed like a more expensive suitcase, especially considering it doesn't have any scratches on it after several years of pretty heavy use.
The suitcase has four multi-directional wheels, which have yet to trip me up in the airport. They still glide seamlessly over whatever surface I drag them over, including uneven New York City sidewalks, airport carpet (why do they put carpet into airports??), and tile.
Because I'm sure you, dear reader, are concerned about whether this suitcase has made it into the overhead compartment without issues — I can assure you that I've never had any issues. The suitcase's dimensions are: 22 in. × 14 in. × 9.25 in. It also fits plenty — I've packed seven days worth of outfits, toiletries, two pairs of shoes, and even a few books (to my boyfriend's chagrin).
For $100, I'd say this suitcase is definitely worth it, especially considering I still have it and am planning on taking it on four short trips this year. It can keep up with my love of travel.