If You Love Gold Statement Mirrors, You *Need* to See Sarah Sherman Samuel's Latest Wall Collection
We
independently
select these products—if you buy from one of our links, we may earn a commission. All prices were accurate at the time of publishing.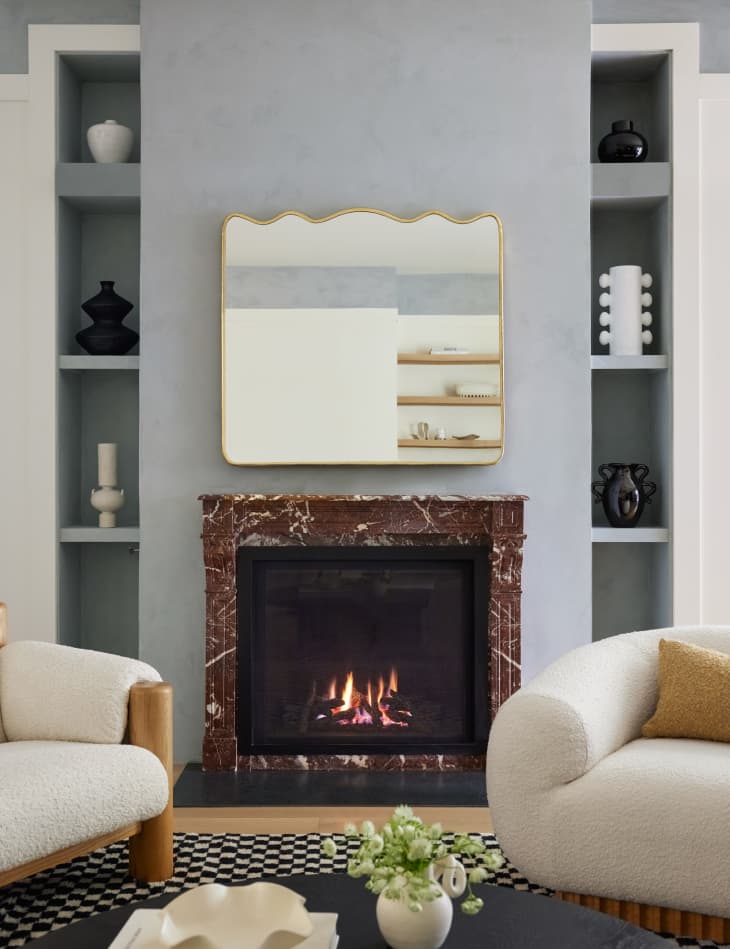 Deck the walls: Sarah Sherman Samuel is expanding her popular Lulu and Georgia collection, this time with a new line of sophisticated mirrors, art, and wallpaper. This marks the designers fourth collaboration with the stylish home brand — joining decor, textiles, and, most recently, furniture — and, as to be expected, it's good… like, need-one-of-everything kind of good.
The latest launch, which debuted today, features seven mirrors in an assortment of sizes and silhouettes, plus two abstract art prints and nine wallpaper designs. Each accent packs plenty of focal-point potential, although the mirrors especially make for some beautiful decor standouts. Here, Samuel's signature attention to detail and shape take the forefront, meaning you'll find everything from of-the-moment waves and squiggles to fluid, asymmetrical frames.
In fact, these remain common themes throughout the designer's work overall, which nod to her primary source of inspiration: nature. "I grew up by the beach and have lived very close to the ocean or the lake my entire life," Samuel explains in a press release. "So, the ripple motif is really inspired by the lake shore, the ocean, and seaside."
Circling back to the mirrors, though, there's really a piece to match every style, be it the textured off-white Anastasia or the warm-toned Ripple. But above all, I'm most enamored with the stunning gold mirror additions. As a longstanding fan of the ornate gilded look, I have to hand it to Sherman for introducing her own cool-meets-classic evolution to this popular trend. Take the organic Puddle Mirror, for instance, which reads like an elevated spin on traditional round or oval gold accents (and would look amazing over a bathroom vanity, just saying). Or, on a larger scale, the tapered design and wavy top seen on the Rook Full Length Mirror make it a unique (yet equally alluring) alternative to its common Baroque-inspired counterparts.
Prices for the latest Sarah Sherman Samuel and Lulu & Georgia collection do skew relatively high, with mirrors ranging from $498 to $798 and wall art starting at $738. However, the products themselves are fairly sizable, so you can count on somewhat of a bang for your buck, especially in relation to what's currently on the market — not to mention it all looks incredibly luxe and high quality. Or, on the more affordable front, the new wallpaper patterns run for $178 a roll, if you want to DIY an accent wall or even frame and hang a small snippet. Either way, count on this entire line to bring the full-on wall wow-factor, no matter how or where you style the new pieces.