These $10 Toiletry Bags Are Super Versatile for Holiday Travelers
We
independently
select these products—if you buy from one of our links, we may earn a commission. All prices were accurate at the time of publishing.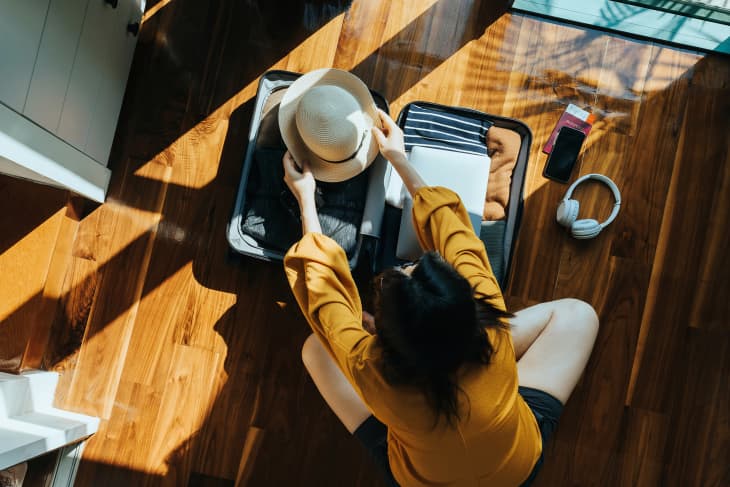 I usually travel for Thanksgiving. As much as it pains me to fly over a holiday weekend, I am excited to see family and friends back home, so it's worth it. I have a good system for packing now and it depends a lot on my being able to fit many things in a carry-on and find stuff quickly. Thankfully, I've discovered these quart-sized clear cosmetic bags, which are airline-compliant and the most versatile for keeping stuff organized in a suitcase or backpack. 
Quick Overview
Why the Sariok Clear Toiletry Bag Is My Travel Must-Have
TSA-compliant, versatile bag
Clear, compact, and compressible
Easy to clean and has a handle
Why These Toiletry Bags Are My Travel Must-Have
I like to use them for cosmetics and toiletries because they're the perfect size for holding travel-sized toothpaste, all my most frequently used makeup, small lotions, Chapstick, and a regular deodorant stick. The clear bag and size make them TSA-compliant, so security is a breeze. The handle makes it so you can take it with you to the bathroom and hang it on a doorknob or at the end of a towel rack. Because they're waterproof and you can easily see inside if something were to leak, you won't have to worry about mess getting anywhere. They're super easy to wipe clean, too.
You can also use them for various types of clothes organization. They're great for smaller items you want to keep together when packing. They compress and can easily pop in and out of carry-ons. They make the most of a small space, unlike bags or putting clothes in loosely, because they can line up or stack, making it easy to fit a lot of stuff.
Other Ways to Use These Toiletry Bags
I make use of these packing bags year-round for all kinds of purposes. I put them in kids' backpacks to hold an extra set of clothes. They fit a shirt, pair of undies, and shorts or leggings without taking up too much room. If a change needs to happen, kids' dirty stuff can get zipped up in the bag instead of loose in their backpack. Whether we're doing a day trip to the beach or shuffling outfits on an out-of-town trip, these bags keep the contents clean and separate from the elements. 
These are a good alternative to zip-top bags for packaged snacks, art supplies, or holding pill bottles, as the flexible PVC is thicker than disposable bags. Again, the clear design makes the biggest difference to me, someone who sometimes finds that "out of sight, out of mind" applies to my belongings — especially when they're shoved into the depths of a ludicrously capacious handbag (still relevant). 

At this point, I've had these bags for almost five years and have used them on every single trip as well as frequently around town. I have shoved clothes in one up to the bursting point, but the zipper has not split and the plastic has not stretched or torn. I have a feeling I'll continue to use these for many years, flights, and adventures to come.