6 Simple Secrets for Cleaning Tricky Holiday Decor Messes
We
independently
select these products—if you buy from one of our links, we may earn a commission. All prices were accurate at the time of publishing.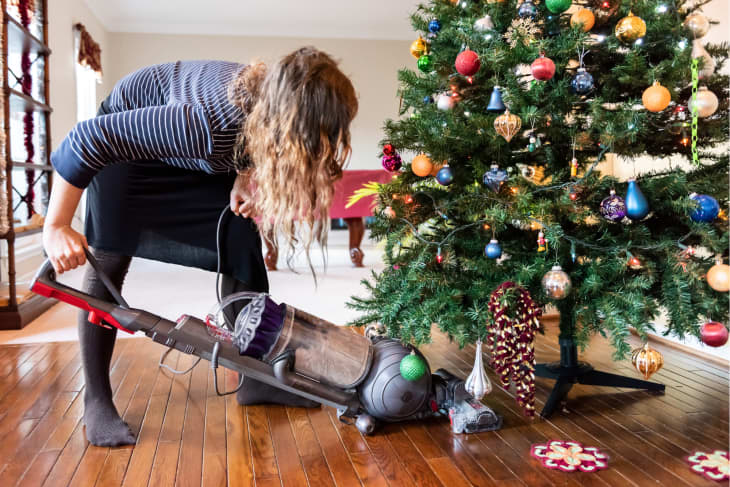 But unfortunately, there's a dark side to all of these fun activities that threatens to burst your nostalgia-fueled bubble of happiness: the messes they bring. 
To help you spend more time enjoying the holiday season and less time cleaning during it, I asked the pros for their biggest mess-busting secrets. Here's what they had to say about tackling the most common holiday decor mishaps, and how to do it all with relative ease. 
Use Painter's Plastic and Lint Rollers for Pine Needles
Keeping pine needles to a minimum begins before you even put your tree in the stand, says Rochelle Wilkinson, owner of Dirt Detective Cleaning in Baltimore. Purchase a roll of painter's plastic from your local hardware store, then cut out a large circle the same size as your tree skirt. Next, cut a hole in the middle, and then put the trunk of the tree through it before placing it in the tree stand. Finally, position your tree skirt on top. When the holiday is over, simply remove the tree skirt, roll the pine needles up in the plastic, and toss the whole thing in the trash, says Wilkinson. 
Of course, you'll probably still notice some rogue needles on the floor throughout the holiday season. A vacuum will do the bulk of the work, but for pesky needles that are left behind, use a lint roller, Wilkinson says. And if there's a carpet nearby, don't forget to lift up the edges — needles tend to settle there. 
Grab a Lint Roller for Glitter
A lot of holiday decor is covered in fine glitter, but anyone who's ever worked with glitter knows how difficult it is to clean up. "The best way to clean up fallen glitter from your holiday decor is to either use a lint roller or a damp microfiber cloth," says Dorian Alves, founder and CEO of Silent Maids. "A lint roller is great for picking up glitter from fabric surfaces like a couch or pillow that is under some shimmering holiday decor." 
For smooth surfaces, like your floor or counter tops, a wet cloth is much more efficient than a broom or vacuum, Alves continues. "A cloth can also get into corners and crevices pretty easily, which helps to get the glitter from tough places."
Squirt Hand Sanitizer on Pine Sap
Rubbing alcohol is your best friend when it comes to cleaning up pine sap from your home's surfaces, which is something that will inevitably happen when you're bringing a Christmas tree inside, says Alves. "It will almost immediately lift up the sticky residue, making your house sap-free in no time." Don't have any on hand, or are trying to lift sap from your actual hands? Try using hand sanitizer, Alves says, noting grease-cutting dish soap and vegetable oil are also effective. 


Pick Up Dish Detergent for Red Wine- and Oil-Stained Linens
The trick for making spilled red wine and oil no big deal? Clean the stain as soon as it happens, says Wilkinson. You may have to take a quick timeout from the celebrations, but hitting pause is the surest way to tackle the offending stain. Use a mild, colorless dish detergent and dab the spot to absorb the red wine or oil. (Do not rub! This will just push the oil and wine into the fabric.) Then, pour a laundry detergent with a strong enzyme directly onto the stain and toss the fabric in the washing machine. Just tell everyone you had to do a quick wardrobe change. 
Try a Butter Knife and an Iron for Candle Wax
An advent wreath or menorah might look best front-and-center, but removing candle wax from a tablecloth can be a tricky process. Experts recommend placing candleholders on a tray or other protective surface to avoid the mess in the first place. But if you can't add a tray — we all know what it's like to have a vision — the trick is to wait until the wax hardens before attempting to remove it, says Madeline Miller, product specialist for The Laundress. Then, with your item on a flat surface, use a dull butter knife to gently scrape away as much of the hardened wax as possible. 
For light stains and minimal residue from the wax, saturate a stain brush in a mix of hot water and a grease-lifting detergent or soap. Apply that to the stained area with the brush, working in circular motions to loosen the residue. Then, let the cloth soak in a tub or basin for 30 minutes in hot water (use tepid water for delicates) before laundering with an everyday formula. 
For tougher wax messes, you'll need to grab your iron, says Miller. After scraping away hardened wax residue, place pieces of thick cardstock directly underneath the location of the stain. Then, lay a cotton rag on top of the wax stain — you should now have the stain sandwiched between the cardstock and cotton cloth. Set your iron to low heat with no steam. Lightly move the iron in a circular motion, pull the cloth away, and the wax should be gone. 
After removing the wax residue, treat any dye stains from colored candles with a stain solution, gently working the formula into the tablecloth with a stain brush saturated in hot water. Finally, launder as normal.
Depend on Dish Soap for Turkey Grease
If you've noticed that your holiday turkey has left a lot of grease in your oven, never fear. Once you've taken your bird out, let the appliance cool so that the grease will begin to harden, says Wilkinson. 
Next, use a plastic spatula to scrape up most of the grease. When that's finished, spray some Dawn Powerwash Dish Spray in the bottom of the oven and turn the appliance on "warm" for about five minutes. If your oven doesn't have a warming function, use the lowest setting, usually around 200 degrees Fahrenheit. Then, swipe over the remaining mess with a non-scratch sponge and wipe it all dry with a paper towel.