Shannon's Eclectic Decorative Bay Area Home
We independently select these products—if you buy from one of our links, we may earn a commission. All prices were accurate at the time of publishing.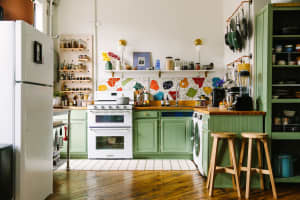 Can't-Miss House Tours Straight to Your Inbox
Keep up with our latest house tours each weekday with our House Tour of the Day newsletter
Name: Shannon Kaye
Location: San Mateo — just south of San Francisco, California
Size: 1,000 square feet
Years lived in: 6 years — rent
Shannon Kaye, a Bay Area interior designer is "making room for more". With years of experience in the design industry and host on the DIY Network, she opens up her personal home to share her ideas with us. She has used a rich palette of textures and color to bring out the charm of her DIY home.
Shannon was born in Portland to creative parents who filled their home with music, color and decorating. While studying at the Academy of Art (now University) she learned from valuable foundation classes about color and light using many materials for design. Soon after she met a decorative painter, and after an apprenticeship she found herself in love with the entire process of the art. "Along with showing me all the techniques of decorative painting and the nuances of color, layer, and pattern, she also taught me how to bid a job and care for clients. My time with her was invaluable. And after a short stint back at an office job, I found my first client and jumped ship for good to work for myself and make a creative living."
Immersed in the idea of working creatively with design she began her search. "I started by printing these cheap postcards of my work and mailing or dropping them off everywhere I could think of. One postcard featured artwork I created to match a Pottery Barn bed spread. I mailed it to the only corporate Pottery Barn address I could find and shortly after I was painting for the Pottery Barn Kids catalog. It was the first of several big breaks that helped me build a successful career and quality life as an artist. I'd generally start with decorative painting projects for clients and end up designing their bedding and window treatments… my services have definitely evolved into interior design, but paint and color still play a major role in my visions. Paint is my go-to tool for sure."
Many years later, she hosted Fresh Coat on the DIY Channel, which inevitably opened many doors for her "working with corporate clients in new and creative ways." Her most recent project "Making Room for More" features a variety of projects, tips and stories for everyone. "I share the journey of making over my own rooms, negotiating with vendors, developing new products and looking for those magic moments in design and in life. I still offer design coaching services to private clients and color consulting services for corporations. Making Room for More allows me to share the journey…"
Making full use of all her space, Shannon has taken full advantage and converted one of the rooms into her studio. She shows off her DIY flare with various painted pieces and her love of vintage furniture. Though she is in a rental and cannot change major features such as the flooring or appliances, she has worked with it by warming up the room with deep hues and glamorous touches.
Apartment Therapy Survey:
My Style: My taste is pretty eclectic – I like a little bit of everything – but I'd say my rooms are mostly about color and comfort. No matter how casual or formal a space, I want people to be invited in and feel at ease experiencing that room. Each room or home has a goal to achieve. Some rooms serve a family while others aim to entertain. My home is about sharing my art and stories with friends and family. I want my home to have a little bit of magic to it- to cast a spell that creates conversations and memories.
Inspiration: I take inspiration from everywhere and everything – mostly from art and (go figure) painted surfaces that age naturally. The patina of time can be so beautiful and surprising, I'm always looking at things in layers and curious about how time unravels those layers such grace. I'm also really inspired by French shelter magazines like Cote D'Azur – my living room walls were inspired by an image I tore out and kept for years. Objekt is a beautiful magazine, from the Netherlands, that never disappoints.
Favorite Element: Architecturally, the house isn't very interesting so I used colorful walls and creative art arrangements to disguise the small "regularness" of my home. I do like the soft natural light from my windows and how it gives my window treatments and art a soft glow. And I'd say that books, quotes, fortune cookies, and other word collections are really inspiring me right now so that's a huge element in my home. My book collection is a working reference library, I created fabric and throw pillows from my collection of fortune cookie fortunes, and my fireplace is created from books with titles or subjects I appreciate. My friends have gotten into the act buying me beautiful word inspired pieces like the BELIEVE photograph collage above my front door.
I collect and appreciate everything in my home. I like to collect unusual pieces that tell a story together, then I create the artwork that brings that story to life. The painting in my bedroom is about a sweet and simple love affair; my fireplace screen is a compilation of books with happy titles and subjects I appreciate. The butterfly installation is made from materials and magazine images that inspire me.
Biggest Challenge: The valance above my dining room window is a mantel pulled from an old Pennsylvania home. I saw it in one of my favorite vintage shops near Santa Cruz and knew that it should go above my window. It took about three years to convince my Contractor friend that we could attach it to the ceiling and finally, after a long difficult day of trying, we finally got it up there. I was so thrilled. No matter how small, I'm always thrilled to complete a project.
The real challenge of my home is that it's a rental. My landlord has been great as far as letting me paint the walls, he even let me remodel my bathroom (on a very very strict budget mind you!). But, he's not up for me updating the kitchen floors, painting the cabinets, or removing the ugly (and loud!) wall heaters (one of them hides behind the dark screen in my living room). Those kinds of limitations can be frustrating. I want everything to have a special touch and rentals force your to accept certain things. Still, this has been a great home for me. I just pretend the kitchen doesn't exist and make every other room look as fabulous as possible.
What Friends Say: When my friends come over the first thing they do is look around to see what's different from their last visit. They love that every time they come over, it's a fresh experience. We talk about why I changed this or moved that and where I'm going next. My home is my laboratory, so I'm constantly painting and rearranging just to see how things work together. Conversations are always sparked by my latest project. I find it collaborative and fun to share my progress with friends.
Biggest Embarrassment: A few years ago, I bought this brown slouchy leather and polished chrome 70's style chair at the Flea market for $250 or $300. I thought it was a steal; it was so cool and I was so cutting edge. When I got it home I realized that not only was it a big ugly mess, it was broken beyond repair and harbored a smell I'd never be able to identify or remove. I put the chair out on the curb with a big FREE sign. The next day, the chair was gone, and the day after that it was back on my curb! Hilarious. I've become more discerning, but I also don't take myself so seriously- we can all get caught up in the hype.
Proudest DIY: I'm always building and making things, and luckily I have handy friends who enjoy a good project- or maybe they like the dinner and drinks I offer in exchange- hm… Designing and building the fireplace screen from cut books is my current favorite project. It's so outside of the box from my normal work, but selecting the books and arranging them with such care was more engaging and creative than I expected. I'd love to create more pieces like this and also venture into other cut book projects for clients like diptychs or landscapes.
Biggest Indulgence: As a working artist and independent designer, indulgence has been relative for me. The Murphy-bed mirror was only $125 when I bought it some 14 years ago, but as a student, the price was staggering. I had to have it and it's still one of my favorite things.
The salmon-colored Italian Bombay chests in my dining room were $950 for the pair. Not a bad price for their unique color and finish, but they sat at a friend's house for 5 or more years until I had a place for them. It was worth the wait.
Best Advice: Display the things you love. Why keep mementos and memories in a box somewhere when you can create art projects and be inspired by the colors of things you love? I never feel like my work is on trend, I feel like it's totally unique and personal to my clients and their home. I look for clues to their passions and favorite memories and focus on bringing those dreams to live so that everyone who enters that space will look good and feel good.
Dream Sources:
Dream- 905 S. Claremont Street, San Mateo, California
A tiny little treasure chest of vintage furniture, lighting, and other decorative goodies, Dream has long been my secret source for client gifts and accessories. The owner, Stacy Rhodes, puts out the most beautiful displays. And her Christmas arrangements are stunning. She finds the most exquisite vintage ornaments and gift wrap embellishments. She has a fetish for alabaster too that I whole heartedly endorse! (Grave side urn on desk, wet bar accessories and bowling pins)
Pierson 20th Century Design- 1630 Palm Avenue, San Mateo, CaliforniaJeff Pierson packs a punch with his gorgeous collection of vintage furniture and delightful accessories. He has a terrific eye for lighting too. (Fornasetti tray, brass fish bookends, silver desk lamp, and sixties globes light fixture in dining room)
Apartment 46- 1618 Palm Avenue, San Mateo, California
Melisa LaBancz-Bleasdale has the most adorable shop in a charming neighborhood. It's full of trinkets art pieces that are so unique you won't be able to leave. Her eye for delicate accessories and unusual plants makes for a magical space. You'll find everything you need for a gift or for yourself! (Floral artwork, succulents, and wall mounted floral vases in the bathroom)
Kitty Andrews Millinery – San Francisco, California
Melissa Bolin is the wizard behind the hats I've collected for my bedroom. Her fascinators are colorful, feminine and festive, and her use of embellishments is perfectly edited.
Alameda Flea Market- Alameda, California
So many of the pieces in my home come from this amazing flea market. My best advice for finding great furniture is to go early and be decisive. (Clover shaped parquet coffee table, gilded desk chair, barn wood stools, salmon Bombay chests, and the mirror frame in the my butterfly piece)
Bethany's additional questions:
1. What is the single most significant thing in your home?
The most significant thing in my home is probably my piano. I grew up playing a little spinet piano in my dining room, so after several attempts to create a conventional dining space for myself, I embraced what I know and began using my baby grand as a table and gathering spot for friends. The piano itself isn't that valuable or impressive but painting it, playing it and using it in some way every day keeps me connected to my musical background and makes me want to invite my friends over.
2. When you think of designing a home what is the most essential part?
For me, residential design is more about personality than principle. Of course, there are certain things you learn in school and from other designers that always work. But, listening to client and tapping into their personal experience is always the starting point of design for me. My goal is to create rooms for clients to look good and feel good. Color, style, scale, arrangement… everything comes from that desire.
3. How has the lifestyle and culture in San Francisco, effected your personal design aesthetic?
San Francisco is about a casual lifestyle that's eclectic and accepting of new ideas. Living in the city has made my aesthetic less formal and conservative, and more broad; more playful. Of course, living in the city can also mean living in small spaces so I'm also more attracted to multi-use and modular pieces. Being creative about use and arrangement is more important now too. My dresser is a sideboard and my piano is my dining table. So many pieces are more versatile than we might realize. I like working from that angle.
• Living/Dining Room ceiling and background walls- Benjamin Moore, Dessert Light
graphic patterns- Sherwin-Williams Bitter Chocolate, Reddish, Autumnal, and Benjamin Moore Sunny Dayscrown molding- Golden fluid acrylic, Iridescent Bronze
• Bathroom walls and ceiling- Benjamin Moore, Elmira White
• Hallway- custom mauve
• Bedroom walls- custom blue. Ceiling pattern- custom blush. Crown molding- Golden fluid acrylic, Iridescent Bronze

• Painted door: found object painted by Shannon Kaye

• Sofa: Willa Home, Burlingame (vintage and gift shop)
• Lamps, coffee table, gilded chair, desk: Alameda and Alemany Flea Markets
• Wassily chairs: frames were given to me by a friend, fabrics from Urban Burp Fabrics, San Francisco
• Accessories: Pierson Modern, Dream, various Flea Markets
• Throw pillows and window treatments- Shannon Kaye's Good Fortune home line
• Fireplace panel- Shannon Kaye book collage

• Vintage fireplace mantel used as valance: Crawfords, Soquel, CA
• Furniture, accessories, light fixtures: flea markets and vintage shops
• Bowling pins: Dream, San Mateo, CA
• Bar stools: IKEA
• Butterfly installation: Shannon project, mirror frame, fence wire, and magazine pages

• Curtain panels: drop cloths stenciled with Shannon Kaye pattern
• Chandelier: garage sale
• Storage and wing chairs; second-hand pieces painted by Shannon
• Lamps: Target
• Artwork: Shannon's original painting
• Throw pillows: Shannon's Good Fortune line

• Floral artwork: vintage finds and Shannon's original paintings
• Shower curtain: Anthropologie
• Succulents: Flora Grubb, San Francisco and Apartment 46, San Mateo

• Desk: salvage restaurant counter
• Display case: Flea Market find
• Paint chip storage: salvage hotel service cart
• Armoire: salvaged from a house when client's moved out
• HOUSE TOUR ARCHIVE Check out past house tours here
• Interested in sharing your home with Apartment Therapy? Contact the editors through our House Tour Submission Form.
• Are you a designer/architect/decorator interested in sharing a residential project with Apartment Therapy readers? Contact the editors through our Professional Submission Fo