This Is the Double-Duty, Vintage Furniture Piece You've Probably Never Heard Of, and It's Perfect for Small-Space Storage
We
independently
select these products—if you buy from one of our links, we may earn a commission. All prices were accurate at the time of publishing.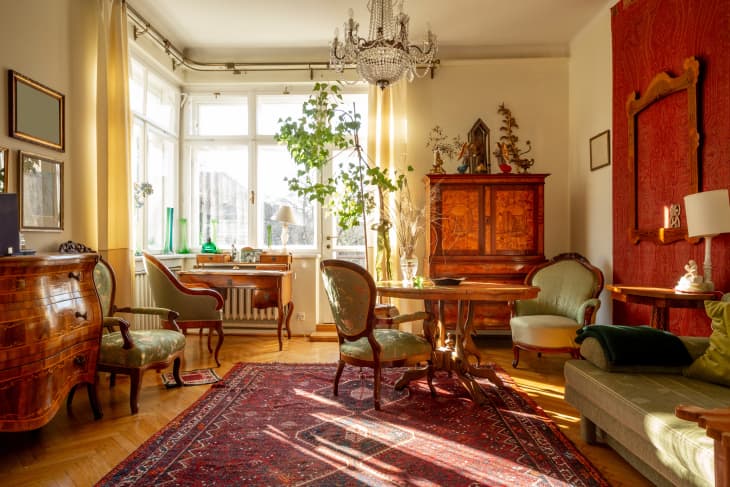 I used to have a small section of wall space in my house that was just missing something, and I knew I needed a functional-meets-beautiful piece of furniture to fill the gap. It had to be shallow — less than 12 inches deep, to be exact, which disqualified a lot of bookshelves — plus tall enough to double as storage, preferably with a mixture of open shelves and cabinets. It wasn't until browsing Renninger's Antique Market in Mt. Dora, Florida, that I saw exactly what I wanted: a side-by-side, also referred to by some as a secretary desk.
After I purchased the piece and put it in its new home, I started to learn more about this type of antique furnishing. To get a better understanding of the side-by-side's origins and potential modern applications, I spoke with Bill Rau, a third-generation antique collector and CEO of M.S. Rau, a renowned New Orleans-based fine art, antique, and jewelry gallery.
"A side-by-side is a practical Victorian creation that combines a small writing desk, often with a drop-down feature, and a small bookshelf or storage system," explains Rau. Thanks to their two-in-one design and fairly compact proportions, these desk-cabinet hybrids "historically populated the apartments and homes of city-dwellers, as they allowed patrons to save space with style," Rau adds, a perk that still holds true in the 21st century.
What were side-by-sides used for?
In some ways, these pieces are almost like precursors to the home office nooks many people have today. "Side-by-sides are a kind of secretary bookcase, or secrétaire, which was a popular furnishing between the end of the Victorian period and the beginning of the Art Nouveau design era," he says, which dates roughly from about 1890 to 1920. "The secrétaire was first introduced as an innovative piece of writing furniture in the early 18th century," he adds. "Instantly popular, the secretary desk proved to be the preferred place to write, transcribe, and store written treasures. Secretaries soon became the focal point of a home, serving as a marker of culture and education."
How can side-by-sides fit into homes today?
Although side-by-sides date back hundreds of years, they can still bring beautiful form and small-space-friendly function to present-day spaces. "There is no limit to the possibilities these pieces allow," Rau says. "The fall-front opening descends to reveal a multitude of features, typically a writing surface, storage shelves, and drawers. Often, the bottom doors conceal even more storage space, as well as a hidden safe for one's most important collectibles." Think of them almost like smaller, more utility-packed wardrobe cabinets — perfect for storage — but a bit more versatile, thanks to their built-in work surfaces and overall compact dimensions that enable them to fit into tight corners or little stretches of space.
I personally use my secretary desk to store linens, books, and vintage props for photoshoots, but it serves no shortage of purposes, depending on your own home needs. Convert one into a fold-away makeup station that keeps beauty products out of sight, for one, or as an office desk that you can "hide" after work hours. Get creative by transforming a side-by-side into a home bar, storing glassware on the shelves and hiding liquor bottles and bar tools inside the desk portion of the piece.
Aesthetically-speaking — beyond that coveted, warm-toned, vintage allure — side-by-sides also work as a durable, classic furniture foundation that's far more unique (and usually higher quality) than a lot of contemporary pieces. "As a worthy investment, timeless antiques allow your design aesthetic to continuously evolve with your distinct space and interests," explains Rau. Each side-by-side comes with its own unique historical attachments, too. "Antique decor pieces like this carry limitless value with the stories they tell," says Rau. "Whether it was owned by a royal, crafted by a master of their time, or coveted by collectors today, the truism still holds that in most cases: 'They don't make things like they used to.'"
What to consider when shopping for side-by-sides?
Because side-by-sides "mark a unique turning point in furniture design history," notes Rau, you'll come across varying degrees of construction and ornamentation, as they gained more traction and craftsmanship evolved. "The finest pieces were often made of mahogany or rosewood, while the more affordable pieces would have been made from oak,"says Rau. "As the Industrial Revolution ushered in a new era of wealth and education, there was an increased demand for practical and beautiful furnishings. Most side-by-side pieces blend Victorian aesthetics with (then innovative) Art Deco and Art Nouveau design elements."
When it comes to price, the finer the materials and level of detail, the more you are likely going to pay. I bought my side-by-side for $500, though I've seen unadorned versions on Facebook Marketplace and at estate sales in the $100 to $200 range. I've also encountered models in antique stores that are priced anywhere from $1,000 to $4,000. Of course, models with historic significance like this one, made specifically for the British Ambassador to Russia, could go for considerably more. The state of the piece, your location, and the current owner's willingness to sell all play a part in pricing as well. Anytime you are dealing with antique or vintage furniture, it pays to shop around, and this item is something worth keeping your eyes open for, in my opinion as well as Rau's. "Side-by-side pieces are a historical time capsule that anyone would be delighted to acquire," he says, and if you're collecting with the intention to sell one day, they're unique enough to always be in some kind of demand.