This $12 Amazon Find Has Over 4,300 Five-Star Reviews And Will Instantly Corral Your Cookware Collection
We
independently
select these products—if you buy from one of our links, we may earn a commission. All prices were accurate at the time of publishing.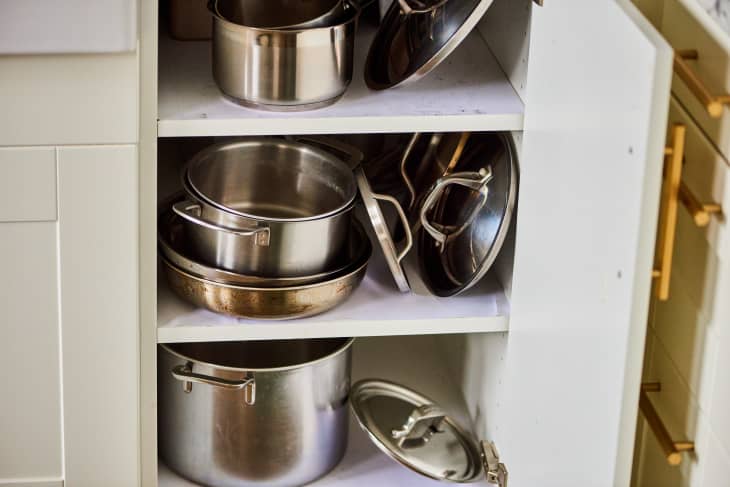 We all know what it's like: Opening your kitchen cabinets to a clanging mess of pots and pans that slide out onto the floor. It's not fun. And if you're anything like us, your cabinets are packing a lot of steel, cast iron, and enamelware that's just waiting to make a mess of itself. And while some cookware sets come with handy organizers included, most of the time we're left with a jumble of mismatched cookware (even if we just reorganized it). So, needless to say, we're always on the lookout for helpful solutions. Ones that actually work, that is.
Because Amazon has a solution for every single organizing conundrum out there, we did some digging to find some help for our cluttered cabinets. And the results are in: The SimpleHouseware Kitchen Pot Lid Rack is simply one of the best kitchen organizers out there. With close to 7,000 reviews, and all the right attributes of a functional storage system, this rack is the affordable find we all need. Oh, and by affordable I mean it's on sale for just under $12.
Available in two colors, this space-saving organizer features four slots ideal for pot lids — each 2.25 inches wide (which is definitely enough to fit more than just a pot lid). Although it's solidly constructed, that doesn't mean this rack is heavy. In fact, many reviewers praised it for its lightweight design, adding that it unexpectedly stood its ground against some pretty hefty cookware pieces. "It's lightweight and able to be moved into a position most useful for you," wrote in one customer, making sourcing the right lid super easy. Another shared,"It holds four of the heaviest lids I have." See what we mean?
Aside from the functionality of the rack itself, it also creates more storage space in cookware-filled cabinets. "Oh my goodness does this help with clutter!!!," exclaimed one content customer. "My cabinets look SO organized . . . would definitely recommend and sturdy too. It's worth it." Okay, we're sold!
Plus, we love how many reviewers thought outside of the box and repurposed the rack for their needs."It fits my largest platters . . . even with their curved rims," said one reviewer. Another shared, "I'm using this for baking sheets & cutting boards. It is awesome!" To sum it up, this little helper should be called the everything rack. There are just tons of unexpected uses for the thing, We especially love this innovative take: "I put it upside down and use it to store small/medium saucepans and it works amazingly," raved another reviewer. Brilliant!
Simply put, you need one of these organizers. Just take it from this reviewer. If you struggle with cluttered cabinets, they say it does wonders. "I now have more space than I ever imagined." Sounds pretty great if you ask us.