8 Perennially Fun Things to Do at Sleepovers
We
independently
select these products—if you buy from one of our links, we may earn a commission. All prices were accurate at the time of publishing.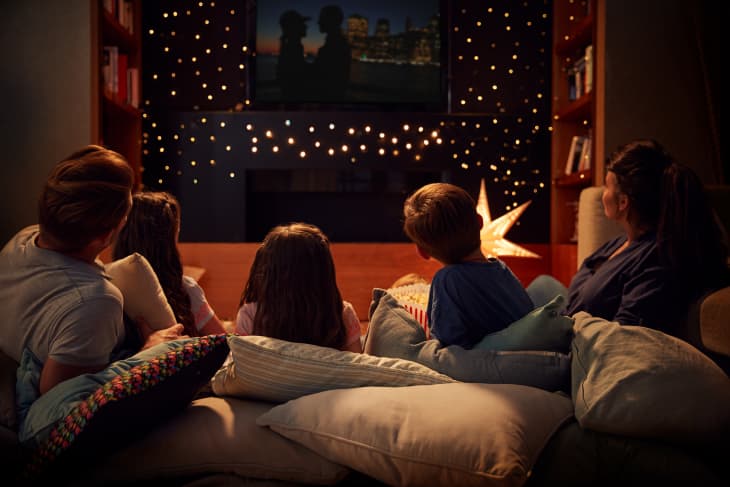 The end of summer is the perfect time to plan one last hurrah before the kids return to school, and the ideal way to wind down is by hosting a sleepover. Having a pajama party can help those carefree days of summer break linger, although don't limit yourself to one season, as an all-night party is an excellent excuse for a get-together any time of year. 
One of the best parts about spending the wee hours of the night with friends is staying awake and savoring every moment, which requires plenty of activities to keep everyone's eyes open. So whether you're hosting your child's friends or want to get together with your adult besties, here are eight fabulous ideas to fill your time at your next sleepover.
Search for homemade body and face treatment recipes, and get ready for a night of pampering. First, buy your ingredients — you may already have many at home — and prepare a space to make your scrubs and masks. Then, create a calming space with music, dimmed lights, and plenty of plush extras, such as eye pillows and cozy blankets. Planning a relaxation night is the perfect activity, whether you're hosting an overnight bachelorette party or the kids want to experience a luxurious mini-spa.
Head outside to breathe fresh air and observe the night sky. Just be sure to dress appropriately for the time of year, and use plenty of blankets or gaze from a window in winter. Then, go all out and try to identify stars and formations utilizing an app like Stellarium, or simply gaze into the sky and make up your own constellations, much like seeing shapes in the clouds during the daytime.
Late nights usually bring on the munchies, so be prepared. Instead of stocking up on just prepared food (although have some on hand!), plan to make snacks with a twist. For example, have a food wars-style event and challenge each other to a cupcake decorating contest. You could also learn a new, age-appropriate skill, such as how to make omelets. Even something as simple as mixing a flavored popcorn can serve as an activity while also resulting in a satisfying midnight snack.
TikTok has proven that everyone can dance even if they think they can't. Pick a classic or trending TikTok dance and see who can perform it best (or most hilariously). Then, film it and post it on social media — only with parents' permission if you have elementary school-aged students. Step it up by choosing a song, dividing the kids into teams, and having them create a new dance. Include silly rules, such as they need to include moves like the worm, or they can only have one foot on the ground at all times. One team may even create the next viral sensation!
Brainstorm the next big idea.
Just because you're hosting a sleepover doesn't mean it can't be productive. If you have teens or adults, make an projected onto a wall, indoors or out. For kids, choose classics like "That Darn Cat!" from the 1960s or "Honey, I Shrunk the Kids" from the 1980s. If you have teens, a movie like "Breakfast at Tiffany's" would delight. Serve food and drinks from the era, and have guests dress up like a character from the film to build on the theme.
Let the kids play interior designer and have fun rearranging your child's room in a new way. Adults can help with furniture pieces, but let the little ones choose where to place pictures and other decor items. Give them as much freedom as you're comfortable with, which may depend on the group's age. If you have adults or teens, feel free to purchase new decor items, such as throw pillows and art, and let them use their creativity to redo the space.
Use your leftover craft supplies.
You may have a stash of unused crafting items even if you aren't an avid DIYer. Let guests be inspired to make whatever they envision from your crafting supplies. Another option is to head to the hobby or dollar store and buy inexpensive items or individual crafting kits. Finally, tailor the activity to the age of the participants, and let the kids create. Older kids and adults can take on a larger DIY project or learn a new skill, such as macrame.