3 Small Space Hacks I've Learned from Hostels — As Someone Who Has Stayed in Over 30
We independently select these products—if you buy from one of our links, we may earn a commission. All prices were accurate at the time of publishing.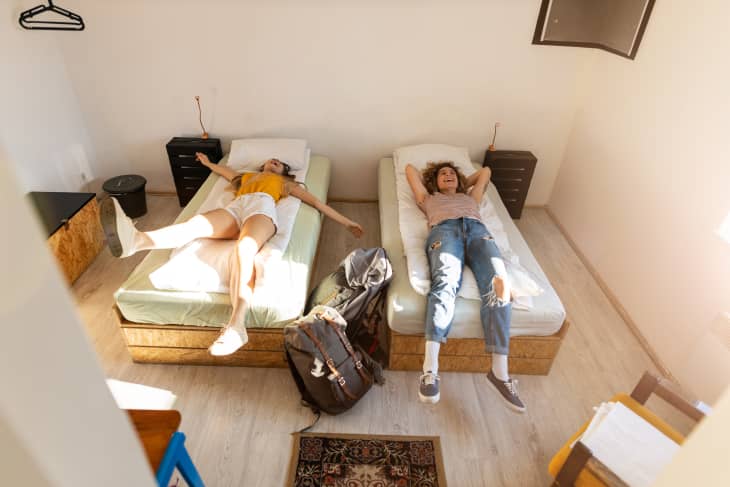 Uniquely designed to cultivate friendships in addition to helping you save money, hostels may not be your favorite travel accommodation. However, they are the most underrated! With dorm bed curtains and lockers for luggage safety, hostels can take one hotel-sized room and make it manageable for six or more. Here are three small space hacks from hostels and how you can use them both on the road and at home. 
Follow Topics for more like this
Follow for more stories like this
Invest in items that hang. 
One of the best ways to maximize small spaces is to get every inch of use out of the walls. Many hostels have hooks in the ensuite bathrooms and on the walls in both dorms and private rooms. Toiletry bags with hooks can also act as hanging door organizers. 
Other items, including belts, coats, and scarves, are all hangable. You can even tie your scarves, hang a purse around a bedpost, and use a portable travel clothesline that sticks to the wall for additional space. Utilizing the vertical space takes up much less floor space than storing them in bins or drawers, making your small space feel larger. 
Use packing cubes to stay organized.
Packing cubes have a bigger purpose than just conserving space in your travel luggage. They are also helpful for storing clothes under a bed, in a closet while traveling, or at home when seasons change. First, give each packing cube a theme based on the article of clothing. For example, while traveling, you put all your undergarments in one, tops in the next, and bottoms in another. Or, if you're using them to store your out-of-season clothes at home, you can put your short-sleeved tops in one, shorts in the next, and swimsuits in another until summer returns.
Take it a step further and label each cube with the theme. The labels and categories prevent you from digging through everything and making a mess when the seasons change again. Packing cubes can also double as bags for dirty clothes when you're on the go. This way, when it's time to do laundry in the hostel, you don't need a basket that the hostel may or may not provide.
Purchase travel-sized items instead of full-sized items.
Sometimes, even when you're not traveling, buying travel-size items can save extra space at home. Think about it, how easy is it to go overboard in the body and skincare aisles when you're preparing for a trip or doing your regular shopping? How often are you going to use that insect repellent? And if you only wear makeup for special events, do you need a full-size bottle of setting spray? 
Staying in hostels means little products can go a long way in shared dorms, bathrooms, and storage lockers. Before buying, consider you need the item every day just for special occasions and experiences. Those everyday items can be full-size, but the others can be travel-size. Once empty, you can reuse them when you take an actual trip and allow space for other necessities in your bathroom cabinets. 
After becoming accustomed to living with less in hostels for months, I've found they're more efficient than you think. Living on a broke college student's travel budget has served me well as a now nine-to-five adult — I can pack light and make smart use of any small space.