The Best-Looking Bathroom Trash Cans Under $15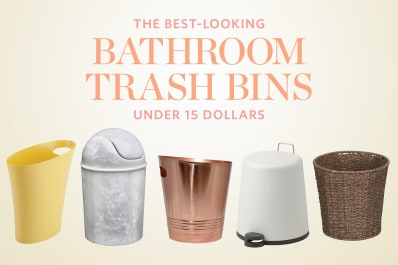 A good-looking bathroom trash bin is hard to find. That's why most of them wind up stashed near the toilet or under the sink. Sure you can invest in a fancy one that looks great, but who wants to drop serious cash on something as small and well, trashy as a garbage can? Lucky for you, we did our research and it turns out the web is filled with some surprisingly sleek and inexpensive bathroom receptacles. Here are nine super stylish, bathroom-sized bins that won't set you back more than fifteen bucks.
Available in a rainbow of colors, this super skinny waste bin was designed to squeeze into just about any odd-sized space in your bathroom. Integrated handles allow for easy trash disposal and a rounded bottom helps prevent liquids from getting trapped in tight corners.
At ten bucks, you wouldn't expect features like a tote-able handle and a bag-hiding inner liner, but that's where this IKEA find comes in clutch.
Searching for a more natural way to stylishly store your trash in plain sight? This woven wastebasket is small enough to fit in your bathroom and is made of natural sea-grass wicker that's resistant to mold and humidity.
Smaller than the standard two-gallon bathroom trashcan, this miniature wastebasket in White Onyx boasts a removable swinging lid and a glossy marble-style finish that looks insanely luxe (but only costs eleven bucks).
At 4.5 gallons, this wood-inspired trashcan is slightly larger than a traditional bathroom bin. Thankfully, it doesn't lack an inch of style so you won't mind showing it off at home.
Looking for a step-style trashcan that's small enough to squeeze into your bathroom? This clear cutie from Target is ultra light and petite, but still has a step-open lid to conceal your unsightly garbage.
Don't have room for a full-blown wastebasket in your bathroom but still need a discreet way to dispose of stuff? This bronze-style vanity bin is small enough to fit on your countertop and barely resembles a trashcan.
Cute and compact, this glossy rectangular-shaped waste can is available in fifteen different colors. Even better, it's durable but lightweight, so taking out the garbage is a breeze.
If you thought there was no such thing as a glamorous bathroom trashcan then think again. This polished metallic wastebasket comes in four ritzy finishes (including copper, silver, and gold) and will only set you back thirteen bucks.
Apartment Therapy supports our readers with carefully chosen product recommendations to improve life at home. You support us through our independently chosen links, many of which earn us a commission.