Make Those Mid-Day Naps a Reality With These Cozy Daybeds
We independently select these products—if you buy from one of our links, we may earn a commission. All prices were accurate at the time of publishing.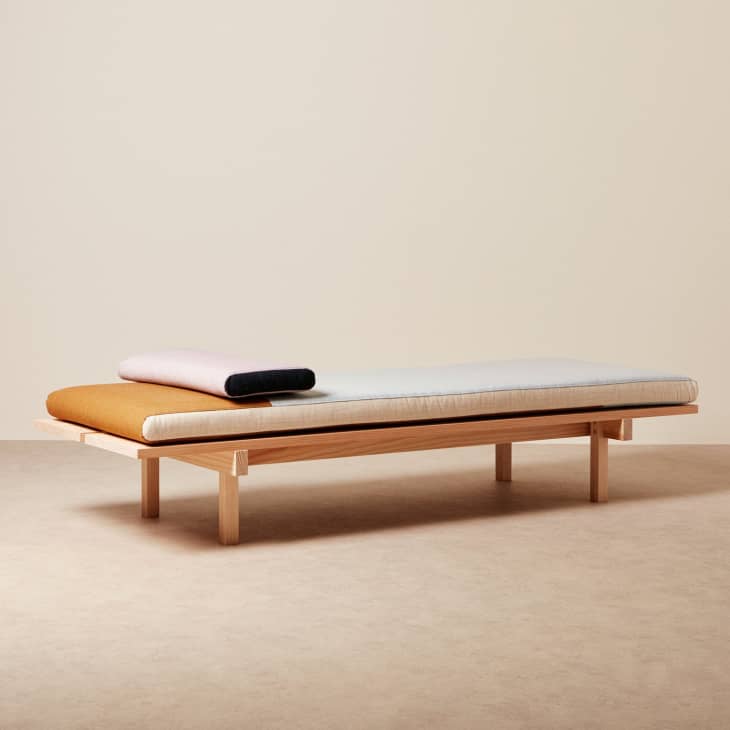 When it comes to being efficient, multipurpose pieces of furniture, daybeds are the unsung heroes of the home decor world. Not only do they provide a place to nap, read, or watch a movie, but they also can transform into sleeping spots that are far superior to regular couches when need be. Many daybeds can be extended—yes, some even unfold into king-size beds!—and others provide ample storage space or can even serve as eye candy in a room beyond their sheer functionality.
Daybeds are comfier than a casual chaise lounge, but they don't require the time-consuming reconfiguration and setup of a Murphy bed. They also insert themselves perfectly in guest bedrooms and are doubly useful in a den or living room. Before I go any further with this love letter to daybeds though, why not check out their capabilities for yourself? Scroll through the below options that will work in nearly any space, and maybe you'll become a believer in daybeds, too.
Follow Topics for more like this
Follow for more stories like this
Boho superfans needn't look anywhere else for a stylish daybed that matches their tastes. This Urban Outfitters one has you covered with wooden legs and a tufted cushion topper. Add a few textured throw pillows, and it'll be at home in any living room with all the plants and funky, fun color scheme.
Oversized comfy bench or daybed? This elegant option could honestly be both. Its wide platform is large enough to fit a twin mattress, so you can make up a daybed that's equally as comfy as the one residing in your bedroom.
Rattan isn't going anywhere, and if you're obsessed with the material that's somewhat reminiscent of a European vacation, this daybed is an ideal option. It doesn't come with the mattress, but it's worth adding on for the gorgeous linen cover.
The daybed of the future has arrived in the form of this oblong design. While it has some '60s and '70s influences, this look will mesh well with a contemporary styled room, too. You can snooze on it as is or open it up to a bed that's nearly twice its original size. The hardest part will be choosing just one of the 13 available fabrics.
Ideal for guest rooms or even a kid's room, this twin-size daybed can expand into a larger size for overnight visitors with its trundle. This model even features three large drawers in its base, which is perfect for storing off-season clothes or spare bedding.
You can rest on this daybed while it's compacted in its twin dimensions, but it stretches out into a king-size bed for a roomier sleeping experience. Even better, the frame comes with two storage drawers to keep anything you need to stow tucked away and tidied up.
Daybeds don't have to be basic, and they most certainly don't need to be boring. This super fun style hangs and swings, so you can enjoy it outside on a porch or indoors for an ultra fun statement piece. The only issue is that you may never want to leave it.
You can rely on this jewel-toned daybed to add a punch of mid-century modern style to any room—all without your wallet taking too much of a hit. The wooden legs and sophisticated shade options make this a must-have addition for a guest or living room.
If chic and sleek is your end goal, this daybed speaks your language. Slim and modern, you can choose from a black or natural oak frame and a variety of textiles for the fabric overlay. It's the perfect unobtrusive daybed for those who are looking for a place to chill for a few hours and look stylish while doing so.
Sure, it's the most expensive on the list, but it could be argued that this is one of the most stylish daybeds, and part of its purchase supports multiple good causes. Its simple structure and sleek materials make it a dream investment for anyone who follows Scandinavian style throughout their home. It's also worth noting that the minimal patchwork mat is made of woolen materials and is included with the frame.