These Are the Top 3 Home Problems Buyers Find After Closing
We
independently
select these products—if you buy from one of our links, we may earn a commission. All prices were accurate at the time of publishing.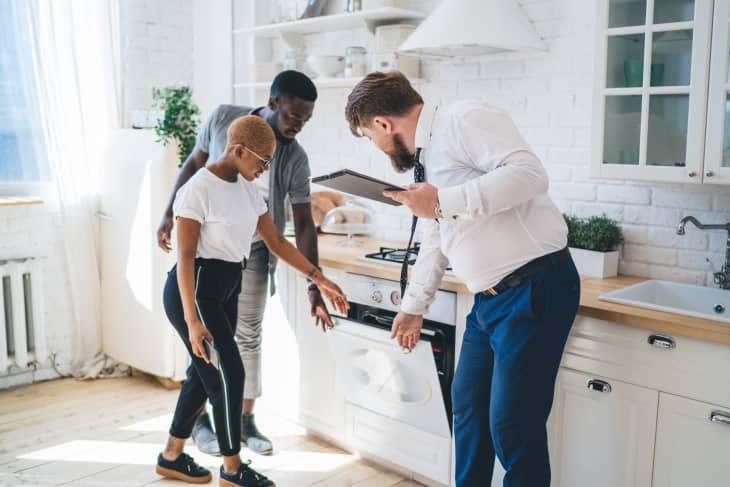 In a perfect world, you'd get your property inspection report back and have a clear picture of every single default or oddity in your newly purchased home. But sometimes — actually, a lot of times, according to new survey data — surprises pop up after you close on a home. Maybe it's a loud hum of an HVAC system that signals trouble or flickering lights that clue you into a loose electrical connection. Whatever it may be, it's not good.
As it turns out, 60 percent of sellers admitted to selling a home with an issue the buyer was unaware of, according to a study from home warranty company Cinch Home Services. The three most common problems buyers discover after closing are electrical (88 percent), fixtures (58 percent), and plumbing (58 percent), according to the survey data.
But hiding problems is something Realtors and real estate attorneys strongly advise against and disclosure statements are meant to protect buyers. Something to know, though: Laws on real estate disclosures vary based on where you're buying. 
However, sellers must disclose problems that they know about that are considered "latent defects," explains Kara L. Stachel, real estate attorney, licensed in Florida, New Jersey, Pennsylvania, and Washington, DC and the owner and managing attorney of the law firm Stachel Law Planning, PLLC. 
Specifically, if a seller is aware of a defect that would not be obvious to the buyer and would affect the value of the property, the seller must disclose it, Stachel says. A prime example is a leaky roof. Buyers probably wouldn't notice the leak unless they toured the home during a rainstorm. Her best advice for buyers? Never waive the property inspection. 
"Most of the buyer's remorse I have seen from the last two years of shotgun buying is from buyers who waived their right to an inspection in order to submit a more competitive offer, and almost every single one has regrets about it," Stachel says. 
Also, buyers should make sure they hire a licensed and experienced property inspector and take the results of the inspection seriously. Speak to the inspector afterward and listen to the advice they have to offer as to what needs to be fixed immediately, what can be addressed in the future, and what the costs for repair or replacement will be, Stachel recommends.
Another step that she would take is to ask specific questions about the property, such as the age of the heating system and air conditioner, how often the owners or tenants change their air filters, when the hot water tank or electrical panel was replaced, and whether there have been any upgrades to the property that require permits — and whether permits were actually pulled for those upgrades or replacements. You can also ask for copies of the permits or closed permits and any drawings that were done, Stachel says. 
"If the seller cannot produce these items, it may be a red flag that the work was not done by a licensed contractor or pursuant to local municipal codes and could be costly to the buyer in the future," she says. 
In addition to getting a property inspection, it's a good idea to do a little of your own recognizance. One approach is to talk to neighbors in the neighborhood where you're looking to buy, says Michael Larranaga, a general practice attorney with Larranaga Law in Aurora, Colorado, whose area of focus includes real estate law.
"Neighbors tend to notice if a plumbing truck is parked in front of the house every other week," he says.
Remember that there are some instances when the seller genuinely might not know about a problem in the home, says Muoki Musau, a Realtor with Houwzer. For example, older homes may have been bought and sold multiple times to the point that the seller has no knowledge as to whether the home has lead-based paint. 
Overall, when it comes to home selling, honesty truly is the best policy. 
"When working with sellers, we always advise, disclose, disclose, disclose," says Emily Waldmann, a Realtor with Den Property Group in Austin, Texas. "In some scenarios, we'll also advise the sellers to have a pre-inspection done on the home, if they have lived in it for a while, and then perform some repairs prior to going on the market and share the inspection with potential buyers."