6 Things in Your Linen Closet You Should Get Rid of Right Now, According to Home Stagers
We independently select these products—if you buy from one of our links, we may earn a commission. All prices were accurate at the time of publishing.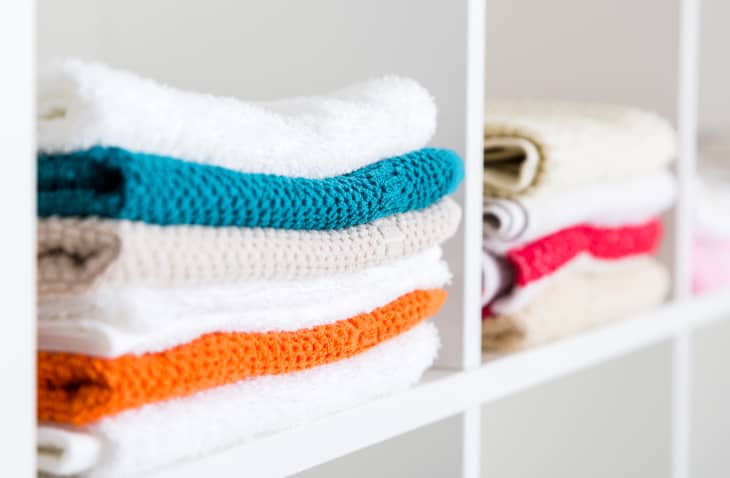 There's a pretty good chance that you, like me, use your linen closet for more than just towels and sheets. It easily becomes a catch-all for things you use daily and a bunch of stuff you want to stash out of sight. But as the timeless adage goes, less is more.
"Linen closets help create organization for some of the most commonly used items in a home and can be really functional when utilized well, while allowing your space to be more streamlined and cleaner," says Kim Williams, a home stager with KJ Design and Mortar Styling. Williams and other home staging experts have tips for decluttering linen closets, since it's something stagers tend to do ahead of open houses.
Jess Harrington of Jess Finessed says you must be ready to donate and throw a few things away, especially if you plan to put your home on the market soon. Decluttering allows for homeowners to "show that you have the appropriate room for toiletries and bathroom items that can be stored," she says.
"Everyone's home is different. Instead of imposing our personal style and aesthetic, just work with finesse," Harrington adds. "Sometimes it doesn't need a full overhaul, it just needs a little finesse."
With that in mind, here are some of the items that home stagers say you should consider removing from your linen closet to make more space.
Damaged and Stained Items
Claudia Desbiens, a home stager with Modern Mecca, says the first step to streamlining your linen closet is to remove all of the damaged and stained bathroom towels and mismatched bed sheets and linens. There's no need to have those at arm's reach.
Williams says you should take blankets out of the linen closet. Blankets are often large, bulky, and take up a fair amount of space — especially in small spaces. As an alternative, she says to place the blankets on shelves in a larger closet, in an ottoman bench, or in baskets. 
Cleaning supplies of all kinds are often stored in linen closets, but can take up a "considerable amount of space that could be repurposed for more linen," Williams says. 
She suggests placing those supplies under sinks, in the basement, or in decorative bins that can be stored away easily while minimizing clutter. 
For pillow lovers, this may be a hard one. Williams says there's a limit on how many pillows you should own. And since they come in an assortment of sizes and shapes, pillows often take up a lot of room. She says to consider keeping some pillows in a larger bedroom closet, spreading them across several areas of the home, or placing them in clear vacuum-sealed bags to minimize overflow. 
"Assess what you want to keep," she says. "Your style may have changed, interest may have shifted and it's alright to acknowledge this. Consider donating items to charity or to non-profit organizations." 
An Overflow of Toiletries
Harrington says any excessive or expired toiletries should be removed from the linen closet. She suggests the vanity as a better place to store toiletries. 
Specifically, if you're staging your home to sell, you want to be able to show that you have the appropriate space to meet a new family's needs. An overflow of items is a sign that there's a lack of storage, which is a big turn-off for homebuyers. 
The rule of thumb is to pare down the closet to 30 percent capacity for staging purposes. Harrington says the more space that you can show off, the better. 
"They want to see the home, but not all of the seller's items," she says. 
Angela Arnold of Elephant in the Room Staging recommends only keeping what's relevant to that season. For example, she says keep items such as flannel bedding and winter coats accessible through the winter months and relocate them whenever they are out of season. 
She says out-of-season items can be stored under a bed, the top shelf of another closet, a guest bedroom closet, in a basement, or in the attic. She warns not to place soft goods, such as blankets, pillows, and bedding in unregulated temperatures such as an outdoor shed or balcony storage. 
If a linen closet is in a hallway instead of a bathroom, Harrington says there's a higher chance of random items being placed in there. She says remove all of the miscellaneous items, such as kids' toys, books, and electronics. 
"We see all sorts of things in linen closets that are not linen," Harrington says.  
Arnold also recommends you pack those items neatly in boxes or containers and place them in the basement, under a bed, or another storage area. If those items haven't been used within three to four months, Williams says you should consider getting rid of them. 
"Sometimes we find ourselves holding on to things with the thought that we'll use them eventually and unfortunately, oftentimes, 'eventually' doesn't occur. Don't be afraid to let things go," she says.