4 Things I Had to Get Rid of to Live Comfortably in a 72-Square-Foot Van
We independently select these products—if you buy from one of our links, we may earn a commission. All prices were accurate at the time of publishing.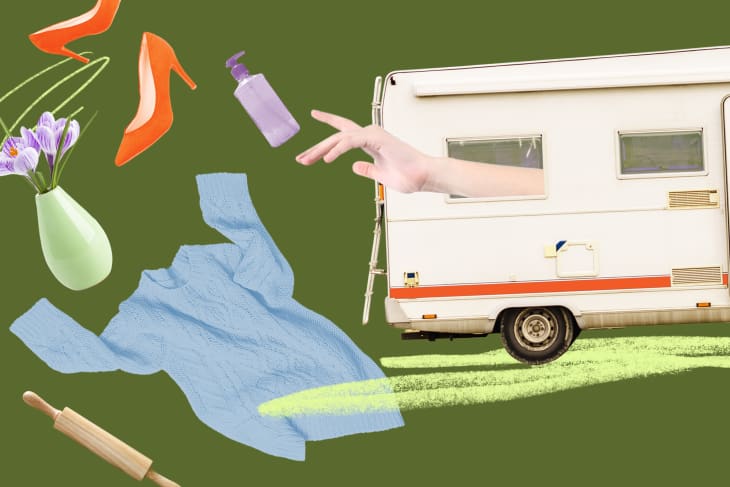 When I briefly moved into a van with my boyfriend and our two dogs, it was tempting to only focus on the fun stuff like figuring out which national parks we wanted to visit, finding the best campsites, and trying new foods at each destination. Although we wanted to be in full-time vacation mode, it didn't take long to realize that we still had to work, cook, clean, and take care of other chores.  
After four months, we learned the best ways to exist in a small space. It's hard to fit your whole life into 72 square feet. Luckily we spent some time preparing, packing, optimizing the van's storage, and figuring out what we needed to leave behind. Here are four things that I had to forgo to make the most out of van life — and van space. 
Most of my clothes and shoes.
My boyfriend and I each had a small cabinet for our clothes, so I chose to only bring about a week's worth of outfits. Luckily, our trip took place over the summer, so I was able to leave a lot of my bulkier items behind. I packed mostly outdoor-friendly clothes, plus one nicer outfit for occasional dinners out. I also had to carefully consider which shoes to bring, ultimately choosing my hiking boots, sandals for warm days and the shower, and a nicer-looking pair of sneakers. 
My complete hair and skincare routine.
I don't have the most complex hair and skincare regimen, but I knew I definitely wouldn't have space for full-sized bottles of each product. I maximized my space by packing my toiletry bag and shower caddy with travel-sized versions of essential products, like facial cleanser, moisturizer, sunscreen, shampoo, and conditioner, while leaving less important items behind.
Any bulky or fragile decor items.
I love to decorate my home with things that are meaningful to me, and the van was no different. But because the space was so much smaller than our apartment — and I knew that it would likely get dirty from camping every night and having two dogs — I was only able to bring a few decorative items. We decided to hang a map of the United States on one wall so we could chart our trip, as well as a collection of vintage-style postcards from each national park we visited along the way. This approach made the van feel like home on a budget, and allowed us to buy a few souvenirs. 
Our occasionally used kitchen tools and ingredients.
My boyfriend and I love to cook, but living in a van makes it difficult to have every ingredient and tool on hand. We opted to bring some of our favorite spices and most-used kitchen tools, while leaving some of the more specialty items behind. We also chose to purchase a set of titanium camping plates and bowls, which are more compact, durable, and lighter than our dish set from home.