This Transforming Outdoor Table Is Also a Grill For 8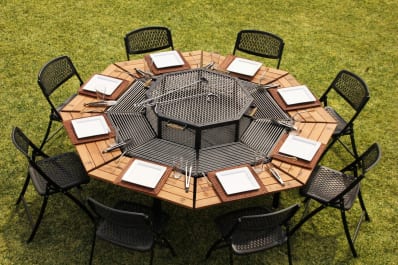 (Image credit: JAG)
Expecting the guests at your backyard barbecue to grill their own food would ordinarily be considered a huge faux pas, but when they're seated at JAG's innovative table and grill combo, the usual dinner party hosting etiquette no longer applies.
The Dallas-based design and manufacturing company's product is an expert combination of sturdy outdoor patio furniture and a BBQ grill. The multi-purpose table houses a grill at its center and can also be transformed into a fire pit. The JAG grill comes to in two different sizes that seat either six or eight people. Built to accommodate a wood or charcoal fire, the table features a side door where stainless steel grilling racks can be added. Multiple wooden leaves that surround the center grill can be removed, so that each guest can grill their own food to their individual liking (looking at you, well done steak eater), allowing for the ultimate interactive barbecuing experience.
If you're wary about sitting mere inches from your grill, the elevated center dome helps to contain the fire and can also be removed for to add coals or wood or for cleaning. And when the guests are done using the flames for cooking purposes, the grill can be converted to an open fire pit once the dome is removed. And just think of the s'mores.
This all-American spin on Japanese hot pot doesn't come cheap, though. The JAG six is available for pre-order with a $500 deposit; the JAG Eight has a $2,500 price tag. A table cover can also be purchased separately to protect the 3-in-1 grill from the elements. Both grills are available for sale through the JAG website or from select stores in the US.
If you're determined to impress your guests with your grill and hosting skills this summer, check out more info on the JAG Grills website.
h/t Curbed